Patients, Colleagues Name TTUHSC's Young as Physician of the Year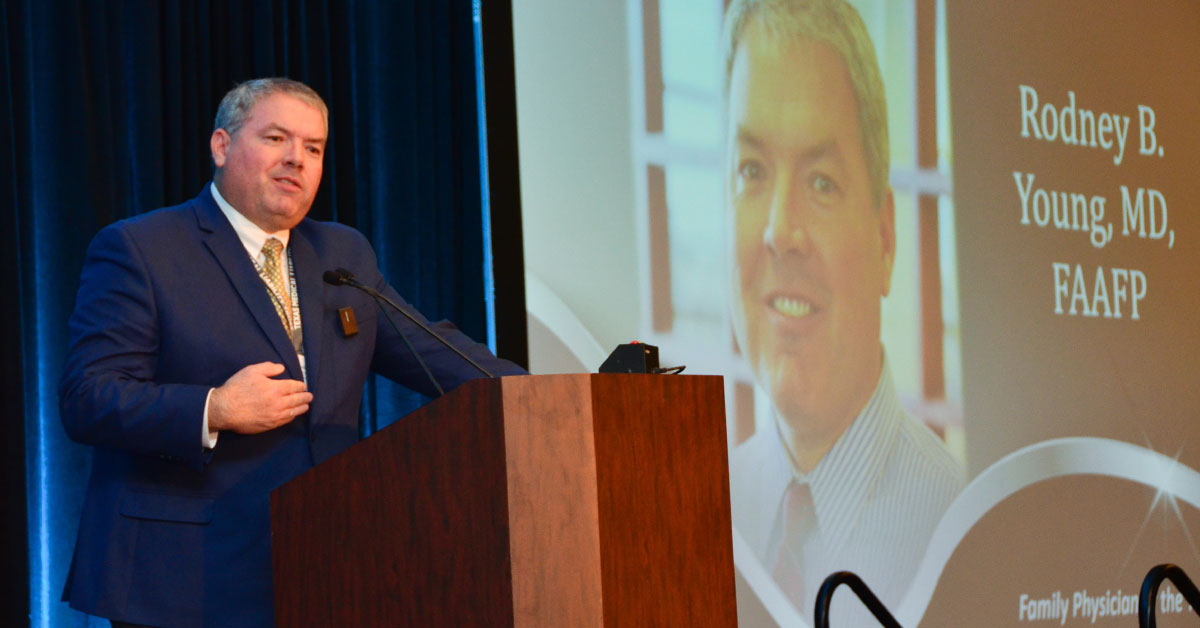 Rodney Young, M.D., regional chair of the Department of Family and Community Medicine at the Texas Tech University Health Sciences Center (TTUHSC) School of Medicine in Amarillo, has been named the Texas Academy of Family Physicians (TAFP) 2018 Texas Family Physician of the Year. Young received the honor Nov. 10 during TAFP's Annual Session and Primary Care Summit in Arlington, Texas.
Patients and physicians throughout Texas annually nominate practitioners they believe best symbolize excellence and dedication in family medicine, and then a panel comprised of TAFP members selects one of the nominees as the TAFP Physician of the Year. The award is the highest honor bestowed upon Texas family physicians, who are qualified to work in all major medical areas and trained to treat more than 90 percent of all cases they encounter for patients of all ages.
"The relationships I've been able to develop with patients, colleagues, residents, students and staff over the years are the real rewards, but it is truly very touching to know that others notice and appreciate your efforts, and that they think of you this way," Young said. "All the texts, posts, emails and other expressions of thanks and congratulations have really been wonderful, and I know it sounds cliché, but I feel like this award is bigger than just me. It's a reflection of our culture at TTUHSC in trying to meet needs in our community, caring for our neighbors and training future generations of health care professionals to do the same."
Young is truly a product of TTUHSC. He graduated from the School of Medicine in 1997 and completed his family medicine residency in Lubbock in 2000. He then joined the faculty of the Department of Family and Community Medicine in Amarillo so he could continue to teach while building his medical practice within the school. He was named the Amarillo campus interim regional department chair in 2003 and the permanent regional department chair the following year.
During his career, Young has earned several honors and awards, including the Texas Medical Association's Award for Excellence in Academic Medicine and the TTUHSC School of Medicine Distinguished Alumni Award. In addition to his academic responsibilities, Young maintains a busy clinical practice and spends roughly half of his time in direct patient care. Of all the reasons he enjoys being a family medicine, Young said the relationships he has developed with patients and their families is at the top of his list.
"I have many families where I am fortunate enough to take care of several generations at the same time, and it's incredibly helpful to all of us that I already know so much of their story when they hit the door," Young said. "Our medical system is so often a source of frustration, confusion and great expense for patients. I do my best to help them make sense of it and to better understand their options. I take pride in trying hard to be part of the solution, not the problem."
Outside the TTUHSC campus, Young is actively involved in the health of the community by serving on several community boards. Harrington Cancer and Health Foundation's board of directors He works to provide patients with access to high quality health care and cancer treatment by serving on the. He also serves as board member for Heal the City, a free clinic providing primary care, chronic disease management and other preventive and wellness services for Amarillo's uninsured patients. In addition, he was recently appointed to the Amarillo Hospital District's board of managers.
Young said he genuinely cares for his patients and sincerely appreciates their trust and kindness.
"I want to be their advocate, and I want them to know that I really do want the best for them and will try to give them exceptional care and the best advice that I can," Young said. "The simple act of explaining diagnoses, confusing results, treatment options or other things that we take for granted in medicine can make all the difference for patients who are often confused about their next steps. Sometimes I feel like translating medical lingo into plain and relatable terms, and helping my patients play the hand they are dealt as best they can, may be the thing people appreciate the most."
Related Stories
By QEP Committee
March 21, 2023
As spring approaches, some people's thoughts turn to gardening. Whether it's a flower garden they desire or a vegetable garden want to have, they begin planning what they'll plant and what they need to do to ensure a successful garden.
By QEP Committee
March 21, 2023
A "growth mindset" accepts that our intelligence and talents can develop over time, and a person with that mindset understands that intelligence and talents can improve through effort and learning.
By Melissa Whitfield
February 13, 2023
Abstaining from drug abuse and an early diagnosis of familial hypercholesterolemia (high cholesterol) can help prevent heart disease.
Recent Stories
Education
By Suzanna Cisneros
December 07, 2023
HACU announced Sonya Castro-Quirino, D.Bioethics, TTUHSC vice president of Office of Institutional Compliance, as one of the 50 fellows of HACU's Leadership Academy/La Academia de Liderazgo.
Campus Life
By Samantha White via TAFP news release
December 05, 2023
Ronald L. Cook, DO, MBA, of Lubbock, Texas, was named the 2023 Texas Family Physician of the Year during TAFP's Annual Session and Primary Care Summit in Grapevine on Nov. 11.
Research
By Mark Hendricks
November 16, 2023
Ninh (Irene) La-Beck, Pharm.D., with the TTUHSC Jerry H. Hodge School of Pharmacy, received a five-year, $2.49 million grant to investigate how nanoparticles interact with the immune system and cancer.