NIH, DOD Award Grants to Abilene Cancer Researcher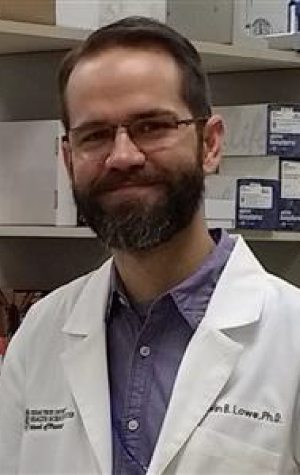 Devin Lowe, Ph.D.
In the context of wound healing, angiogenesis is a good thing. In fact, angiogenesis is crucial to wound treatment because it helps generate new connective tissue and microscopic blood vessels that are required for tissue remodeling during healing. However, angiogenesis also has a down side: It is a major process by which benign tumors develop into malignant ones.
It is the down side of angiogenesis, as it relates to cancer treatment, that Devin Lowe, Ph.D., is investigating. Simply put, he is looking for ways to inhibit angiogenesis in tumors.
"I am a tumor immunologist by training," Lowe said. "My entire world-view is that the immune system can be appropriately utilized to prevent/destroy tumor growth. This concept has already been clinically validated by FDA-approved immunotherapeutic strategies that work to defeat cancer. So, my motivation is to continue to do the types of research necessary to better understand the immune system—in relation to cancer—so that we can improve patients' long-term responses to cancer immunotherapy."
To help in his research, Lowe, an assistant professor for TTUHSC's Department of Immunotherapeutics and Biotechnology in Abilene, recently landed a pair of three-year grants. The first, from the National Institutes of Health (NIH), is a $453,039 R15 grant for research titled, "Immunotherapeutic Targeting Of Colon Cancer Vascularization To Achieve Long-Term Protective Immunity." The second, a $542,982 Department of Defense (DOD) grant, is for research titled, "Immunotherapeutic Targeting Of Colon Cancer Vascularization To Achieve Long-Term Immunity Against Primary And Metastatic Disease."
Though from different agencies, Lowe said both grants are funding distinct projects aimed at better understanding the interactions between immune cells and tumor-derived blood vessels within the colon cancer microenvironment. This knowledge will allow scientists like Lowe to develop more effective immunotherapies for ultimate clinical trial evaluation.
Lowe with students in the lab.
"In the case of the NIH R15 grant, the long-term goals are to develop antibody-based therapeutics that can be administered to patients," Lowe explained. "The DOD grant will allow us to study the utility of targeting colon cancer growth and spread using listeria-based vaccines."
Like any tissue in the body, Lowe said cancer cells need blood vessels for growth and expansion. Ultimately, his team's research strategy is to stunt tumor growth indirectly by targeting and destroying tumor-derived blood vessels.
"We are essentially knocking out the foundation from the house," Lowe added. "Our efforts also apply to other vascularized cancers such as melanoma since our immunotherapeutic strategies targeting tumor-derived blood vessels work across cancer types."
Lowe's research team includes Amanda Wooster, graduate student Trevor Anderson and assistant professor Laurence Wood, Ph.D., one of Lowe's department colleagues in Abilene.
"Amanda and Trevor are diligently working on both of these projects," Lowe said. "Dr. Wood is a collaborator on the DOD grant; his expertise in listeria-based vaccines is critical to the success of the grant."
Related Stories
By Mark Hendricks
March 25, 2022
The Texas Tech University Health Sciences Center (TTUHSC) Graduate School of Biomedical Sciences hosted its 34th Annual Student Research Week March 8-11.
By Mark Hendricks
March 25, 2022
The National Cancer Institute awarded a five-year, $1.9 million grant to C. Patrick Reynolds, M.D., Ph.D., director for the School of Medicine Cancer Center at TTUHSC.
By School of Health Professions
March 24, 2022
Richard Greenhill, DHA, FISQua, FACHE, discusses the hype and reality surrounding AI in healthcare.
Recent Stories
Health
By Meaghan Collier
May 27, 2022
TTUHSC Assistant Professor of Pediatrics Christine Garner, Ph.D., R.D., says if your baby's normal brand of formula isn't available, you can swap it out for a different one.
Education
By Mark Hendricks
May 26, 2022
The Willed Body Program has served West Texas since 1972 and is the foundation upon which the TTUHSC Institute of Anatomical Sciences is built.
Education
By Mark Hendricks
May 25, 2022
The Texas Tech University Health Sciences Center (TTUHSC) recently hosted traditional commencement ceremonies for its 1,595-member Class of 2022.