Pharmacy Student Leads Local Relay for Life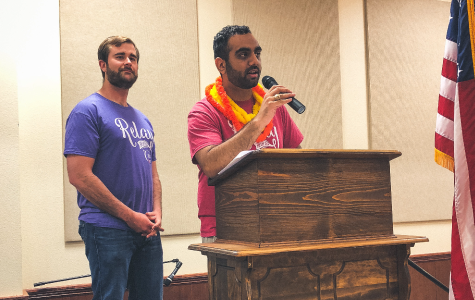 Pharmacy faculty and students from the Texas Tech University Health Sciences Center (TTUHSC) in Amarillo have long supported the American Cancer Society (ACS) by conducting fundraisers and entering teams in events like the Relay for Life. This year, a group of first- and second-year students (P1s, P2s) took the school's support to a new level.
"In my P1 year of pharmacy school, my IPPE (Introductory Pharmacy Practice Experiences) group was assigned to ACS for our volunteer organization," P2 Parth Patel recalled. "At the meetings we met Joy Creech who is an employee of ACS. Through her help we were able to start Bark for Life last year, and also threw the children's area at Relay for Life 2017. After this I got interested in ACS and what they do, so I continued to come to the monthly meetings."
Patel soon became a familiar face at the ACS meetings and formed friendships with some of the other volunteers. He said most of his fellow volunteers had specific reasons for attending the meetings — some were cancer survivors, others knew people who were affected by the disease, and still others were there because cancer had the life of a friend or family member.
"I was fortunate enough to not have experienced any loss due to cancer, but I do have 2 grandparents who are cancer survivors," Patel said. "Family is a very close thing to my heart, and with all these reasons I took it upon myself to try to make a difference."
When the local ACS group began making plans for Amarillo's 2018 Relay for Life, Patel stepped up and volunteered to be the event lead and encouraged some of his classmates to pitch in. When the Relay for Life committee began its push for the 2018 event, P2 Chris Thai took on the role of marketing lead, P2 Caroline Pham was named sponsorship lead and P1 Daisy Vu volunteered to be the social media lead.
Patel said P1 Eddie Mercer, who organized the 2018 Bark for Life, also was part of the Relay for Life executive board, and members of the School of Pharmacy's Phi Delta Chi and Kappa Psi student organization chapters provided much-needed support as event volunteers.
Taking the lead of such a large event can be challenging on its own, but it can be especially taxing for a pharmacy student who also must keep up with their academic responsibilities. Patel said it was indeed a tough balancing act, but he found he found it inspiring.
"I like to push myself to do bigger things," Patel explained. "I get bored very easily, so if I am working on a project that is low scale I tend to do minimum work. Whenever I have a large plate in front of me, however, I thrive because it lets my mind wander more and I start forming a vision of what the event would look like."
In the final days leading up to the event, Patel said he was "a nervous wreck," and the final preparations and media appearances pushed him to his mental and physical limits. He said the support he received from his classmates and the other event volunteers helped him clear the final hurdles.
"Overall, I think this was a very good experience for me," Patel said. "I learned a lot about my leadership style, and I was able to take the teachings from my leadership organization at Texas A&M and apply those techniques here. I grew as a leader; I saw what I did well and what I need to work on in the future."
Patel said all the money that he and his classmates helped ACS raise in the Amarillo Relay for Life will stay in Amarillo. They offer transportation solutions, lodging accommodations, and insurance guidance on top of so many other things.
"We don't feed into a larger pool of money somewhere else and then never see the money again, or anything like that," he stressed. "The purpose of the American Cancer Society isn't just to raise money for cancer research. They also provide many services for anyone affected by the disease, so if you or anyone you know is affected by cancer, please reach out to the ACS because they will do everything they can to make your situation as positive as possible."
Related Stories
By Mark Hendricks
March 25, 2022
The Texas Tech University Health Sciences Center (TTUHSC) Graduate School of Biomedical Sciences hosted its 34th Annual Student Research Week March 8-11.
By Mark Hendricks
March 25, 2022
The National Cancer Institute awarded a five-year, $1.9 million grant to C. Patrick Reynolds, M.D., Ph.D., director for the School of Medicine Cancer Center at TTUHSC.
By School of Health Professions
March 24, 2022
Richard Greenhill, DHA, FISQua, FACHE, discusses the hype and reality surrounding AI in healthcare.
Recent Stories
Education
By School of Health Professions
June 30, 2022
Ericka Hendrix, PhD, MB(ASCP)cm, spoke about the training and education involved for diagnostic molecular scientists and how the pandemic has affected the role.
Education
By Suzanna Cisneros
June 29, 2022
TTUHSC and members of the Abilene community today (June 29) celebrated the official unveiling the new Julia Jones Matthews School of Population and Public Health.
Education
By Kate Gollahon
June 28, 2022
On June 29, the opening celebration event for the Julia Jones Matthews School of Population and Public Health will recognize many years of hard work and look ahead to the start of a new and exciting journey.