Uniquely Serving CVS's Hispanic Customers
An Amarillo pharmacy student serves as a Spanish Immersion pharmacist intern at CVS.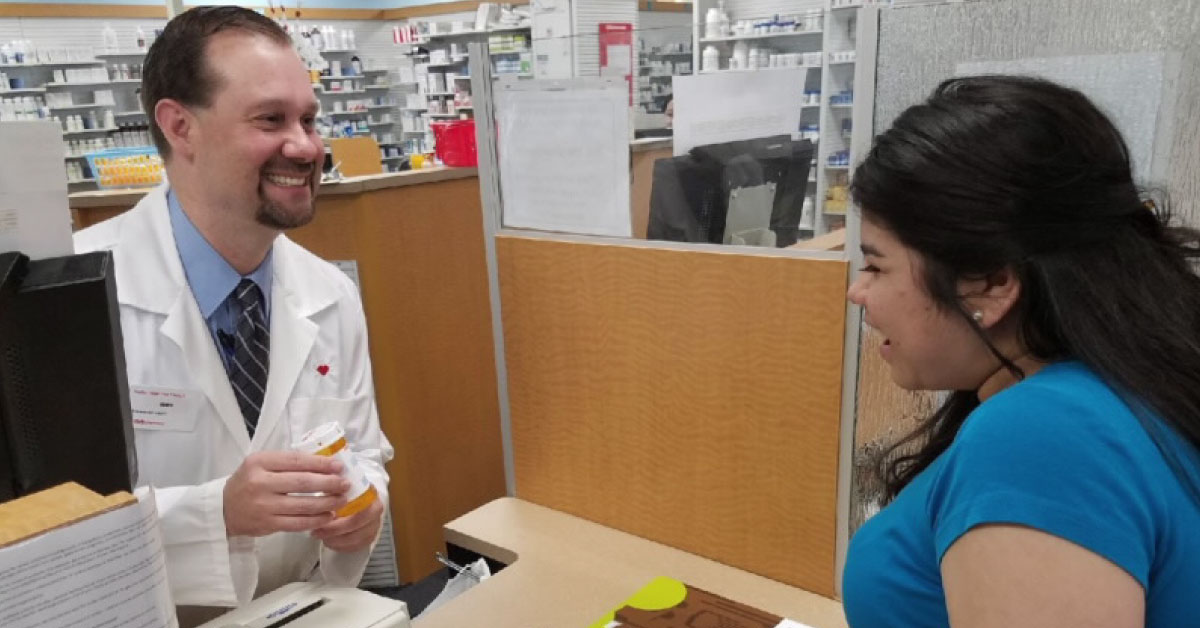 Spanish Immersion pharmacist intern Nathaniel Moore loves working in the Hispanic community.
With more than 9,800 CVS Pharmacy locations nationwide, you'll find stores in many communities, including Hispanic-dominant markets.
"However, if you look at the number of pharmacy students enrolled in U.S. colleges, less than 4% identify as Hispanic," explains Cristina Medina, Senior Advisor, Pharmacist Recruitment Strategist. "Essentially, there aren't enough Spanish-speaking pharmacists to serve this population."
As a way to tackle the issue, Amy Oliveira, Senior Director, Pharmacist Talent Acquisition, and Medina created a Spanish Immersion Internship program for future pharmacists. Launched in June 2017, the innovative program served 20 first and second year pharmacy school students in its inaugural year. Over 40 students are currently enrolled.
The paid internship runs 8-10 weeks and requires pharmacy students to work in a CVS Pharmacy store located in a Spanish-speaking community. Interns have access to Rosetta Stone, the language learning program, and attend a 3-hour WebEx Spanish medical terminology course.
"Our goal is for them to communicate effectively with patients, caregivers and prescribers and also to become more culturally competent," says Medina. "That includes understanding disease states that are prevalent in the Hispanic community such as diabetes, glaucoma and hypertension."
When they finish their pharmacy degree, graduates will be placed in a CVS Pharmacy in Florida, California, Texas or Puerto Rico.
Offering what others don't
"CVS Pharmacy was the only company I could find that offered an internship with a Spanish-speaking component. It was a priority for me," says Nathaniel Moore, a pharmacy student at Texas Tech University Health Sciences Center at Amarillo.
Moore attended the program last year, working as an intern in Donna, Texas, where 90% of the customers speak Spanish.
"Although my mother speaks Spanish and I studied it in high school and college, communicating in person and using medical terminology in Spanish was very different," he shares.
Moore credits the immersion program with also helping him to understand the Hispanic culture.
"Their community is very close knit and places a significant priority on relationships," Moore continued. "I needed to work especially hard to build a sense of trust with my patients and their family members. Many were reluctant to ask questions because they were shy or didn't want to appear naïve."
When his studies are completed, Moore hopes to work as a pharmacist in one of CVS's retail stores in Texas or perhaps Puerto Rico – both are areas where the need is great for Spanish-speaking pharmacists.
"It's been really gratifying for me to work with our interns who spoke only a little Spanish and were nervous about being immersed in the program," says Medina. "By the end of the program, they are rattling off conversations in Spanish and really helping patients so much more effectively. There's a feeling like we are accomplishing something great."
This article originaly appeared on an internal CVS website, and is republished here with their permission. Are you interested in a career at CVS Health? Now is the time to join the team! Learn more about career growth opportunities at CVS's website.
Related Stories
By QEP Committee
March 21, 2023
As spring approaches, some people's thoughts turn to gardening. Whether it's a flower garden they desire or a vegetable garden want to have, they begin planning what they'll plant and what they need to do to ensure a successful garden.
By QEP Committee
March 21, 2023
A "growth mindset" accepts that our intelligence and talents can develop over time, and a person with that mindset understands that intelligence and talents can improve through effort and learning.
By Melissa Whitfield
February 13, 2023
Abstaining from drug abuse and an early diagnosis of familial hypercholesterolemia (high cholesterol) can help prevent heart disease.
Recent Stories
Research
By Mark Hendricks
November 16, 2023
Ninh (Irene) La-Beck, Pharm.D., with the TTUHSC Jerry H. Hodge School of Pharmacy, received a five-year, $2.49 million grant to investigate how nanoparticles interact with the immune system and cancer.
Research
By Mark Hendricks
November 10, 2023
To help investigate the influence basal sex hormone alterations may have on chronic post-op pain, the NIH recently awarded a grant to Jenny Wilkerson, Ph.D., from the Jerry H. Hodge School of Pharmacy.
Health
By Tyler White
November 09, 2023
Scott Shurmur, M.D., a cardiologist at the Texas Tech Physicians Center for Cardiovascular Health, shared his expertise and his experience as a former collegiate athlete.