Alex Le
Earlier this year, rising fourth-year student Alex Le from the Texas Tech University Health Sciences Center School of Pharmacy in Abilene was named one of three recipients of a $500 competitive scholarship to attend an American College of Clinical Pharmacists (ACCP) meta-analysis research training course. The course is offered annually by the University of Arizona College of Pharmacy's Center for Health Outcomes & PharmacoEconomic Research, also known as the HOPE Center.
Le, the only student who received the scholarship, attended the three-day training program June 18-20 to learn more about designing, conducting and publishing meta-analyses. According to the ACCP website, the hands-on course integrates in-depth instruction and action-oriented workshops to teach participants to design protocols, perform effective searches for data sets, screen studies and extract data and conduct and interpret meta-analysis and meta-regression.
"Meta-analysis research is about answering larger questions that would otherwise not be answered by a single clinical trial," Le explained. "Usually, this involves aggregating data from multiple studies and performing statistical analyses to answer these questions."
Alex Le with research collaborator Michael Dean
As an example, Le and his collaborators — Mymoon Antony, Thao Nguyen, Michael Dean, Sajida Gowani, Saralinh Trinh and Irene La-Beck, Pharm.D. — are currently exploring the uses of PD-1 or PD-L1 inhibitors as a first-line therapy in non-small cell lung cancer. PD-1 and PD-L1 are proteins found on the surface of cells and are among a group of immunotherapy treatments currently being researched and developed to treat cancer.
Le said he became interested in meta-analysis when La-Beck, his mentor and an associate professor for the Department of Immunotherapeutics and Biotechnology on the Abilene campus, recruited him to perform a smaller meta-analysis with the same agents in melanoma during his first year of pharmacy school.
"I enjoyed the process of conducting a meta-analysis and how students can be involved in original research," Le added.
As he prepares for his final year of pharmacy school, Le is continuing to work with La-Beck on a variety of laboratory and clinical research projects, and he also is president of The Research Interest Group, or TRIG, at the School of Pharmacy. He said attending the Meta-Analysis Training Program at the HOPE Center helped him sharpen skills he can apply to future research projects. Recently, Le used those skills to earn a citation in the guidelines for "The Society for Immunotherapy of Cancer consensus statement on immunotherapy for the treatment of non-small cell lung cancer (NSCLC)," which was published in the Journal for ImmunoTherapy of Cancer.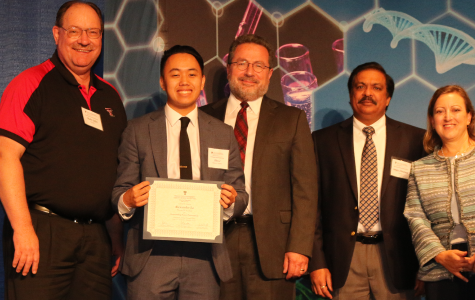 Alex Le at Research Days 2018
Following graduation, Le hopes to pursue a career in the pharmaceutical industry that will allow him to work with clinical research, medical affairs, medical information or medical writing.
"These are the areas where I can best use my current expertise and experience," he said. "I enjoy writing publications, clinical research and giving oral and poster presentations, and I think the pharmaceutical industry has a lot of potential job growth and has positions that could fully utilize my skillset."