Abilene Researcher Lands NIH Grant to Develop Kidney Cancer Vaccine
Laurence Wood, Ph.D.
Although rates in the U.S. have leveled off in the last several years, kidney cancer cases have steadily increased over the last four decades, making it one of the 10 most common cancers in men and women. In fact, the American Cancer Society estimates more than 63,300 people will be diagnosed with kidney cancer in 2018 and nearly 15,000 of those newly diagnosed patients will die from the disease.
Renal cell carcinoma, or RCC, is the most prevalent form of kidney cancer, and despite the best efforts of medical science, it is still considered incurable at advanced stages because it doesn't respond to traditional therapies in the vast majority of cases. However, there is evidence that RCC does respond to immunotherapy, which uses the body's immune system to fight cancer.
With that in mind, the National Institutes of Health (NIH) last fall awarded a three-year, $376,766 grant to Laurence Wood, Ph.D., an assistant professor for the Department of Immunotherapeutics and Biotechnology at Texas Tech University Health Sciences Center (TTUHSC) in Abilene. His project is titled, "Targeting kidney cancer-associated CD105 expression with a novel Listeria-based vaccine approach."
Maciej Markiewski, M.D., Ph.D., a professor in the same department, is the co-investigator on this grant. Wood said Markiewski's expertise in pathology will be important in determining if the vaccines developed by the Wood lab are targeting the tumor tissue as expected while not causing damage to normal tissues.
In the early years of his decade-long research career, Wood developed several therapeutic vaccines that proved effective against models of breast cancer. As his work in the laboratory advanced, Wood began investigating ways to expand the usage of these vaccines. He eventually uncovered evidence that one of his vaccines in particular would be more effective at treating kidney cancer. With the support of the NIH grant, Wood hopes the vaccine and his continued research will ultimately provide some better treatment options for patients with kidney cancer, particularly those whose disease has reached an advanced stage.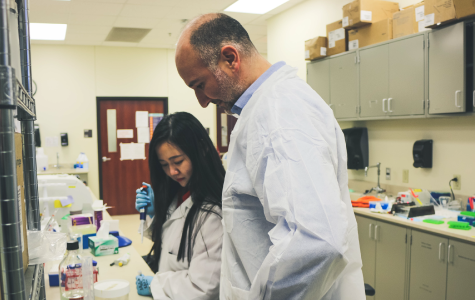 "Treating kidney cancer was also a personal interest to me since my grandmother, whom I was never able to meet, succumbed to kidney cancer," Woods explained. "If kidney cancer is discovered at an advanced stage, the current treatments are not very effective. Those that are available, including some very early immunotherapies, can have some pretty severe side effects."
Wood said the type of therapeutic vaccines that his lab works with are meant to be more effective than these current treatments, but with fewer and less severe side effects. In fact, he added, a similar vaccine for cervical cancer is currently demonstrating the same promising potential in clinical trials.
In addition to the serious need for kidney cancer treatments that are safer and better tolerated by patients, particularly those whose cancer has metastasized, Wood believes his NIH-funded research is also important because it seeks to advance the development of a promising immunotherapy for cancer.
Related Stories
By Mark Hendricks
March 25, 2022
The Texas Tech University Health Sciences Center (TTUHSC) Graduate School of Biomedical Sciences hosted its 34th Annual Student Research Week March 8-11.
By Mark Hendricks
March 25, 2022
The National Cancer Institute awarded a five-year, $1.9 million grant to C. Patrick Reynolds, M.D., Ph.D., director for the School of Medicine Cancer Center at TTUHSC.
By School of Health Professions
March 24, 2022
Richard Greenhill, DHA, FISQua, FACHE, discusses the hype and reality surrounding AI in healthcare.
Recent Stories
Education
By Mark Hendricks
May 26, 2022
The Willed Body Program has served West Texas since 1972 and is the foundation upon which the TTUHSC Institute of Anatomical Sciences is built.
Education
By Mark Hendricks
May 25, 2022
The Texas Tech University Health Sciences Center (TTUHSC) recently hosted traditional commencement ceremonies for its 1,595-member Class of 2022.
Education
By Suzanna Cisneros
May 24, 2022
The school, which is the sixth at the university, aims to train future health care leaders in population and public health.