Teamwork, Shared Values Highlighted in 2018 State of the University and Faculty Awards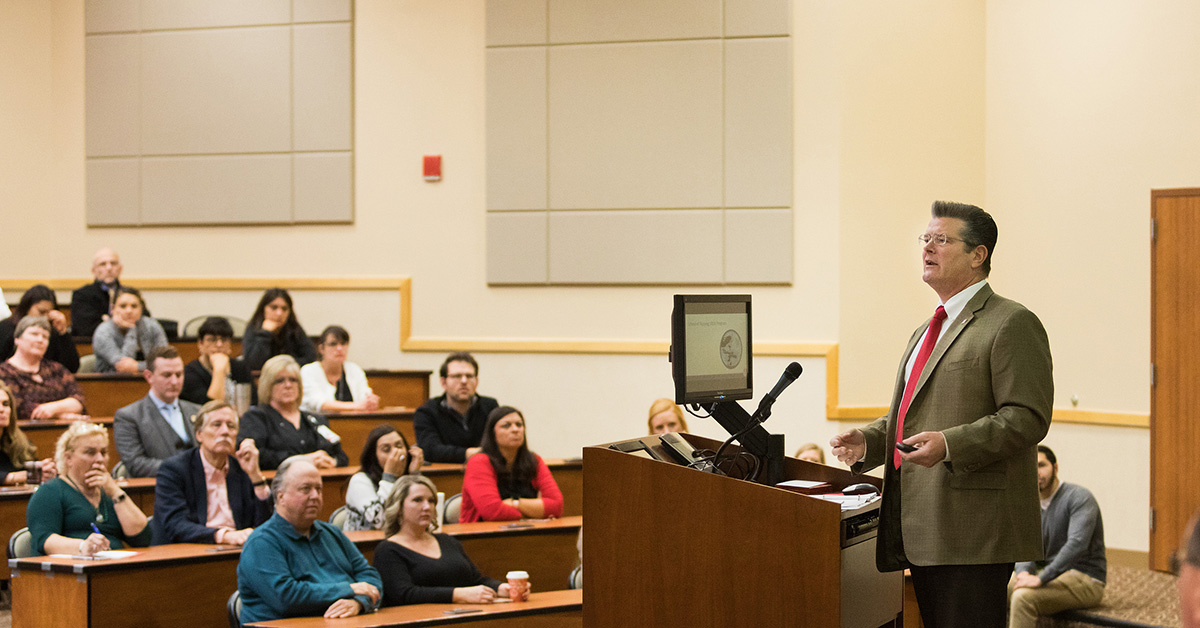 Texas Tech University System Chancellor and TTUHSC President Tedd L. Mitchell, M.D., emphasized the importance of shared values and recognized faculty members for their achievements at the 2018 State of the University Address and Faculty Convocation Nov. 27.
Those values—one team, kindhearted, integrity, visionary and beyond service—make TTUHSC strong, secure and robust, Mitchell told the assembly.
"Everything evolves, especially in health care," Mitchell said. "So we have to be thinking about training the students of tomorrow, training the researchers of tomorrow, answering the questions of tomorrow and constantly thinking towards the future. Students are coming here to learn to engage with colleagues in research and with patients at a time when patients are not doing well. It is an honor and huge responsibility."
He added that it's easy to get calcified in an environment with 5,000 people in a university setting and with 5,000 students, but noted that students are watching our behavior. "Our day-to-day behavior impacts our fellow TTUHSC family members. We are also training young folks about the things related to professional lives in medicine that they're not going to learn in textbooks. Our students need our guidance."
Mitchell concluded his speech by stressing teamwork.
"We're all far better together than when we're apart from one another. Together, we've been able to achieve a great deal of wonderful things and I look forward to achieving more as time goes forward," he said.
After Mitchell closed message, he presented the 2018 Presidential Award Recipients.
President's Excellence in Teaching Award
Alan Peiris, M.D., Ph.D.
President's Team Teaching Award
Brian Irons, Pharm. D.
Lisa Chastain, Pharm. D.
Krystal Edwards, Pharm. D.
Molly Minze, Pharm. D.
Robin Black, Pharm. D.
Courtney Duval, Pharm. D.
Ashley Higbea, Pharm. D.
Rebecca Schoen, Pharm. D.
President's Excellence in Research Award
Vadivel Ganapathy, Ph.D.
President's Early Career Investigator Award
Andrey Karamyshev, Ph.D.
President's Outstanding Clinician Award
John Griswold, M.D.
President's Excellence in Community Engagement Award
Teresa Baker, M.D.
President's Award for Interprofessional Teamwork
Donna Paris, MSN, R.N.
Heather Guest, MSN, R.N.
Debra Winckler, MSN, R.N.
Aaron Duebner, MSN, R.N.
Gayle Stegall, MSN, R.N.
Stacie Alvarez, MSN, R.N.
Nancy Ochs, MSN, R.N.
Kayley Simmons, Pharm. D.
Becky Fox, Pharm. D.
Terran Keidl, BSN, R.N.
Chephra McKee, Pharm. D.
Bethany Ibach, Pharm. D.
Mary Klein, Pharm. D.
University Distinguished Faculty Awards
Thomas Hale, Ph.D.
Sharmila Dissanaike, M.D.
Dale Dunn, M.D., MBA
Terry McMahon, M.D.
Kendra Rumbaugh, Ph.D.
Kevin Pruitt, Ph.D.
Related Stories
By QEP Committee
March 21, 2023
As spring approaches, some people's thoughts turn to gardening. Whether it's a flower garden they desire or a vegetable garden want to have, they begin planning what they'll plant and what they need to do to ensure a successful garden.
By QEP Committee
March 21, 2023
A "growth mindset" accepts that our intelligence and talents can develop over time, and a person with that mindset understands that intelligence and talents can improve through effort and learning.
By Melissa Whitfield
February 13, 2023
Abstaining from drug abuse and an early diagnosis of familial hypercholesterolemia (high cholesterol) can help prevent heart disease.
Recent Stories
Campus Life
By Suzanna Cisneros
March 31, 2023
The TPPC, managed by the TTUHSC Jerry H. Hodge School of Pharmacy, will host Lubbock's Spring Medication Cleanout™ event from 10 a.m. to 2 p.m. April 22 (Saturday) at the Texas Tech Physicians Medical Pavilion.
Campus Life
By Meaghan Collier
March 31, 2023
TTUHSC School of Nursing honored its first class of Bachelor of Science in Nursing (BSN) graduates with a lamp lighting ceremony on Thursday, March 30.
Health
By Melissa Whitfield
March 30, 2023
Texas Tech Physicians primary and specialty clinics across West Texas have completed more than 160,000 telehealth visits since the start of the pandemic.