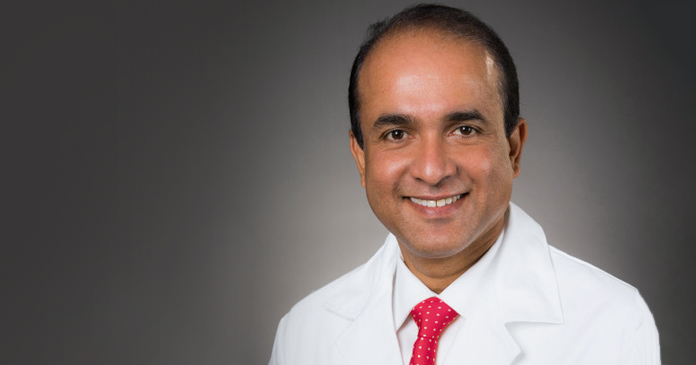 The Texas Tech University Health Sciences Center (TTUHSC) School of Medicine announced the appointment of Santhosh K.G. Koshy, M.D., MBA, as the new chair of The J.T. & Margaret Talkington Department of Internal Medicine.

Koshy was previously at the University of Tennessee Health Sciences Center (UTHSC) School of Medicine where he served as director of Interventional Cardiology, vice-chair of the Department of Medicine, and chief of Medicine and chief of Cardiovascular Services at the Regional One Health Hospitals and Clinics.

While at UTHSC, Koshy led the university cardiology group, forming hospital-aligned physician medical practice groups with the Methodist Hospital System and Regional One Health System. He was the founding fellowship director of Interventional Cardiology at UTHSC. Additionally, he led population-based multidisciplinary disease management programs in heart failure, diabetes and hypertension, ST-Elevation Myocardial Infarction care networks connecting many hospital systems in the region, and various in-hospital programs integrating Centers of Excellence in trauma care, burn institute, vascular institute and intensive care services.

Steven L. Berk, M.D., TTUHSC executive vice president, provost and School of Medicine dean, said Koshy, a recognized leader in the field of internal medicine, was selected following a national extensive search.

"Dr. Koshy brings with him a rich and diverse background in medical practice groups and education," Berk said. "We know his clinical and administrative expertise will be critical in the continued success of our Department of Internal Medicine."

Koshy has published numerous papers, abstracts and book chapters related to interventional cardiology, heart failure and echocardiography.

Koshy graduated from the University of Kerala (India) and completed a residency in internal medicine at the Saint Louis University School of Medicine. He completed a fellowship in cardiology at the University of Missouri Columbia and an Interventional Cardiology and Peripheral Interventions fellowship at the University of Alabama at Birmingham. He holds a Master of Business Administration degree from Washington University at St. Louis and a Master of Arts degree in Medical Law and Health Policy from the Hofstra University School of Law.