New Treatment Described at Lunch & Learn Program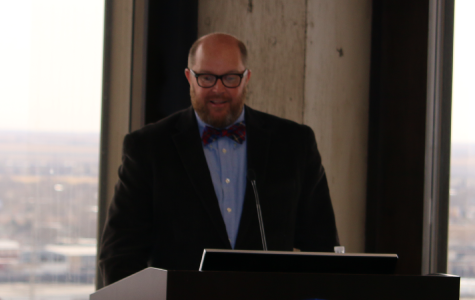 On March 13, more than 100 people attended "YOU Matter," the first in a three-part Lunch & Learn series hosted by the Laura W. Bush Institute for Women's Health.
Tim Bowles, senior administrator for the TTUHSC Department of Psychiatry in Amarillo, was the featured speaker. His presentation, titled, "Depression & Treatment Innovation," enlightened the audience about brain functioning and transcranial magnetic stimulation (TMS), an innovative treatment coming soon to the area.
Bowles said TMS is primarily used in the United States as a treatment for refractory depression. However, he added, TMS is effective in treating other mental health related conditions and there also is evidence that suggests TMS can create new neural pathways that lead to better cognitive functioning.
According to Bowles, the treatment is FDA-approved and is covered by many insurance companies. He said the TMS also shows promise in treating those with post-traumatic stress syndrome, addiction, obsessive-compulsive disorder, bipolar disorder and more.
"The new protocol will treat patients with high anxiety or medicine-resistant depression and promises to result in up to 80 percent of patients heading towards remission," Bowles said. "The department hopes to begin treating patients as soon as June with this extraordinary new machine."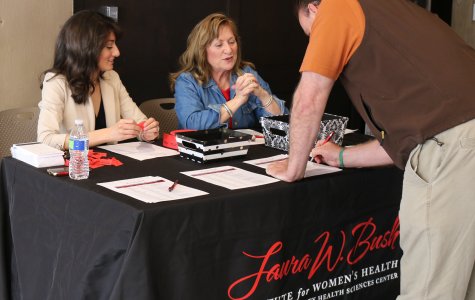 Angela Knapp Eggers, senior director for the Laura W. Bush Institute for Women's Health in Amarillo, said Bowles' department will be the beneficiary for Power of the Purse, the institute's biggest annual event that is scheduled for April 11. Those proceeds are designated for the purchase of a TMS machine that will be used on the Amarillo campus.
"The Laura Bush Institute strives to benefit internal departments at TTUHSC with exemplary processes or programs that will benefit both women and their families," Knapp added. "The potential for pivotal patient results with the TMS machine is beyond exciting, and the future is hopeful with more protocols and treatments down the road."
Related Stories
By Lori Rice-Spearman, Ph.D., Steven L. Berk, M.D.
March 22, 2022
TTUHSC Celebration of Life Service was held March 25th in remembrance of Tom McGovern, Ed.D.
By Suzanna Cisneros
March 18, 2022
TTUHSC has been named as a Military Friendly® School for 2022-2023. Among graduate schools, TTUHSC ranked fourth in the nation, achieving Gold award status.
By Meaghan Collier
March 17, 2022
On March 16, fourth-year TTUHSC Jerry H. Hodge School of Pharmacy students interested in completing a residency after they graduate in May, learned where they would spend the next stage of their training during the Pharmacy Residency Match Day.
Recent Stories
Research
By Mark Hendricks
January 31, 2023
Gail Cornwall, Ph.D., professor in the Department of Cell Biology and Biochemistry at the TTUHSC, has been named a member of the American Association for the Advancement of Science Fellowship Class of 2022.
Research
By Mark Hendricks
January 27, 2023
To help address communication hurdles, the Patient-Centered Outcomes Research Institute (PCORI) has awarded a $438,756 subcontract to Tetyana L. Vasylyeva, M.D., Ph.D., from the TTUHSC School of Medicine.
Education
By Suzanna Cisneros
January 19, 2023
Texas Tech University Health Sciences Center Department of Surgery Chair Sharmila Dissanaike, M.D., was elected as the American Burn Association president for 2025.