SimCentral cuts ribbon on new Amarillo building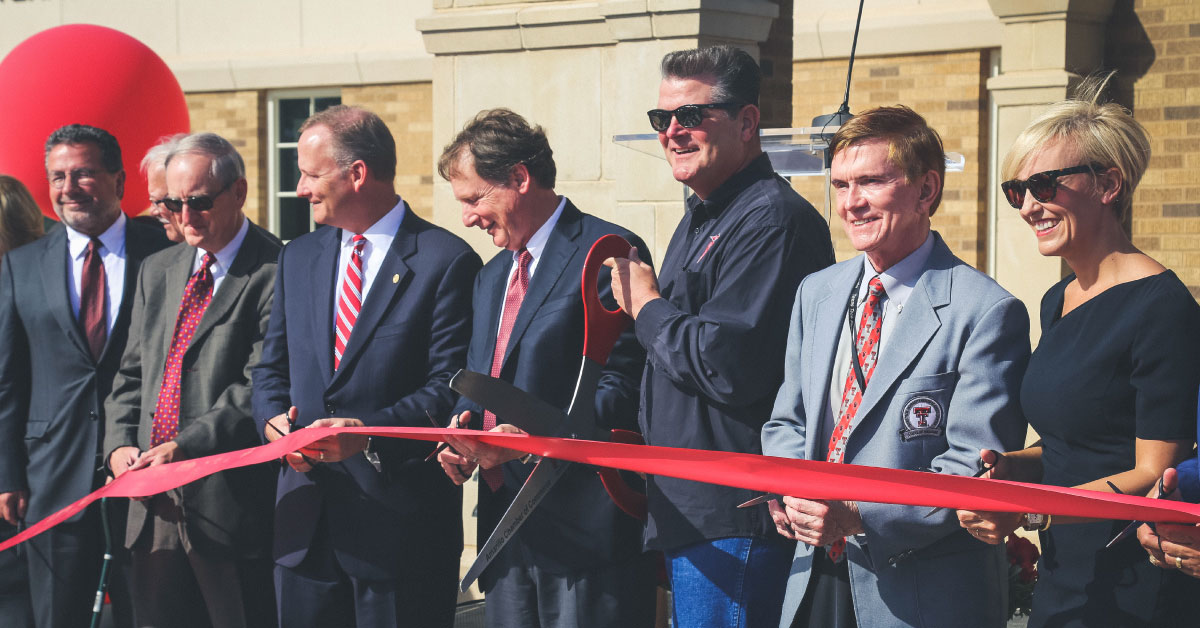 Sixteen months after Texas Tech University System (TTUS) Board of Regents approved its construction on the Texas Tech University Health Sciences Center (TTUHSC) campus in Amarillo, the new SimCentral building officially opened its doors with a ribbon-cutting ceremony Sept. 15.
According to Richard M. Jordan, M.D., regional dean for the TTUHSC School of Medicine in Amarillo, the new facilities align with TTUHSC's effort to better train its medical, nursing, pharmacy and health professions students, and to ultimately improve patient safety, promote precise teamwork and save lives.
"Simulation greatly expands the number of case scenarios that a trainee can experience during a given time period," Jordan said. "It also allows physicians, nurses and other health care providers to practice working together as a well-functioning team, which is critical in situations where seconds can make the difference between living and dying."
The 20,485-square-foot facility will provide space for teaching clinical simulations using high-tech, state-of-the-art mannequins and computer software. It also will include observation rooms, a large classroom that can be divided into two smaller classrooms and requisite space for support staff and equipment.
Jordan said TTUHSC, West Texas A&M University and Amarillo College have forged an educational alliance through SimCentral by pooling funds and sharing faculty. That alliance has helped establish SimCentral as an educational resource that provides intensive simulation training for professional health care students, physicians in training and other health care professionals in Amarillo and throughout the Texas Panhandle.
By using SimCentral's sophisticated computerized mannequins, Jordan said health care providers can experience urgent and realistic medical scenarios and practice invasive medical procedures on the mannequins before performing them on actual patients.
"Our new facility will be among the finest simulation centers in the nation," Jordan added.
TTUHSC President Tedd L. Mitchell, M.D., said students who train using the extensive simulated experiences provided by SimCentral will be better equipped to provide excellent care for their patients once they join the health care workforce.
"Without a doubt, the important role simulation plays within health care education continues to grow," Mitchell said. "By constructing the new simulation building on the Amarillo campus, TTUHSC is demonstrating its commitment to ensuring professional health care students in Amarillo receive the best possible education experience. SimCentral will prepare them to be outstanding health care providers, which will ultimately benefit the patients and the communities they will one day serve."
SimCentral Ribbon-Cutting Ceremony Image Gallery
Related Stories
By Lori Rice-Spearman, Ph.D., Steven L. Berk, M.D.
March 22, 2022
TTUHSC Celebration of Life Service was held March 25th in remembrance of Tom McGovern, Ed.D.
By Suzanna Cisneros
March 18, 2022
TTUHSC has been named as a Military Friendly® School for 2022-2023. Among graduate schools, TTUHSC ranked fourth in the nation, achieving Gold award status.
By Meaghan Collier
March 17, 2022
On March 16, fourth-year TTUHSC Jerry H. Hodge School of Pharmacy students interested in completing a residency after they graduate in May, learned where they would spend the next stage of their training during the Pharmacy Residency Match Day.
Recent Stories
Health
By School of Health Professions
February 02, 2023
Moumita Choudhury Au.D., CCC-A, spoke about the present and future of social media's impact on healthcare in general and on hearing healthcare specifically.
Research
By Mark Hendricks
January 31, 2023
Gail Cornwall, Ph.D., professor in the Department of Cell Biology and Biochemistry at the TTUHSC, has been named a member of the American Association for the Advancement of Science Fellowship Class of 2022.
Research
By Mark Hendricks
January 27, 2023
To help address communication hurdles, the Patient-Centered Outcomes Research Institute (PCORI) has awarded a $438,756 subcontract to Tetyana L. Vasylyeva, M.D., Ph.D., from the TTUHSC School of Medicine.