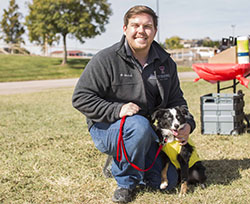 This article was published & produced by Fox 34 News, www.fox34news.com
Recovery efforts for Hurricane Harvey are still underway as the flooding left thousands without a home, including animals. Texas Tech Health Sciences Center and student government association hosted 'walk n wag', raising money for the Harris County Animal Shelter.
Austin Lunney, student body president of the TTUHSC said they wanted to shed light on the important of animal shelters and rescue groups during a time of devastation.
"I'll see on Facebook and things like that what the people are going through but you know a lot of people that were evacuated had to leave their dogs behind," Lunney said.
The Harris County Animal Shelter provided care to nearly 1,000 displaced animals after Harvey hit. Lunney said even though months have passed, he still wanted to find a way to help.
"It was important for us to realize that this was a lasting problem that they were having down there and that their dealing with it still today," Lunney said.
This is the second year the Health Sciences Center hosted the fundraiser, which provided pet owners an opportunity to come out and participate in fun activities. Ruby Lira, member of SGA said last year they donated locally but after they saw the aftermath of Harvey, they decided to go beyond West Texas.
"We have so many students, both from the health sciences center and Texas Tech University that come from Houston." Lira said. "They're such a large number of students so we decided to give back to that area because rebuilding takes more than just a couple of months. We can't forget about them because it's been awhile."
Texas Tech student, Lauren Mcmanus said she came out to the event because of the cause.
"It was kinda fun to get them out of the apartment and just to hang out and relax." Mcmanus said. "But to know that everything your doing is going to help someone out also, just kinda helps the event and makes it better too."
She said part of the reason she decided to go to Tech was because of the universities mission of generosity.
"When things happen they don't just stand back and just watch, they're gonna help out in any way that they can," Mcmanus said.
All the proceeds from walk n wag will go towards the Harris County Animal Shelter. If you want to donate directly to the shelter visit https://hcfcu.com/hcphes/ or donate make a purchase from the shelter's Amazon wish list.