Texas Tech Athletics and School of Medicine Pediatric Club Team Up
Kids Fall Health Fair to focus on Overall Fitness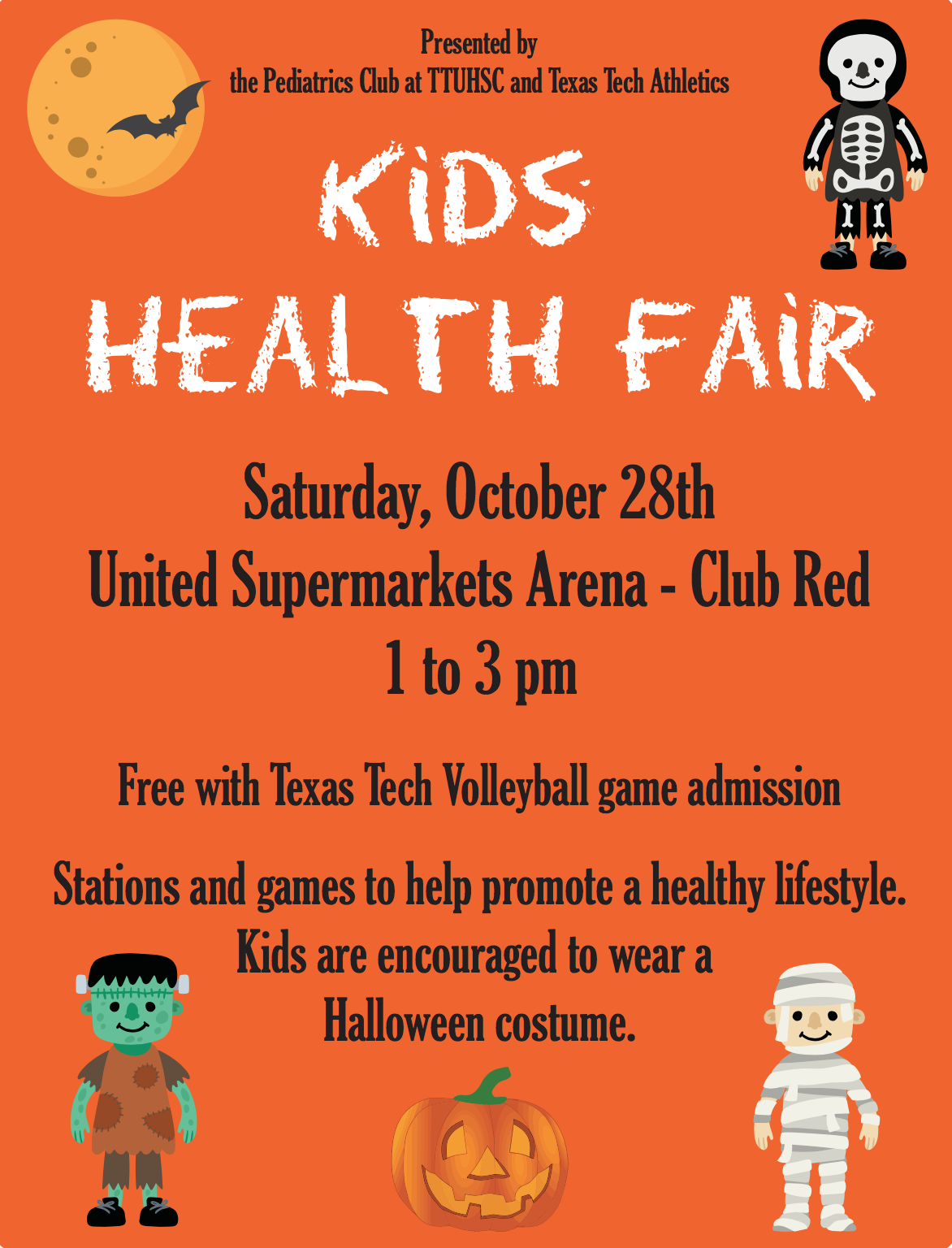 The Texas Tech University Health Sciences Center (TTUHSC) School of Medicine Pediatrics Club will host the Lubbock Kids Fall Health Fair from 1 to 3 p.m. October 28 at the United Supermarkets Arena – Club Red, 1701 Indiana Ave.
Katie Higgins, second-year medical student and Pediatric Club president, said this year's health fair will focus on overall fitness.
"This event will teach kids about different aspects of health and fun ways to be healthy and get active," Higgins said. "The event is in conjunction with other kid's activities occurring on the concourse of the volleyball game including a Halloween costume contest, so we encourage kids to wear their best costumes."
The fair will be have stations that include:
Heart Health: Jumping rope and learning about stethoscopes
Keep Moving: Dancing with pedometers
Respiratory Health: Extreme Tic-Tac-Toe
Food Art: Making healthy snacks with Rainbow Health Nutrition and Culinary
Medicine Clubs
Work it Out: Mini workout with Preventative Medicine Club
Skin Health: Sunscreen activity with Dermatology Club
The Lubbock Kids Fall Health Fair is free and open to children ages 6 to 13. To gain entrance to the United Spirit Arena for Texas Tech Kids Day, cost is $5 for parents and children over 12. For more information, contact Kate Higgins at kate.higgins@ttuhsc.edu.
Related Stories
By Lori Rice-Spearman, Ph.D., Steven L. Berk, M.D.
March 22, 2022
TTUHSC Celebration of Life Service was held March 25th in remembrance of Tom McGovern, Ed.D.
By Suzanna Cisneros
March 18, 2022
TTUHSC has been named as a Military Friendly® School for 2022-2023. Among graduate schools, TTUHSC ranked fourth in the nation, achieving Gold award status.
By Meaghan Collier
March 17, 2022
On March 16, fourth-year TTUHSC Jerry H. Hodge School of Pharmacy students interested in completing a residency after they graduate in May, learned where they would spend the next stage of their training during the Pharmacy Residency Match Day.
Recent Stories
Health
By Mark Hendricks
September 29, 2022
CPRIT recently awarded a $1 million prevention grant to Rakhshanda Rahman, M.D., Rebeccah Baucom, M.D., and John Kidwell, M.D., from the TTUHSC School of Medicine.
Research
By Kathryn Dankesreiter (TTU)
September 26, 2022
The Innovation Hub at Research Park today (September 26, 2022) announced the winners of its annual Presidents' Innovative Startup Awards. The award recognizes startups that have a high potential for growth and an economic impact in West Texas.
Education
By Mark Hendricks
September 23, 2022
Fifth graders from Bean Elementary School became doctors for a day. The Texas Tech University Health Sciences Center (TTUHSC) Student National Medical Association (SNMA) hosted the Doctors for a Day Minicamp on Sept. 23.