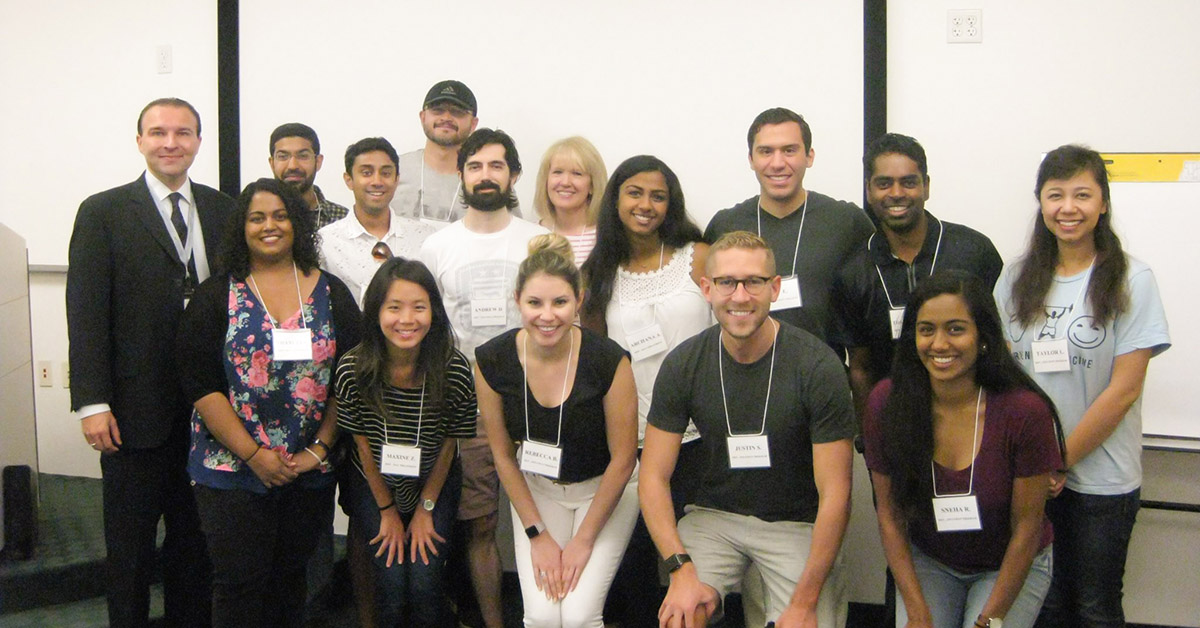 Through the Betty Ford Center's Summer Institute program, Texas Tech University Health Sciences Center medical students and faculty have a first-hand look at what happens to those suffering from addiction, what struggles the disease brings and how the disease is treated.
Simon Williams, Ph.D., associate dean for Academic Affairs, said Jay and Mimi Bonds approached him about supporting a program for medical students to learn more about addiction. Jay, who is a lawyer from Fort Worth, is a recovering addict.
"This was one of the most amazing experiences of my life to witness how the 12-step program works, but most importantly to see students recognize that addiction is a chronic disease and not a choice by an individual," Williams said. "There is still such a stigma of substance abuse. This experience at the Betty Ford Center's Summer Institute Program has been beneficial to their medical education."
Williams said TTUHSC was one of the first schools in the United States that offered this program as an elective — TTUHSC and the Texas College of Osteopathic Medicine at the University of North Texas Health Science Center. The program is a part of the Addiction Medical Curriculum. Third-and fourth-year medical students apply to attend this unique one-week program. Total immersion takes place with students and faculty participating in all aspects of the Betty Ford program.
Taylor Lindgren, a third-year medical student who recently attended the program, said she was expecting to go through the program as a student from an educational point of view.
"We instead experienced the program as patients do," Lindgren said. "I definitely didn't expect to connect with so many of the patients on such a personal level, but it helped me realize how prevalent an issue addiction is and how profoundly it affects people who struggle with it."
David Trotter, Ph.D., assistant professor and director of Behavioral Sciences in the Department of Family & Community Medicine, attended the program along with the students in the past.
"When you can see the human face on addiction, you learn that really anyone can be affected," Trotter said. "Affected individuals are people we see and interacted with everyday, neighbors, friends, parents, grandparents, professionals, even you or me, all just humans struggling with a terrible disease. Our role in this experience was to observe and learn."
Trotter said watching students witness the 12-Step program at Betty Ford was wonderful because addiction medicine is not a major focus of the curriculum in most medical schools. Each student was assigned into a different track. Six went to the inpatient program and the other six went to the family program. All were assigned to a specific hall, and each experienced across the spectrum of addiction from detox issues, spirituality and addiction, chronic pain programs and Al-Anon support groups for family member and friends of addicts.
"For those without personal history, it was great to see them develop a general understanding of the disease. It also was great to witness the amazing transition from passive learner to passionate advocate of the disease model of addiction."
Bonds created the original endowment for medical students to participate in this Betty Ford program because of his personal story. He was concerned and frustrated that physicians who examined him throughout his years of alcoholism never diagnosed him, challenged him or intervened. Bonds wanted to give back to those struggling with addiction.
"The program kept emphasizing the fact that addiction is a disease, not a choice," Lindgren said. "This is something that I had heard before, but it was hard to wrap my mind around the conceptbefore participating in the program. Actually meeting people who struggle with addiction gave me a better perspective than what we get in medical school. Getting to know their stories and their lives gave me a better understanding of where they came from and how they ended up at Betty Ford, and this reminded me that patients who struggle with addiction are so much more than a cliché."
Lindgren said several times throughout the program, she noticed patients would say, "If only my doctor had asked me about my alcohol or drug use, I might have opened up and gotten help sooner." To address this, one G.I .physician mentioned that he always ended every patient encounter by asking, "What else?" She hopes to be the kind of physician that will pick up on underlying issues that patients may have, conversations that they may not be ready to broach on their own.
"Medical students get very limited exposure to addiction and related diseases, especially in regards to how to counsel patients on this issue," Lindgren said. "It made a huge difference to actually go to the Betty Ford Center, meet people who struggle with this disease, witness the 12-step program, and personally go through the program. Programs like this are instrumental in our understanding of addiction as a disease, and it's thanks to donors like Mimi and Jay Bonds who made this experience possible."