Pharmacy students stage penny war benefiting AHA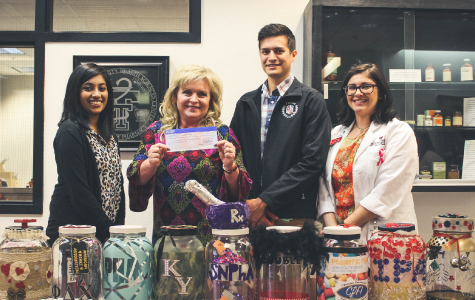 In a classic battle to benefit the community, student organizations at the TTUHSC School of Pharmacy in Amarillo staged a penny war in conjunction with the American Heart Association's (AHA) Heart Walk that took place Oct. 21 at the Don Harrington Discovery Center.
For those not familiar with penny wars, each organization is given a jar into which its members contribute pennies. The organization earns one point for each penny.
"However, this is a game of strategy, treachery and skullduggery," Associate Professor Margaret Weis said. "It is possible to sabotage a rival organization by placing nickels (negative 5 points), dimes (negative 10 points), quarters (negative 25 points) or currency (minus MANY points) into the opposition's jars."
Weis said the student organizations raised a total of $1028.39, including $727.65 in pennies.
"That's more than 400 pounds of pennies," Weis added.
In a fitting end to a classic battle, the pharmacy students presented a check for all of the penny war proceeds to Judy Cato, AHA's corporate market director, Nov. 2 inside the Pharmacy Academic Center.
Related Stories
By Mark Hendricks
March 25, 2022
The Texas Tech University Health Sciences Center (TTUHSC) Graduate School of Biomedical Sciences hosted its 34th Annual Student Research Week March 8-11.
By Mark Hendricks
March 25, 2022
The National Cancer Institute awarded a five-year, $1.9 million grant to C. Patrick Reynolds, M.D., Ph.D., director for the School of Medicine Cancer Center at TTUHSC.
By School of Health Professions
March 24, 2022
Richard Greenhill, DHA, FISQua, FACHE, discusses the hype and reality surrounding AI in healthcare.
Recent Stories
Education
By School of Health Professions
June 30, 2022
Ericka Hendrix, PhD, MB(ASCP)cm, spoke about the training and education involved for diagnostic molecular scientists and how the pandemic has affected the role.
Education
By Suzanna Cisneros
June 29, 2022
TTUHSC and members of the Abilene community today (June 29) celebrated the official unveiling the new Julia Jones Matthews School of Population and Public Health.
Education
By Kate Gollahon
June 28, 2022
On June 29, the opening celebration event for the Julia Jones Matthews School of Population and Public Health will recognize many years of hard work and look ahead to the start of a new and exciting journey.