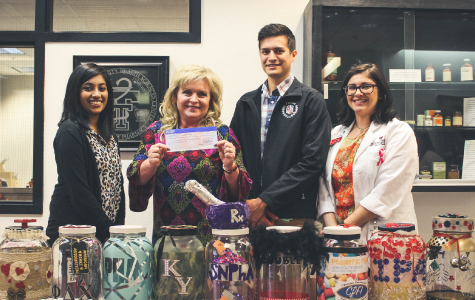 In a classic battle to benefit the community, student organizations at the TTUHSC School of Pharmacy in Amarillo staged a penny war in conjunction with the American Heart Association's (AHA) Heart Walk that took place Oct. 21 at the Don Harrington Discovery Center.
For those not familiar with penny wars, each organization is given a jar into which its members contribute pennies. The organization earns one point for each penny.
"However, this is a game of strategy, treachery and skullduggery," Associate Professor Margaret Weis said. "It is possible to sabotage a rival organization by placing nickels (negative 5 points), dimes (negative 10 points), quarters (negative 25 points) or currency (minus MANY points) into the opposition's jars."
Weis said the student organizations raised a total of $1028.39, including $727.65 in pennies.
"That's more than 400 pounds of pennies," Weis added.
In a fitting end to a classic battle, the pharmacy students presented a check for all of the penny war proceeds to Judy Cato, AHA's corporate market director, Nov. 2 inside the Pharmacy Academic Center.