National Memory Screening Day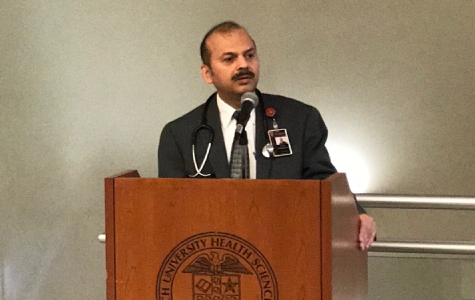 Ravindra Bharadwaj, M.D.
Though generally not used to diagnose a particular illness, memory screening can indicate if a person needs an additional follow-up evaluation by a qualified healthcare professional. This is important because early diagnosis of Alzheimer's disease can greatly improve the quality of life for the patient and for their family.
With that in mind, the TTUHSC Department of Internal Medicine in Amarillo annually offers free memory screening in conjunction with National Memory Screening Day. This year, National Memory Screening Day took place Nov. 14 and the department conducted approximately 60 no-cost memory screenings. Amarillo Mayor Ginger Nelson kicked off the event by reading a proclamation designating the dayas National Memory Screening Day in the city. Medicare patients were also offered no-cost Part D consultation provided by faculty and students from the School of Pharmacy's Phi Delta Chi student organization chapter.
Related Stories
By QEP Committee
March 21, 2023
As spring approaches, some people's thoughts turn to gardening. Whether it's a flower garden they desire or a vegetable garden want to have, they begin planning what they'll plant and what they need to do to ensure a successful garden.
By QEP Committee
March 21, 2023
A "growth mindset" accepts that our intelligence and talents can develop over time, and a person with that mindset understands that intelligence and talents can improve through effort and learning.
By Melissa Whitfield
February 13, 2023
Abstaining from drug abuse and an early diagnosis of familial hypercholesterolemia (high cholesterol) can help prevent heart disease.
Recent Stories
Education
By Suzanna Cisneros
March 24, 2023
Recognizing academic excellence, the honors are the most prestigious awards granted to faculty throughout the TTU System. The awards are funded by gifts to the Chancellor's Council, a giving society that supports the chancellor's priorities across the TTU System.
Campus Life
By Suzanna Cisneros
March 23, 2023
TTUHSC School of Medicine students will host a Women's Health Day free clinic from 10 a.m. to 1 p.m. April 15 at The Free Clinic
Research
By Mark Hendricks
March 21, 2023
TTUHSC Cytogenetic Technologist Jasbir Bisht and a team from P. Hemachandra Reddy's internal medicine laboratory analyzed the impact of cancer in Hispanics in comparison to other ethnic groups.