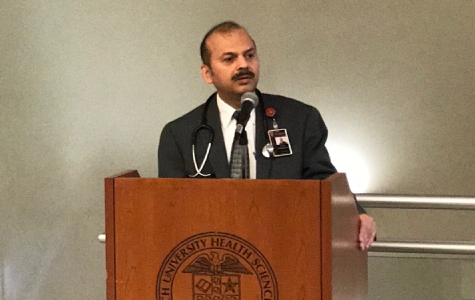 Ravindra Bharadwaj, M.D.
Though generally not used to diagnose a particular illness, memory screening can indicate if a person needs an additional follow-up evaluation by a qualified healthcare professional. This is important because early diagnosis of Alzheimer's disease can greatly improve the quality of life for the patient and for their family.
With that in mind, the TTUHSC Department of Internal Medicine in Amarillo annually offers free memory screening in conjunction with National Memory Screening Day. This year, National Memory Screening Day took place Nov. 14 and the department conducted approximately 60 no-cost memory screenings. Amarillo Mayor Ginger Nelson kicked off the event by reading a proclamation designating the dayas National Memory Screening Day in the city. Medicare patients were also offered no-cost Part D consultation provided by faculty and students from the School of Pharmacy's Phi Delta Chi student organization chapter.