National Memory Screening Day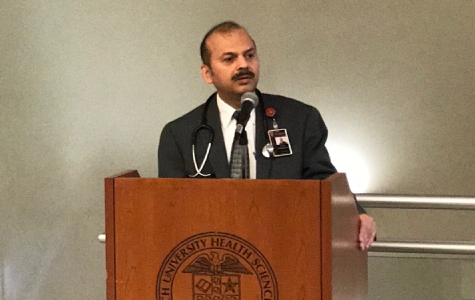 Ravindra Bharadwaj, M.D.
Though generally not used to diagnose a particular illness, memory screening can indicate if a person needs an additional follow-up evaluation by a qualified healthcare professional. This is important because early diagnosis of Alzheimer's disease can greatly improve the quality of life for the patient and for their family.
With that in mind, the TTUHSC Department of Internal Medicine in Amarillo annually offers free memory screening in conjunction with National Memory Screening Day. This year, National Memory Screening Day took place Nov. 14 and the department conducted approximately 60 no-cost memory screenings. Amarillo Mayor Ginger Nelson kicked off the event by reading a proclamation designating the dayas National Memory Screening Day in the city. Medicare patients were also offered no-cost Part D consultation provided by faculty and students from the School of Pharmacy's Phi Delta Chi student organization chapter.
Related Stories
By Mark Hendricks
March 25, 2022
The Texas Tech University Health Sciences Center (TTUHSC) Graduate School of Biomedical Sciences hosted its 34th Annual Student Research Week March 8-11.
By Mark Hendricks
March 25, 2022
The National Cancer Institute awarded a five-year, $1.9 million grant to C. Patrick Reynolds, M.D., Ph.D., director for the School of Medicine Cancer Center at TTUHSC.
By School of Health Professions
March 24, 2022
Richard Greenhill, DHA, FISQua, FACHE, discusses the hype and reality surrounding AI in healthcare.
Recent Stories
Education
By Mark Hendricks
May 25, 2022
The Texas Tech University Health Sciences Center (TTUHSC) recently hosted traditional commencement ceremonies for its 1,595-member Class of 2022.
Education
By Suzanna Cisneros
May 24, 2022
The school, which is the sixth at the university, aims to train future health care leaders in population and public health.
Education
By Meaghan Collier
May 21, 2022
The TTUHSC Jerry H. Hodge School of Pharmacy celebrated the Class of 2022 May 21 with its annual commencement ceremony.