Thailand pharmacy students visit Abilene campus
Mint and Juelie
From Sept. 17 through Oct. 28, students, faculty and staff from the Texas Tech University Health Sciences Center (TTUHSC) campus in Abilene hosted a pair of pharmacy students from Khon Kaen University (KKU), a public research university located in Khon Kaen, Thailand.
The students — Chanokporn Hakandai, who goes by Mint, and Patra Asavatanabodee, who goes by Juelie — were the first visitors to the Abilene campus as part of a memorandum of understanding (MOU) established earlier this year between the TTUHSC School of Pharmacy and KKU. The MOU allows KKU students to come to TTUHSC to complete a six-week pharmacy-related rotation, and for selected fourth-year TTUHSC School of Pharmacy students to travel to Thailand and KKU to complete an experiential rotation.
Sara Brouse, Pharm.D., regional dean for the School of Pharmacy in Abilene said having the KKU students on campus was a very positive experience that she looks forward to repeating. She believes everyone involved made some memories they won't soon forget.
"It was a great start to a wonderful partnership and opportunity for our faculty and students," Brouse added. "I'm excited to bring the first international exchange program to Abilene and continuing to build international experiential rotation opportunities for students on all of our campuses."
Mint and Juelie arrived at KKU from different Thailand cities, each located about an hour from the school. Mint said they are both studying in KKU's Faculty of Pharmaceutical Sciences and are concentrating on the school's pharmaceutical care track, which in Thailand relates to clinical pharmacy practice in the hospital and drugstore.
"We are studying to become clinical pharmacists," Mint said. "We hope to learn about clinical pharmacy, medications in U.S. and the pharmacist's roles in outpatient and inpatient care and in retail pharmacy"
Juelie said this was the first trip to the U.S. for her and Mint. She said it was a great opportunity to come to Abilene to observe and learn about the U.S. work culture and to get more experience in clinical pharmacy.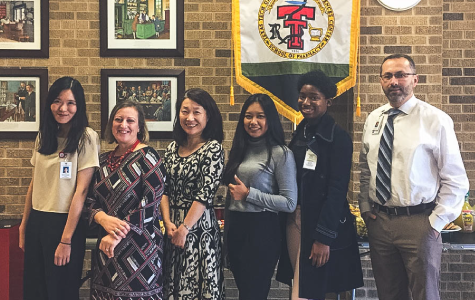 Mint and Juelie with TTUHSC Abilene faculty and students
"We gained a lot of knowledge and experiences from the internship, especially work cultures, systems and and new medications," Juelie said. "We will apply these experiences to help develop the health care system in Thailand."
They also had an opportunity to experience Texas, thanks to the Abilene campus faculty, staff and students. Their favorite Key City food is steak and barbecue.
"There are a lot of foods that we never tried in our country," Mint said. "We felt excited every time when people took us to the restaurants. Texas people also have their leather boots and jackets, which we thought they had only in the movies. We'd like to thank the faculty, staff and students from TTUHSC for helping us in many things. You guys are amazing and we really appreciate it."
Brouse said the KKU School of Pharmacy dean and three other faculty members who are working with the KKU international exchange program also visited the Abilene campus Oct. 19-21. She said the visiting educators learned about the curriculum at the TTUHSC School of Pharmacy and about Techlink, the distance education network the school uses to connect each campus. They also toured Abilene's Simulation Center.
Brouse has been invited to speak in January at an international conference in Khon Kaen. As part of the MOU between TTUHSC and KKU, two fourth-year TTUHSC pharmacy students will also be selected to complete a six-week elective rotation at the University Hospital in Khon Kaen next year. The TTUHSC pharmacy students will also spend time in KKU's retail pharmacy and the hospital's Alternative Medicine Unit, where patients can request a Thai massage, tiger balm applications and other non-traditional approaches to healing.
"It takes a village to host dignitaries from another country and international students for a six-week rotation," Brouse said. "Thank you to all of the faculty & staff who helped to coordinate and host the deans and international affairs faculty from Khon Kaen University and the students we got to know during their visit to our campus."
Related Stories
By QEP Committee
March 21, 2023
As spring approaches, some people's thoughts turn to gardening. Whether it's a flower garden they desire or a vegetable garden want to have, they begin planning what they'll plant and what they need to do to ensure a successful garden.
By QEP Committee
March 21, 2023
A "growth mindset" accepts that our intelligence and talents can develop over time, and a person with that mindset understands that intelligence and talents can improve through effort and learning.
By Melissa Whitfield
February 13, 2023
Abstaining from drug abuse and an early diagnosis of familial hypercholesterolemia (high cholesterol) can help prevent heart disease.
Recent Stories
Education
By Suzanna Cisneros
March 24, 2023
Recognizing academic excellence, the honors are the most prestigious awards granted to faculty throughout the TTU System. The awards are funded by gifts to the Chancellor's Council, a giving society that supports the chancellor's priorities across the TTU System.
Campus Life
By Suzanna Cisneros
March 23, 2023
TTUHSC School of Medicine students will host a Women's Health Day free clinic from 10 a.m. to 1 p.m. April 15 at The Free Clinic
Research
By Mark Hendricks
March 21, 2023
TTUHSC Cytogenetic Technologist Jasbir Bisht and a team from P. Hemachandra Reddy's internal medicine laboratory analyzed the impact of cancer in Hispanics in comparison to other ethnic groups.