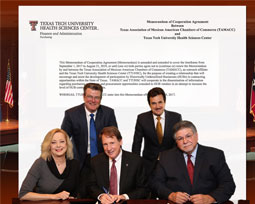 Texas Tech University Health Sciences Center (TTUHSC) signed a Memorandum of Cooperation (COM) with the Texas Association of Mexican American Commerce (TAMACC) and the Texas Association of African American Chambers of Commerce (TAAACC) to encourage the development of historically underutilized businesses (HUBs).
Texas agencies make good-faith efforts to utilize HUBs in state contracts. HUBs are for-profit businesses which are 51 percent owned, operated and controlled by minorities who are historically underutilized and economically disadvantaged because of their race, ethnicity or gender.
"Economic opportunity affects everything in our lives," said TTUHSC President Tedd L. Mitchell, M.D. "HUBs are a gateway for minorities, women and small businesses to find opportunity within the marketplace. By amplifying their voice, we empower the community and bolster entrepreneurial spirits."
Texas Tech University System Chancellor Robert L. Duncan and Texas Tech University President Lawrence Schovanec, Ph.D., committed to the COM with Mitchell in a signing with 18 other state agencies.