TTUHSC Commits to Historically Underutilized Businesses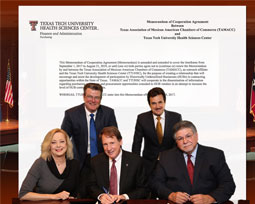 Texas Tech University Health Sciences Center (TTUHSC) signed a Memorandum of Cooperation (COM) with the Texas Association of Mexican American Commerce (TAMACC) and the Texas Association of African American Chambers of Commerce (TAAACC) to encourage the development of historically underutilized businesses (HUBs).
Texas agencies make good-faith efforts to utilize HUBs in state contracts. HUBs are for-profit businesses which are 51 percent owned, operated and controlled by minorities who are historically underutilized and economically disadvantaged because of their race, ethnicity or gender.
"Economic opportunity affects everything in our lives," said TTUHSC President Tedd L. Mitchell, M.D. "HUBs are a gateway for minorities, women and small businesses to find opportunity within the marketplace. By amplifying their voice, we empower the community and bolster entrepreneurial spirits."
Texas Tech University System Chancellor Robert L. Duncan and Texas Tech University President Lawrence Schovanec, Ph.D., committed to the COM with Mitchell in a signing with 18 other state agencies.
Related Stories
By QEP Committee
March 21, 2023
As spring approaches, some people's thoughts turn to gardening. Whether it's a flower garden they desire or a vegetable garden want to have, they begin planning what they'll plant and what they need to do to ensure a successful garden.
By QEP Committee
March 21, 2023
A "growth mindset" accepts that our intelligence and talents can develop over time, and a person with that mindset understands that intelligence and talents can improve through effort and learning.
By Melissa Whitfield
February 13, 2023
Abstaining from drug abuse and an early diagnosis of familial hypercholesterolemia (high cholesterol) can help prevent heart disease.
Recent Stories
Campus Life
By Suzanna Cisneros
March 23, 2023
TTUHSC School of Medicine students will host a Women's Health Day free clinic from 10 a.m. to 1 p.m. April 15 at The Free Clinic
Research
By Mark Hendricks
March 21, 2023
TTUHSC Cytogenetic Technologist Jasbir Bisht and a team from P. Hemachandra Reddy's internal medicine laboratory analyzed the impact of cancer in Hispanics in comparison to other ethnic groups.
Education
By School of Health Professions
March 21, 2023
World Down syndrome Day was established to raise awareness about Down syndrome and to promote inclusion and acceptance of people with Down syndrome in all aspects of society.