TTUHSC Commits to Historically Underutilized Businesses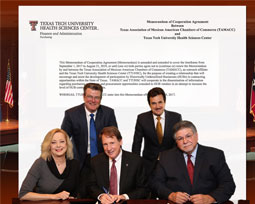 Texas Tech University Health Sciences Center (TTUHSC) signed a Memorandum of Cooperation (COM) with the Texas Association of Mexican American Commerce (TAMACC) and the Texas Association of African American Chambers of Commerce (TAAACC) to encourage the development of historically underutilized businesses (HUBs).
Texas agencies make good-faith efforts to utilize HUBs in state contracts. HUBs are for-profit businesses which are 51 percent owned, operated and controlled by minorities who are historically underutilized and economically disadvantaged because of their race, ethnicity or gender.
"Economic opportunity affects everything in our lives," said TTUHSC President Tedd L. Mitchell, M.D. "HUBs are a gateway for minorities, women and small businesses to find opportunity within the marketplace. By amplifying their voice, we empower the community and bolster entrepreneurial spirits."
Texas Tech University System Chancellor Robert L. Duncan and Texas Tech University President Lawrence Schovanec, Ph.D., committed to the COM with Mitchell in a signing with 18 other state agencies.
Related Stories
By Mark Hendricks
March 25, 2022
The Texas Tech University Health Sciences Center (TTUHSC) Graduate School of Biomedical Sciences hosted its 34th Annual Student Research Week March 8-11.
By Mark Hendricks
March 25, 2022
The National Cancer Institute awarded a five-year, $1.9 million grant to C. Patrick Reynolds, M.D., Ph.D., director for the School of Medicine Cancer Center at TTUHSC.
By School of Health Professions
March 24, 2022
Richard Greenhill, DHA, FISQua, FACHE, discusses the hype and reality surrounding AI in healthcare.
Recent Stories
Education
By Meaghan Collier
May 21, 2022
The TTUHSC Jerry H. Hodge School of Pharmacy celebrated the Class of 2022 May 21 with its annual commencement ceremony.
Health
By School of Health Professions
May 19, 2022
Dysphagia is a swallowing disorder that affects a person's ability to eat or drink, affecting between 300,000 and 700,000 people in the United States each year.
Health
By Suzanna Cisneros
May 18, 2022
Brittany Bankhead, M.D., an assistant professor of surgery for the Division of Trauma, Burns and Critical Care at the Texas Tech University Health Sciences Center, said life-threatening bleeding can happen in everyday scenarios.