Flying High
Medical Student to Become Flight Surgeon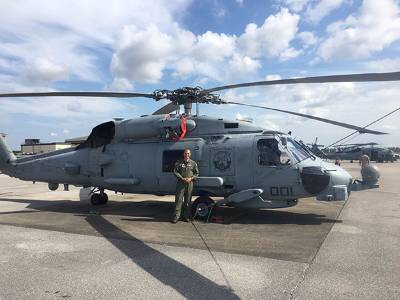 With his two uncles in the U.S. Air Force, Ryan Baxter, remembers a lot of trips as a child to San Diego.
"The experiences made an impression on me growing up." Baxter said. "I thought about going into the military after high school. But instead went straight to college. Once I heard about being in medicine and serving in the military, I thought what a great way to have the best of both worlds – serve my country and have fun."
Baxter, a fourth-year medical student, chose the U.S. Navy. He began as an Ensign, the entry-level commissioned officer's rank in the U.S. Navy, and a Medical Corp. Baxter said the U.S. Navy is adamant about being an officer first, a doctor second.
"For me, flight medicine or the official name flight surgery, was extremely interesting," Baxter said. "You become an air examiner by working with preventative medicine for pilots and the crew. And one of the fun experiences has been and will be to get to do flight school with pilots. I got a taste of it at my four-week clerkship when I shadowed flight surgeons to learn what their jobs were. I also was allowed to go up in the helicopter as second seat and get flying time. I loved it, and the experience revalidated my decision to join. That was what won me over."
Baxter served in the U.S. Naval Reserve while in medical school and will go into active duty after graduation. The U.S. Navy credits his time in medical school as in service time. After his four years, he officially became an officer at the Military Commissioning Ceremony where he was promoted to a Third Officer Level Lieutenant.
Baxter enjoyed his time at the Texas Tech University Health Sciences Center School of Medicine. His best memory was that of his Family Medicine Rural rotation experience at Alpine, Texas. He was able to diagnose a patient who had repeatedly been admitted to the hospital. Baxter figured out a drug she was taking from Mexico was labeled Indomethacin, but it also had a steroid betamethasone that was unreported and dangerous to her long-term health.
"It was the first memory I had that I made a difference and helped someone," Baxter said. "It feels nice, and I am elated for the future real-world responsibilities. I know I will do fine because the School of Medicine has prepared me well."
Related Stories
By Mark Hendricks
March 25, 2022
The Texas Tech University Health Sciences Center (TTUHSC) Graduate School of Biomedical Sciences hosted its 34th Annual Student Research Week March 8-11.
By Mark Hendricks
March 25, 2022
The National Cancer Institute awarded a five-year, $1.9 million grant to C. Patrick Reynolds, M.D., Ph.D., director for the School of Medicine Cancer Center at TTUHSC.
By School of Health Professions
March 24, 2022
Richard Greenhill, DHA, FISQua, FACHE, discusses the hype and reality surrounding AI in healthcare.
Recent Stories
Education
By Mark Hendricks
May 26, 2022
The Willed Body Program has served West Texas since 1972 and is the foundation upon which the TTUHSC Institute of Anatomical Sciences is built.
Education
By Mark Hendricks
May 25, 2022
The Texas Tech University Health Sciences Center (TTUHSC) recently hosted traditional commencement ceremonies for its 1,595-member Class of 2022.
Education
By Suzanna Cisneros
May 24, 2022
The school, which is the sixth at the university, aims to train future health care leaders in population and public health.