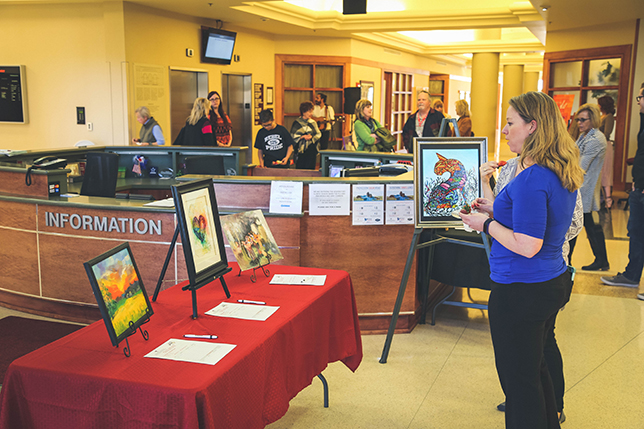 A March 2 art auction at the Texas Tech University Health Sciences Center (TTUHSC) regional campus in Amarillo benefited its Pediatric Nephrology program. Eighteen instructors and students from the Amarillo Art Institute donated 28 pieces of artwork for the auction.
Every piece was sold, raising $1,925 for the Pediatric Nephrology program led by Dr. Tetyana Vasylyeva, M.D. A silent auction was held throughout the day in the School of Medicine lobby, and winners were announced during an evening reception.
"One of the most exciting benefits of having the art out all day was that patients young and old were able to view the art as they went to doctor appointments in the building," Amarillo Director of Development Carley du Menil said.
Nephrologists are a vital link to positive outcomes for children with kidney failure and renal diseases. Without specialists like this at TTUHSC, Texas Panhandle families could need to travel hundreds of miles for care elsewhere.
Amarillo Art Institute is a non-profit organization dedicated to providing art education for Amarilloans. Located in the Galleries at Sunset Center, it offers art classes for aspiring adult and children artists.
"I appreciate all participants of our art auction event, 'Give an Art,' which brought artists, medical health professionals and a myriad of community members together in a unified mission to help find a cure and provide emotional support to children with chronic kidney disease," Dr. Vasylyeva added. "I greatly appreciate the artists who donated their very valuable work to us. The money raised will be spent wisely and fund transparency will be publicized."
IMAGE GALLERY