'Give an Art' Auction Benefits Pediatric Nephrology
Amarillo artists donate artwork to help kids with kidney failure and renal diseases.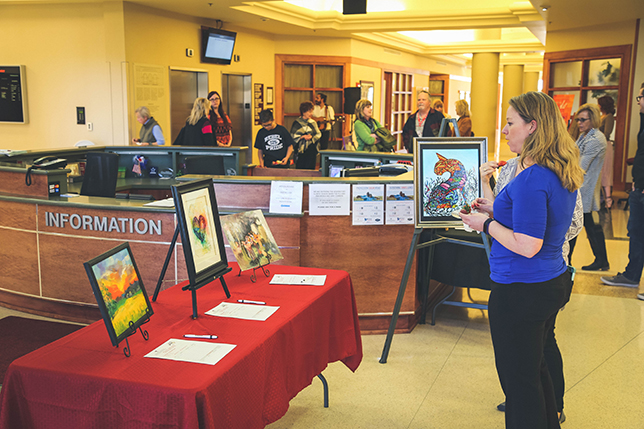 A March 2 art auction at the Texas Tech University Health Sciences Center (TTUHSC) regional campus in Amarillo benefited its Pediatric Nephrology program. Eighteen instructors and students from the Amarillo Art Institute donated 28 pieces of artwork for the auction.
Every piece was sold, raising $1,925 for the Pediatric Nephrology program led by Dr. Tetyana Vasylyeva, M.D. A silent auction was held throughout the day in the School of Medicine lobby, and winners were announced during an evening reception.
"One of the most exciting benefits of having the art out all day was that patients young and old were able to view the art as they went to doctor appointments in the building," Amarillo Director of Development Carley du Menil said.
Nephrologists are a vital link to positive outcomes for children with kidney failure and renal diseases. Without specialists like this at TTUHSC, Texas Panhandle families could need to travel hundreds of miles for care elsewhere.
Amarillo Art Institute is a non-profit organization dedicated to providing art education for Amarilloans. Located in the Galleries at Sunset Center, it offers art classes for aspiring adult and children artists.
"I appreciate all participants of our art auction event, 'Give an Art,' which brought artists, medical health professionals and a myriad of community members together in a unified mission to help find a cure and provide emotional support to children with chronic kidney disease," Dr. Vasylyeva added. "I greatly appreciate the artists who donated their very valuable work to us. The money raised will be spent wisely and fund transparency will be publicized."
IMAGE GALLERY
Related Stories
By Lori Rice-Spearman, Ph.D., Steven L. Berk, M.D.
March 22, 2022
TTUHSC Celebration of Life Service was held March 25th in remembrance of Tom McGovern, Ed.D.
By Suzanna Cisneros
March 18, 2022
TTUHSC has been named as a Military Friendly® School for 2022-2023. Among graduate schools, TTUHSC ranked fourth in the nation, achieving Gold award status.
By Meaghan Collier
March 17, 2022
On March 16, fourth-year TTUHSC Jerry H. Hodge School of Pharmacy students interested in completing a residency after they graduate in May, learned where they would spend the next stage of their training during the Pharmacy Residency Match Day.
Recent Stories
Research
By Mark Hendricks
January 31, 2023
Gail Cornwall, Ph.D., professor in the Department of Cell Biology and Biochemistry at the TTUHSC, has been named a member of the American Association for the Advancement of Science Fellowship Class of 2022.
Research
By Mark Hendricks
January 27, 2023
To help address communication hurdles, the Patient-Centered Outcomes Research Institute (PCORI) has awarded a $438,756 subcontract to Tetyana L. Vasylyeva, M.D., Ph.D., from the TTUHSC School of Medicine.
Education
By Suzanna Cisneros
January 19, 2023
Texas Tech University Health Sciences Center Department of Surgery Chair Sharmila Dissanaike, M.D., was elected as the American Burn Association president for 2025.