'Give an Art' Auction Benefits Pediatric Nephrology
Amarillo artists donate artwork to help kids with kidney failure and renal diseases.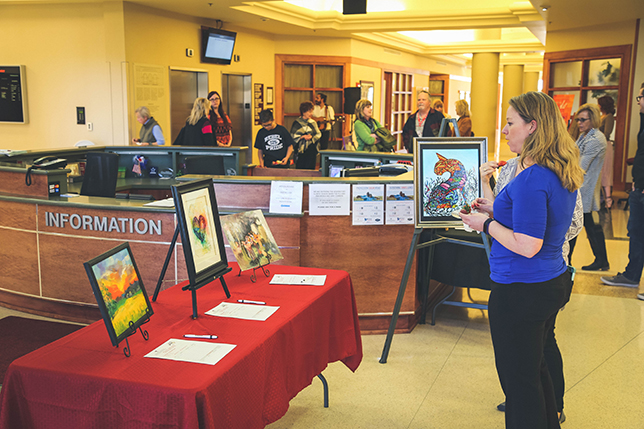 A March 2 art auction at the Texas Tech University Health Sciences Center (TTUHSC) regional campus in Amarillo benefited its Pediatric Nephrology program. Eighteen instructors and students from the Amarillo Art Institute donated 28 pieces of artwork for the auction.
Every piece was sold, raising $1,925 for the Pediatric Nephrology program led by Dr. Tetyana Vasylyeva, M.D. A silent auction was held throughout the day in the School of Medicine lobby, and winners were announced during an evening reception.
"One of the most exciting benefits of having the art out all day was that patients young and old were able to view the art as they went to doctor appointments in the building," Amarillo Director of Development Carley du Menil said.
Nephrologists are a vital link to positive outcomes for children with kidney failure and renal diseases. Without specialists like this at TTUHSC, Texas Panhandle families could need to travel hundreds of miles for care elsewhere.
Amarillo Art Institute is a non-profit organization dedicated to providing art education for Amarilloans. Located in the Galleries at Sunset Center, it offers art classes for aspiring adult and children artists.
"I appreciate all participants of our art auction event, 'Give an Art,' which brought artists, medical health professionals and a myriad of community members together in a unified mission to help find a cure and provide emotional support to children with chronic kidney disease," Dr. Vasylyeva added. "I greatly appreciate the artists who donated their very valuable work to us. The money raised will be spent wisely and fund transparency will be publicized."
IMAGE GALLERY
Related Stories
By QEP Committee
March 21, 2023
As spring approaches, some people's thoughts turn to gardening. Whether it's a flower garden they desire or a vegetable garden want to have, they begin planning what they'll plant and what they need to do to ensure a successful garden.
By QEP Committee
March 21, 2023
A "growth mindset" accepts that our intelligence and talents can develop over time, and a person with that mindset understands that intelligence and talents can improve through effort and learning.
By Melissa Whitfield
February 13, 2023
Abstaining from drug abuse and an early diagnosis of familial hypercholesterolemia (high cholesterol) can help prevent heart disease.
Recent Stories
Education
By Suzanna Cisneros
December 07, 2023
HACU announced Sonya Castro-Quirino, D.Bioethics, TTUHSC vice president of Office of Institutional Compliance, as one of the 50 fellows of HACU's Leadership Academy/La Academia de Liderazgo.
Campus Life
By Samantha White via TAFP news release
December 05, 2023
Ronald L. Cook, DO, MBA, of Lubbock, Texas, was named the 2023 Texas Family Physician of the Year during TAFP's Annual Session and Primary Care Summit in Grapevine on Nov. 11.
Research
By Mark Hendricks
November 16, 2023
Ninh (Irene) La-Beck, Pharm.D., with the TTUHSC Jerry H. Hodge School of Pharmacy, received a five-year, $2.49 million grant to investigate how nanoparticles interact with the immune system and cancer.