Pharmacy students prepare for future at annual conference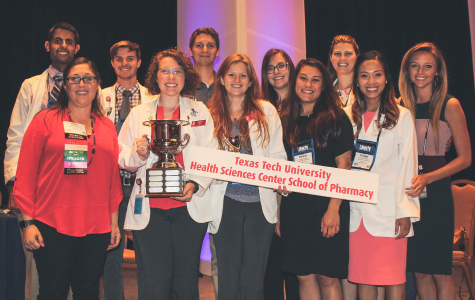 A group of pharmacy students took in a variety of presentations designed to be insightful and intellectually stimulating at the 2017 Texas Pharmacy Association (TPA) Conference July 7-9 in San Antonio.
Third-year student (P3) Alex Parish said the presentation topics ranged from Naloxone use in opioid overdose to drug induced nutrient depletions to bills from the 85th Texas Legislative session. He said the presenters included 2017-2018 TPA president Mary Klein, Pharm.D., an assistant professor from the Abilene campus who discussed various medical devices pertinent to pharmacy practice.
"This year's TPA Conference was an amazing experience for all students and practicing pharmacists who had the opportunity to attend," Parish said. "The conference brought together pharmacists and pharmacy students from all over the state who represented the wide range of various practices and specialties."
The conference also included a pair of competitions to assess student skills in patient counseling and self-care. Parish said P4s Hayley Brazeale, Krisgel Padolina and Stephanie James participated in the Patient Counseling Competition. P3s Aubree Bast and Casey Bryant and P2s Matthew Bigelow and Goravpaul Chatrath competed as a team in the Self-Care Championship.
"All of the contestants represented our school with extraordinary professionalism and each valued the experience tremendously," Parish said. "In the thrilling Jeopardy-style Self-Care Championship, which tested the knowledge of over-the-counter medications and self-treatable disease states, TTUHSC continued its winning tradition."
Parish said the self-care contest was a dead heat going into the final Jeopardy round. During that round, the TTUHSC team wagered all of its points and then outmatched competitors from seven other Texas pharmacy schools to earn the Self-Care Championship trophy for the second year in a row.
Supporting current pharmacy students is one of TPA's core foundations, so the conference also featured a silent auction to raise scholarship money for pharmacy students across Texas who are in need of financial assistance. Parish said the 2017 auction raised more than $10,000.
To address the issues and innovations that will be important to the future of pharmacy, Parish said conference attendees formed small groups to discuss new ideas for increasing awareness, participation and advocacy in pharmacy schools and within the profession itself.
"Health care is a dynamic field that presents a rocky road for the future and is in great need of innovation," Parish said. "Further joint efforts between TPA and other pharmacy organizations will help us to advance the profession through innovation, education, and advocacy in order to deliver quality health care initiatives."
Related Stories
By Lori Rice-Spearman, Ph.D., Steven L. Berk, M.D.
March 22, 2022
TTUHSC Celebration of Life Service was held March 25th in remembrance of Tom McGovern, Ed.D.
By Suzanna Cisneros
March 18, 2022
TTUHSC has been named as a Military Friendly® School for 2022-2023. Among graduate schools, TTUHSC ranked fourth in the nation, achieving Gold award status.
By Meaghan Collier
March 17, 2022
On March 16, fourth-year TTUHSC Jerry H. Hodge School of Pharmacy students interested in completing a residency after they graduate in May, learned where they would spend the next stage of their training during the Pharmacy Residency Match Day.
Recent Stories
Health
By School of Health Professions
February 02, 2023
Moumita Choudhury Au.D., CCC-A, spoke about the present and future of social media's impact on healthcare in general and on hearing healthcare specifically.
Research
By Mark Hendricks
January 31, 2023
Gail Cornwall, Ph.D., professor in the Department of Cell Biology and Biochemistry at the TTUHSC, has been named a member of the American Association for the Advancement of Science Fellowship Class of 2022.
Research
By Mark Hendricks
January 27, 2023
To help address communication hurdles, the Patient-Centered Outcomes Research Institute (PCORI) has awarded a $438,756 subcontract to Tetyana L. Vasylyeva, M.D., Ph.D., from the TTUHSC School of Medicine.