Abilene Faculty Help Make Antibiotic Review Successful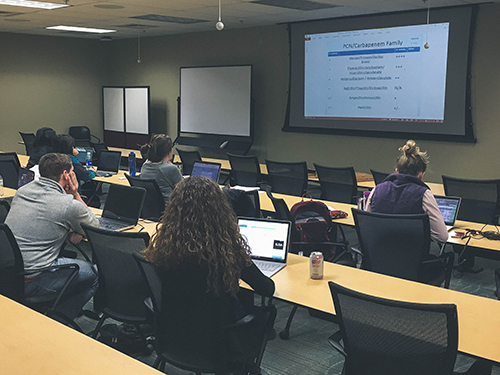 The Texas Tech Student Society of Health-System Pharmacists (also known as TTSSHP or Double T) held its annual Antibiotic Review Jan. 9 for students on all School of Pharmacy campuses. Assistant Professors Chris Tawwater, Pharm.D., and Jennifer Grelle, Pharm.D., from the Abilene campus served as presenters for the Review.
In his presentation, Dr. Tawwater reviewed the classes of antibiotics and the coverage of specific agents. Dr. Grelle presented updates to recent guidelines and discussed their importance to clinical practice. A post-Review survey was sent to those who attended the presentations so that future presentations can be customized to address the needs of those students.
The annual Antibiotic Review was the topic of TTSSHP's Student Society Poster Project that was submitted Dec. 4 at the American Society of Health-System Pharmacists' Midyear Clinical Meeting in Las Vegas. At the Student Society Showcase, members of TTSSHP presented a poster displaying data from the past Antibiotic Review and gave ideas for implementing a similar program for pharmacy schools around the United States.
TTSSHP is very grateful for Dr. Grelle and Dr. Tawwater hosting this year and providing this informative and helpful presentation for students at the Texas Tech Health Sciences Center School of Pharmacy. The TTSSHP officer team is eager to begin planning next year's event and we look forward to another successful Antibiotic Review!
Related Stories
By Lori Rice-Spearman, Ph.D., Steven L. Berk, M.D.
March 22, 2022
TTUHSC Celebration of Life Service was held March 25th in remembrance of Tom McGovern, Ed.D.
By Suzanna Cisneros
March 18, 2022
TTUHSC has been named as a Military Friendly® School for 2022-2023. Among graduate schools, TTUHSC ranked fourth in the nation, achieving Gold award status.
By Meaghan Collier
March 17, 2022
On March 16, fourth-year TTUHSC Jerry H. Hodge School of Pharmacy students interested in completing a residency after they graduate in May, learned where they would spend the next stage of their training during the Pharmacy Residency Match Day.
Recent Stories
Health
By Mark Hendricks
September 29, 2022
CPRIT recently awarded a $1 million prevention grant to Rakhshanda Rahman, M.D., Rebeccah Baucom, M.D., and John Kidwell, M.D., from the TTUHSC School of Medicine.
Research
By Kathryn Dankesreiter (TTU)
September 26, 2022
The Innovation Hub at Research Park today (September 26, 2022) announced the winners of its annual Presidents' Innovative Startup Awards. The award recognizes startups that have a high potential for growth and an economic impact in West Texas.
Education
By Suzanna Cisneros
September 23, 2022
Fifth graders from Bean Elementary School became doctors for a day. The Texas Tech University Health Sciences Center (TTUHSC) Student National Medical Association (SNMA) hosted the Doctors for a Day Minicamp on Sept. 23.