Abilene Faculty Help Make Antibiotic Review Successful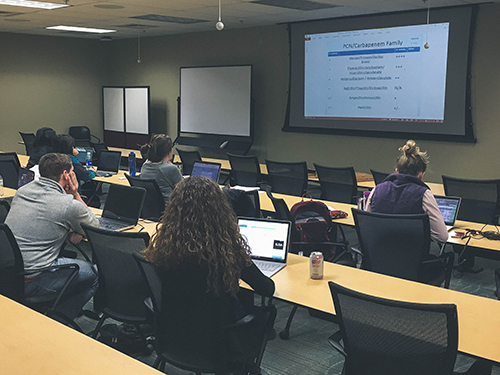 The Texas Tech Student Society of Health-System Pharmacists (also known as TTSSHP or Double T) held its annual Antibiotic Review Jan. 9 for students on all School of Pharmacy campuses. Assistant Professors Chris Tawwater, Pharm.D., and Jennifer Grelle, Pharm.D., from the Abilene campus served as presenters for the Review.
In his presentation, Dr. Tawwater reviewed the classes of antibiotics and the coverage of specific agents. Dr. Grelle presented updates to recent guidelines and discussed their importance to clinical practice. A post-Review survey was sent to those who attended the presentations so that future presentations can be customized to address the needs of those students.
The annual Antibiotic Review was the topic of TTSSHP's Student Society Poster Project that was submitted Dec. 4 at the American Society of Health-System Pharmacists' Midyear Clinical Meeting in Las Vegas. At the Student Society Showcase, members of TTSSHP presented a poster displaying data from the past Antibiotic Review and gave ideas for implementing a similar program for pharmacy schools around the United States.
TTSSHP is very grateful for Dr. Grelle and Dr. Tawwater hosting this year and providing this informative and helpful presentation for students at the Texas Tech Health Sciences Center School of Pharmacy. The TTSSHP officer team is eager to begin planning next year's event and we look forward to another successful Antibiotic Review!
Related Stories
By QEP Committee
March 21, 2023
As spring approaches, some people's thoughts turn to gardening. Whether it's a flower garden they desire or a vegetable garden want to have, they begin planning what they'll plant and what they need to do to ensure a successful garden.
By QEP Committee
March 21, 2023
A "growth mindset" accepts that our intelligence and talents can develop over time, and a person with that mindset understands that intelligence and talents can improve through effort and learning.
By Melissa Whitfield
February 13, 2023
Abstaining from drug abuse and an early diagnosis of familial hypercholesterolemia (high cholesterol) can help prevent heart disease.
Recent Stories
Campus Life
By Suzanna Cisneros
March 31, 2023
The TPPC, managed by the TTUHSC Jerry H. Hodge School of Pharmacy, will host Lubbock's Spring Medication Cleanout™ event from 10 a.m. to 2 p.m. April 22 (Saturday) at the Texas Tech Physicians Medical Pavilion.
Campus Life
By Meaghan Collier
March 31, 2023
TTUHSC School of Nursing honored its first class of Bachelor of Science in Nursing (BSN) graduates with a lamp lighting ceremony on Thursday, March 30.
Health
By Melissa Whitfield
March 30, 2023
Texas Tech Physicians primary and specialty clinics across West Texas have completed more than 160,000 telehealth visits since the start of the pandemic.