Employees receive Texans Caring for Texans recognition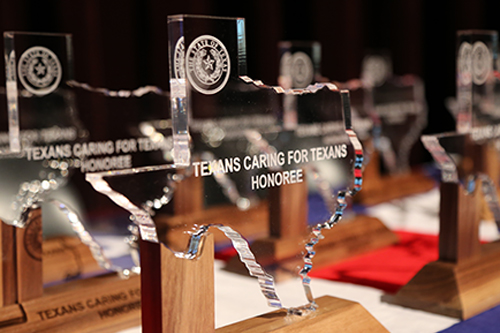 Each year state agencies from the upper 26 counties in the Texas Panhandle are are invited to select an employee or team of employees to receive a Texans Caring for Texans award.
The 2017 Texans Caring for Texans recipients were honored in a ceremony Aug. 10 on the West Texas A&M University campus in Canyon. Honorees from the TTUHSC campus in Amarillo campus included social workers Jane Carter and Gracie Mubarak from the School of Medicine's Ambulatory Clinic and Shari Morris from the School of Pharmacy's Department of Pharmaceutical Sciences.
The Texans Caring for Texans award recognizes state employees in the Texas Panhandle for the effort they put forth to positively impact their communities. The event was created in 1996 by former State Representative David Swinford.
Image Gallery
Related Stories
By QEP Committee
March 21, 2023
As spring approaches, some people's thoughts turn to gardening. Whether it's a flower garden they desire or a vegetable garden want to have, they begin planning what they'll plant and what they need to do to ensure a successful garden.
By QEP Committee
March 21, 2023
A "growth mindset" accepts that our intelligence and talents can develop over time, and a person with that mindset understands that intelligence and talents can improve through effort and learning.
By Melissa Whitfield
February 13, 2023
Abstaining from drug abuse and an early diagnosis of familial hypercholesterolemia (high cholesterol) can help prevent heart disease.
Recent Stories
Education
By Suzanna Cisneros
December 07, 2023
HACU announced Sonya Castro-Quirino, D.Bioethics, TTUHSC vice president of Office of Institutional Compliance, as one of the 50 fellows of HACU's Leadership Academy/La Academia de Liderazgo.
Campus Life
By Samantha White via TAFP news release
December 05, 2023
Ronald L. Cook, DO, MBA, of Lubbock, Texas, was named the 2023 Texas Family Physician of the Year during TAFP's Annual Session and Primary Care Summit in Grapevine on Nov. 11.
Research
By Mark Hendricks
November 16, 2023
Ninh (Irene) La-Beck, Pharm.D., with the TTUHSC Jerry H. Hodge School of Pharmacy, received a five-year, $2.49 million grant to investigate how nanoparticles interact with the immune system and cancer.