One solar eclipse, two perspectives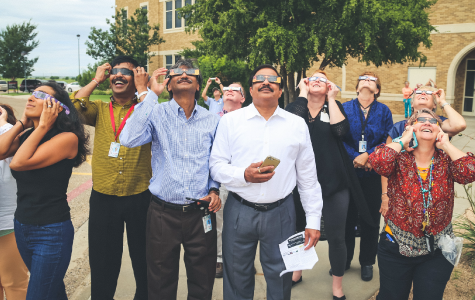 Faculty and staff viewing the eclipse.
TTUHSC staff, faculty and students witnessed a piece of history Aug. 21 by viewing the first total solar eclipse in the contiguous U.S. since 1979.
People lined the Amarillo campus with their protective eyewear to catch a glimpse of the eclipse, which was only partially visible in the Texas Panhandle, though the total solar eclipse could be seen across the entire United States from Lincoln Beach, Oregon to Charleston, South Carolina. NASA says more than 500 million people in the United States and Canada viewed the event, and according to Newsweek, this eclipse was NASA's largest online event in history. The next total solar eclipse visible to Texans will be April 8, 2024.
Richard Jordan, M.D., Amarillo regional dean for the School of Medicine, traveled to Sweetwater, Tennessee with his son, Dana, to catch the eclipse in its totality.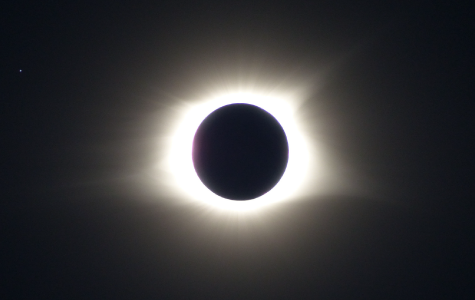 Eclipse photo courtesy: Dana Jordan
"This was such an amazing experience to be able to witness a piece of history," Jordan said. "It was surreal to be surrounded by complete darkness during the middle of the day."
Visit YouTube to watch a time lapse video by Dana of the eclipse from Tennessee.
Related Stories
By QEP Committee
March 21, 2023
As spring approaches, some people's thoughts turn to gardening. Whether it's a flower garden they desire or a vegetable garden want to have, they begin planning what they'll plant and what they need to do to ensure a successful garden.
By QEP Committee
March 21, 2023
A "growth mindset" accepts that our intelligence and talents can develop over time, and a person with that mindset understands that intelligence and talents can improve through effort and learning.
By Melissa Whitfield
February 13, 2023
Abstaining from drug abuse and an early diagnosis of familial hypercholesterolemia (high cholesterol) can help prevent heart disease.
Recent Stories
Research
By Mark Hendricks
November 16, 2023
Ninh (Irene) La-Beck, Pharm.D., with the TTUHSC Jerry H. Hodge School of Pharmacy, received a five-year, $2.49 million grant to investigate how nanoparticles interact with the immune system and cancer.
Research
By Mark Hendricks
November 10, 2023
To help investigate the influence basal sex hormone alterations may have on chronic post-op pain, the NIH recently awarded a grant to Jenny Wilkerson, Ph.D., from the Jerry H. Hodge School of Pharmacy.
Health
By Tyler White
November 09, 2023
Scott Shurmur, M.D., a cardiologist at the Texas Tech Physicians Center for Cardiovascular Health, shared his expertise and his experience as a former collegiate athlete.