City officials back proposed vet school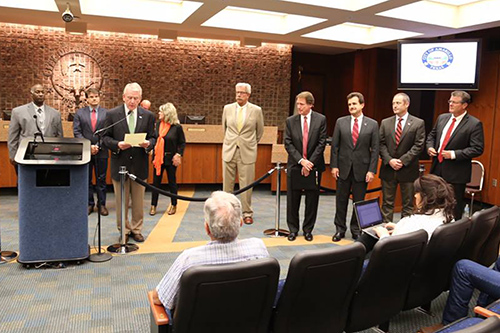 The Texas Tech University System (TTUS) plan to build a new veterinary school in Amarillo got a shot in the arm Sept. 20 when the Amarillo City Commission voted unanimously to support the project with a $15 million grant from the Amarillo Economic Development Corporation. The grant will be funded through Amarillo's half-cent sales tax and will help offset the total cost of the new school, which is estimated to be between $80 million and $90 million.
In a Sept. 21 Amarillo Globe-News article, TTUS Chancellor Robert L. Duncan said the grant could be a factor when state legislators begin their deliberations about appropriating funds for a new College of Veterinary Medicine in Amarillo.
"Texas has a severe shortage of rural veterinarians who are crucial to the foundations of our economy, the vibrancy of our communities and the safety of our food supply," Duncan said in the article. "There is no better place to transform the future of veterinary education and answer this call than in Amarillo, the heart of our nation's livestock population."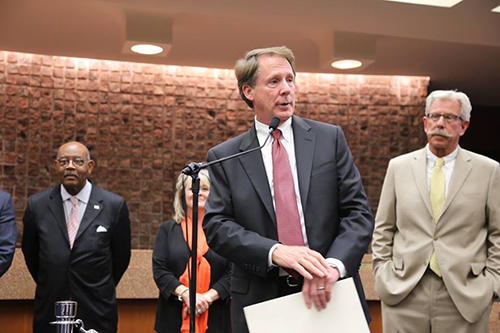 The incentive package will provide $1.5 million annually to the new vet school for 10 years. The proposed terms of the grant require TTU to begin construction by Sept. 1, 2018 and begin operating the school no later than Sept. 1, 2022.
TTUS estimates the new vet school will create roughly 100 new jobs and the proposed grant requires the university to pay no less than $50 million in payroll and benefits to veterinary school employees from Sept. 1, 2022 to Sept. 1, 2027. The terms of the grant stipulate that if the university fails to meet the payroll requirement, the final $1.5 million grant installment will be reduced.
Related Stories
By QEP Committee
March 21, 2023
As spring approaches, some people's thoughts turn to gardening. Whether it's a flower garden they desire or a vegetable garden want to have, they begin planning what they'll plant and what they need to do to ensure a successful garden.
By QEP Committee
March 21, 2023
A "growth mindset" accepts that our intelligence and talents can develop over time, and a person with that mindset understands that intelligence and talents can improve through effort and learning.
By Melissa Whitfield
February 13, 2023
Abstaining from drug abuse and an early diagnosis of familial hypercholesterolemia (high cholesterol) can help prevent heart disease.
Recent Stories
Education
By Suzanna Cisneros
March 24, 2023
Recognizing academic excellence, the honors are the most prestigious awards granted to faculty throughout the TTU System. The awards are funded by gifts to the Chancellor's Council, a giving society that supports the chancellor's priorities across the TTU System.
Campus Life
By Suzanna Cisneros
March 23, 2023
TTUHSC School of Medicine students will host a Women's Health Day free clinic from 10 a.m. to 1 p.m. April 15 at The Free Clinic
Research
By Mark Hendricks
March 21, 2023
TTUHSC Cytogenetic Technologist Jasbir Bisht and a team from P. Hemachandra Reddy's internal medicine laboratory analyzed the impact of cancer in Hispanics in comparison to other ethnic groups.