City officials back proposed vet school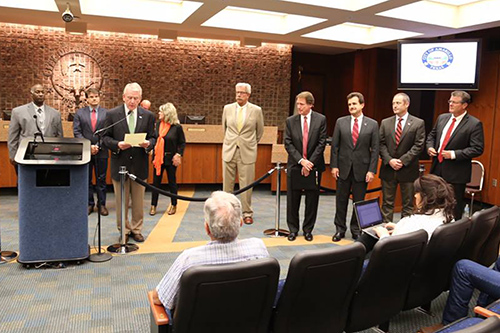 The Texas Tech University System (TTUS) plan to build a new veterinary school in Amarillo got a shot in the arm Sept. 20 when the Amarillo City Commission voted unanimously to support the project with a $15 million grant from the Amarillo Economic Development Corporation. The grant will be funded through Amarillo's half-cent sales tax and will help offset the total cost of the new school, which is estimated to be between $80 million and $90 million.
In a Sept. 21 Amarillo Globe-News article, TTUS Chancellor Robert L. Duncan said the grant could be a factor when state legislators begin their deliberations about appropriating funds for a new College of Veterinary Medicine in Amarillo.
"Texas has a severe shortage of rural veterinarians who are crucial to the foundations of our economy, the vibrancy of our communities and the safety of our food supply," Duncan said in the article. "There is no better place to transform the future of veterinary education and answer this call than in Amarillo, the heart of our nation's livestock population."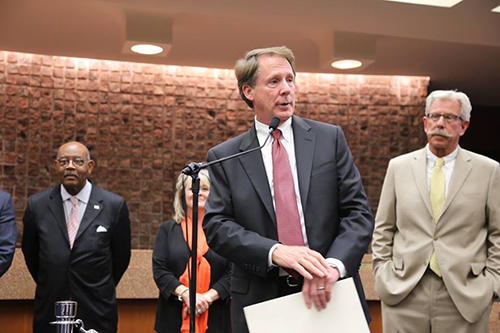 The incentive package will provide $1.5 million annually to the new vet school for 10 years. The proposed terms of the grant require TTU to begin construction by Sept. 1, 2018 and begin operating the school no later than Sept. 1, 2022.
TTUS estimates the new vet school will create roughly 100 new jobs and the proposed grant requires the university to pay no less than $50 million in payroll and benefits to veterinary school employees from Sept. 1, 2022 to Sept. 1, 2027. The terms of the grant stipulate that if the university fails to meet the payroll requirement, the final $1.5 million grant installment will be reduced.
Related Stories
By Lori Rice-Spearman, Ph.D., Steven L. Berk, M.D.
March 22, 2022
TTUHSC Celebration of Life Service was held March 25th in remembrance of Tom McGovern, Ed.D.
By Suzanna Cisneros
March 18, 2022
TTUHSC has been named as a Military Friendly® School for 2022-2023. Among graduate schools, TTUHSC ranked fourth in the nation, achieving Gold award status.
By Meaghan Collier
March 17, 2022
On March 16, fourth-year TTUHSC Jerry H. Hodge School of Pharmacy students interested in completing a residency after they graduate in May, learned where they would spend the next stage of their training during the Pharmacy Residency Match Day.
Recent Stories
Education
By Clarissa Sanchez
October 04, 2022
TTUHSC hosted "Building the Basin: a Permian Basin Health Care Workforce Summit" Oct. 4.
Health
By Mark Hendricks
September 29, 2022
CPRIT recently awarded a $1 million prevention grant to Rakhshanda Rahman, M.D., Rebeccah Baucom, M.D., and John Kidwell, M.D., from the TTUHSC School of Medicine.
Research
By Kathryn Dankesreiter (TTU)
September 26, 2022
The Innovation Hub at Research Park today (September 26, 2022) announced the winners of its annual Presidents' Innovative Startup Awards. The award recognizes startups that have a high potential for growth and an economic impact in West Texas.