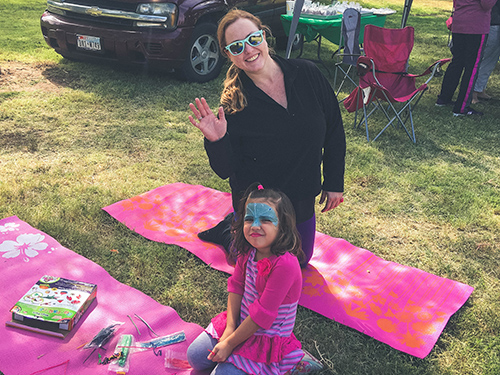 Two employees from TTUHSC's Department of Pediatrics volunteered Oct. 8 for the Amarillo Yoga Festival at Sam Houston Park. Physician's Assistant Emily Howard and Research Assistant Noel Howard hosted a children's tent where they conducted children's yoga and other fun activities while parents participated in adult yoga classes. All proceeds from the event benefited Yellow City Community Outreach (YCCO), a local organization that works to help the area's homeless population.
"This event was a great success," Emily Howard said. "It raised enough money to continue building plans for YCCO's tiny housing project, which works to get Amarillo-area homeless populations off the streets and into tiny custom built homes."
Throughout the six-hour event, attendees participated in beginner, slow-flow and power-hour sessions. Emily Howard and other instructors taught various types of yoga, including Hatha, Kundalini and Vinyasa yoga, and different styles of meditation and chanting. Attendees also participated in a restorative hour of gongs and Tibetan bowls. The event concluded with a dance.
In addition to enjoying the Panhandle's diverse yoga community, participants were exposed to many local artisans and vendors.
"The best part, of course, was spending time with the kids," Emily Howard added. "Although we try to teach them about yoga, generally they are the ones teaching us about the joys of life and being in the moment."