Pediatrics Employees Volunteer at Yoga Festival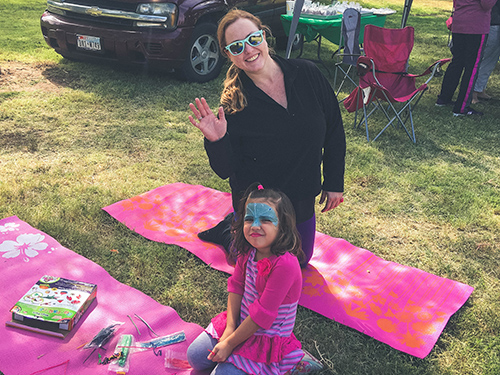 Two employees from TTUHSC's Department of Pediatrics volunteered Oct. 8 for the Amarillo Yoga Festival at Sam Houston Park. Physician's Assistant Emily Howard and Research Assistant Noel Howard hosted a children's tent where they conducted children's yoga and other fun activities while parents participated in adult yoga classes. All proceeds from the event benefited Yellow City Community Outreach (YCCO), a local organization that works to help the area's homeless population.
"This event was a great success," Emily Howard said. "It raised enough money to continue building plans for YCCO's tiny housing project, which works to get Amarillo-area homeless populations off the streets and into tiny custom built homes."
Throughout the six-hour event, attendees participated in beginner, slow-flow and power-hour sessions. Emily Howard and other instructors taught various types of yoga, including Hatha, Kundalini and Vinyasa yoga, and different styles of meditation and chanting. Attendees also participated in a restorative hour of gongs and Tibetan bowls. The event concluded with a dance.
In addition to enjoying the Panhandle's diverse yoga community, participants were exposed to many local artisans and vendors.
"The best part, of course, was spending time with the kids," Emily Howard added. "Although we try to teach them about yoga, generally they are the ones teaching us about the joys of life and being in the moment."
Related Stories
By QEP Committee
March 21, 2023
As spring approaches, some people's thoughts turn to gardening. Whether it's a flower garden they desire or a vegetable garden want to have, they begin planning what they'll plant and what they need to do to ensure a successful garden.
By QEP Committee
March 21, 2023
A "growth mindset" accepts that our intelligence and talents can develop over time, and a person with that mindset understands that intelligence and talents can improve through effort and learning.
By Melissa Whitfield
February 13, 2023
Abstaining from drug abuse and an early diagnosis of familial hypercholesterolemia (high cholesterol) can help prevent heart disease.
Recent Stories
Research
By Mark Hendricks
November 16, 2023
Ninh (Irene) La-Beck, Pharm.D., with the TTUHSC Jerry H. Hodge School of Pharmacy, received a five-year, $2.49 million grant to investigate how nanoparticles interact with the immune system and cancer.
Research
By Mark Hendricks
November 10, 2023
To help investigate the influence basal sex hormone alterations may have on chronic post-op pain, the NIH recently awarded a grant to Jenny Wilkerson, Ph.D., from the Jerry H. Hodge School of Pharmacy.
Health
By Tyler White
November 09, 2023
Scott Shurmur, M.D., a cardiologist at the Texas Tech Physicians Center for Cardiovascular Health, shared his expertise and his experience as a former collegiate athlete.