Student Occupational Therapy Association Gives Back to the Community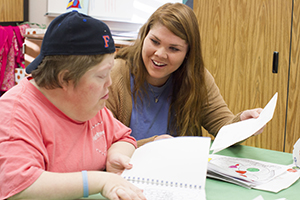 The Student Occupational Therapy Association is a campus student organization whose mission is to promote occupational therapy through involvement with the community.
"The organization is a way to meet and be familiar with everyone in the Master of Occupational Therapy program, whether it is first- or second-year candidates," Student Occupational Therapy Association member and School of Health Professions Master of Occupational Therapy candidate Ashley Fitzpatrick said. "The association also provides community service opportunities I know I would not have heard of otherwise. They also help pay a portion of expenses to go to the Texas Occupational Therapy Association and American Occupational Therapy Association conferences through the organization's fundraising efforts. They are a huge help to candidates studying occupational therapy."
Texas Tech University Health Sciences Center Student Occupational Therapy Association is committed to having a positive influence in the community. The association volunteers at several organizations in Lubbock, focusing on children and adults with special needs.
The Student Occupational Therapy Association logged more than 1,500 hours volunteering during the Fall 2015 and Spring 2016 semesters. They recently partnered with the Children's Home of Lubbock, providing tutoring and mentorship for children who have been displaced from their family home. The association also raised $475 for the Lubbock American Business Club (AMBUCS) chapter. AMBUCS used the money to provide an Amtryke, an adaptable tricycle, for a person with mobility issues.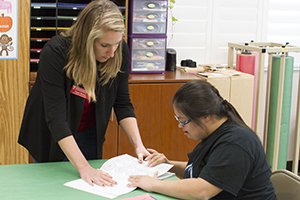 "We bring our occupational therapy perspective when we volunteer," Occupational Therapy Candidate Taylor Norris said. "We can interact with people and really use our skills to help them in whatever activity they may be doing that day. The organization gets me more involved with the community and gives me the opportunity to interact with different populations and use skills we learn in the program."
The association partners with Mosaic and High Point Village, of which serves people with intellectual disabilities. Members of the association visit Mosaic and High Point Village once a week to conduct their afternoon enrichment class, and assist with other fundraising events. The Student Occupational Therapy Association volunteers to create an annual prom for High Point Village. They recently helped High Point Village host their Storybook Gala, which featured Megan and Kris Bomgaars from cable network A&E's documentary series "Born This Way."
"I volunteer at High Point Village every week. Even outside of the Student Occupational Therapy Association, because I enjoy it so much," Fitzpatrick said. "I know no matter what is going on, whether it is stress from school or anything else, it all goes away when I'm there. The villagers show nothing but unconditional love and joy when I'm there. I benefit more than the villagers do when I go volunteer. Volunteering brings light to your passions."
Related Stories
By QEP Committee
March 21, 2023
As spring approaches, some people's thoughts turn to gardening. Whether it's a flower garden they desire or a vegetable garden want to have, they begin planning what they'll plant and what they need to do to ensure a successful garden.
By QEP Committee
March 21, 2023
A "growth mindset" accepts that our intelligence and talents can develop over time, and a person with that mindset understands that intelligence and talents can improve through effort and learning.
By Melissa Whitfield
February 13, 2023
Abstaining from drug abuse and an early diagnosis of familial hypercholesterolemia (high cholesterol) can help prevent heart disease.
Recent Stories
Education
By Suzanna Cisneros
March 24, 2023
Recognizing academic excellence, the honors are the most prestigious awards granted to faculty throughout the TTU System. The awards are funded by gifts to the Chancellor's Council, a giving society that supports the chancellor's priorities across the TTU System.
Campus Life
By Suzanna Cisneros
March 23, 2023
TTUHSC School of Medicine students will host a Women's Health Day free clinic from 10 a.m. to 1 p.m. April 15 at The Free Clinic
Research
By Mark Hendricks
March 21, 2023
TTUHSC Cytogenetic Technologist Jasbir Bisht and a team from P. Hemachandra Reddy's internal medicine laboratory analyzed the impact of cancer in Hispanics in comparison to other ethnic groups.