Grad students present research at annual meeting
Three students from TTUHSC's Graduate Program in Pharmaceutical Sciences made platform presentations Oct. 20-22 at the Lone Star Regional Chapter of the Society of Toxicology Annual Meeting in Waco, Texas.
Kshitij Verma, a Ph.D. candidate working in the Department of Pharmaceutical Sciences lab of Paul Trippier, Ph.D., presented, "Design, Synthesis and Evaluation of Inhibitors of Type 5 17β-Hydroxysteroid Dehydrogenase (AKR1C3) as Novel Therapeutics to Manage Castration Resistant Prostate Cancer (CRPC) and Acute Myeloid Leukemia (AML)."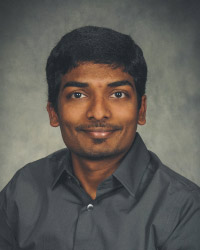 Hanumantha Rao Madala, a graduate student working in the Department of Biomedical Sciences lab of Kalkunte S. Srivenugopal, Ph.D., presented, "Synthesis of a novel non-diuretic, brain-penetrating, ethacrynic acid analog and demonstration of its potent efficacy in orthotopic glioblastoma (GBM) models."
Nehal Gupta, a graduate student working in the Department of Biomedical Sciences lab of Dr. Sanjay Srivastava, presented, "Penfluridol Reduces Paclitaxel Resistance in Breast Cancer by Inhibiting HER2/β-Catenin Signaling."
Related Stories
By Lori Rice-Spearman, Ph.D., Steven L. Berk, M.D.
March 22, 2022
TTUHSC Celebration of Life Service was held March 25th in remembrance of Tom McGovern, Ed.D.
By Suzanna Cisneros
March 18, 2022
TTUHSC has been named as a Military Friendly® School for 2022-2023. Among graduate schools, TTUHSC ranked fourth in the nation, achieving Gold award status.
By Meaghan Collier
March 17, 2022
On March 16, fourth-year TTUHSC Jerry H. Hodge School of Pharmacy students interested in completing a residency after they graduate in May, learned where they would spend the next stage of their training during the Pharmacy Residency Match Day.
Recent Stories
Health
By Melissa Whitfield
February 06, 2023
It's not too late to make a resolution to exercise more and spend quality time with your family. Combining both can lead to long-term benefits for you and your children's health and their academics.
Health
By Mohammad Ansari, M.D.
February 06, 2023
Mohammad Ansari, M.D., says keeping a healthy heart is not just a concern for senior adults. It's something that should be at the forefront of all our minds.
Health
By School of Health Professions
February 02, 2023
Moumita Choudhury Au.D., CCC-A, spoke about the present and future of social media's impact on healthcare in general and on hearing healthcare specifically.