BCE staff attends Breakfast of Champions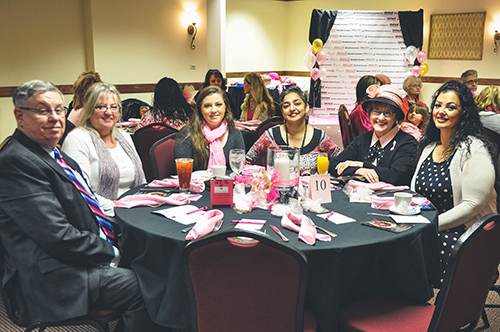 The TTUHSC Breast Center of Excellence (BCE) celebrated National Breast Health Awareness Month at the annual Champions of Breast Health Breakfast of Champions Oct. 22 at Abuleo's Mexican Restaurant. Proceeds from the event benefit the Amarillo Area Breast Health Coalition (AABHC).
Champions of Breast Health is an arm of the AABHC, which collaborates with other community partners and volunteer services to promote breast health and greater access to clinical services through innovative programs like Wise Woman, Bra Art Exhibits and Modeling the Cure.
Rakhshanda Rahman, M.D., was honored as the group's 2016 Professional Breast Health Champion. Rahman, an associate professor of surgery and breast health services director, played a significant role in obtaining a $1.68 million grant from the Cancer Prevention and Research Institute of Texas to pay for mammograms and diagnostics especially for underserved/uninsured women in the area. She founded the BCE and she is recognized for her passionate efforts as a program developer, grant writer, fundraiser and educator.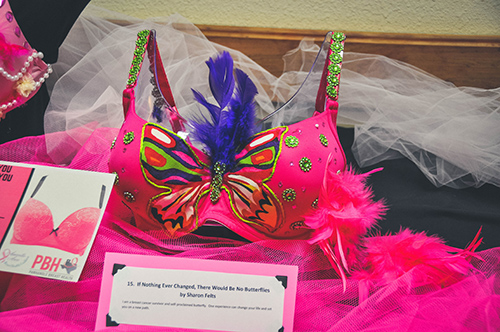 Richard Jordan, M.D., regional dean for the School of Medicine in Amarillo, helped TTUHSC sponsor a BCE table for the breakfast. In addition, bras decorated by "bra artists" from the BCE and the Department of Obstetrics and Gynecology were displayed at the event.
Related Stories
By Mark Hendricks
March 25, 2022
The Texas Tech University Health Sciences Center (TTUHSC) Graduate School of Biomedical Sciences hosted its 34th Annual Student Research Week March 8-11.
By Mark Hendricks
March 25, 2022
The National Cancer Institute awarded a five-year, $1.9 million grant to C. Patrick Reynolds, M.D., Ph.D., director for the School of Medicine Cancer Center at TTUHSC.
By School of Health Professions
March 24, 2022
Richard Greenhill, DHA, FISQua, FACHE, discusses the hype and reality surrounding AI in healthcare.
Recent Stories
Education
By Meaghan Collier
May 21, 2022
The TTUHSC Jerry H. Hodge School of Pharmacy celebrated the Class of 2022 May 21 with its annual commencement ceremony.
Health
By School of Health Professions
May 19, 2022
Dysphagia is a swallowing disorder that affects a person's ability to eat or drink, affecting between 300,000 and 700,000 people in the United States each year.
Health
By Suzanna Cisneros
May 18, 2022
Brittany Bankhead, M.D., an assistant professor of surgery for the Division of Trauma, Burns and Critical Care at the Texas Tech University Health Sciences Center, said life-threatening bleeding can happen in everyday scenarios.