BCE staff attends Breakfast of Champions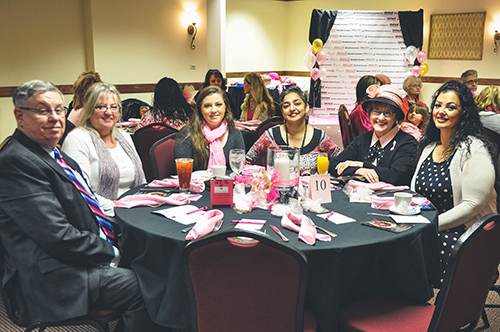 The TTUHSC Breast Center of Excellence (BCE) celebrated National Breast Health Awareness Month at the annual Champions of Breast Health Breakfast of Champions Oct. 22 at Abuleo's Mexican Restaurant. Proceeds from the event benefit the Amarillo Area Breast Health Coalition (AABHC).
Champions of Breast Health is an arm of the AABHC, which collaborates with other community partners and volunteer services to promote breast health and greater access to clinical services through innovative programs like Wise Woman, Bra Art Exhibits and Modeling the Cure.
Rakhshanda Rahman, M.D., was honored as the group's 2016 Professional Breast Health Champion. Rahman, an associate professor of surgery and breast health services director, played a significant role in obtaining a $1.68 million grant from the Cancer Prevention and Research Institute of Texas to pay for mammograms and diagnostics especially for underserved/uninsured women in the area. She founded the BCE and she is recognized for her passionate efforts as a program developer, grant writer, fundraiser and educator.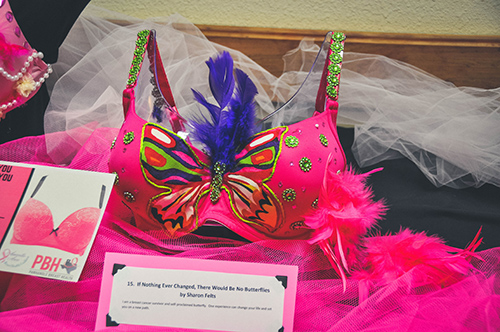 Richard Jordan, M.D., regional dean for the School of Medicine in Amarillo, helped TTUHSC sponsor a BCE table for the breakfast. In addition, bras decorated by "bra artists" from the BCE and the Department of Obstetrics and Gynecology were displayed at the event.
Related Stories
By QEP Committee
March 21, 2023
As spring approaches, some people's thoughts turn to gardening. Whether it's a flower garden they desire or a vegetable garden want to have, they begin planning what they'll plant and what they need to do to ensure a successful garden.
By QEP Committee
March 21, 2023
A "growth mindset" accepts that our intelligence and talents can develop over time, and a person with that mindset understands that intelligence and talents can improve through effort and learning.
By Melissa Whitfield
February 13, 2023
Abstaining from drug abuse and an early diagnosis of familial hypercholesterolemia (high cholesterol) can help prevent heart disease.
Recent Stories
Campus Life
By Suzanna Cisneros
March 23, 2023
TTUHSC School of Medicine students will host a Women's Health Day free clinic from 10 a.m. to 1 p.m. April 15 at The Free Clinic
Research
By Mark Hendricks
March 21, 2023
TTUHSC Cytogenetic Technologist Jasbir Bisht and a team from P. Hemachandra Reddy's internal medicine laboratory analyzed the impact of cancer in Hispanics in comparison to other ethnic groups.
Education
By School of Health Professions
March 21, 2023
World Down syndrome Day was established to raise awareness about Down syndrome and to promote inclusion and acceptance of people with Down syndrome in all aspects of society.