For the Love of Science
Student Research Week highlights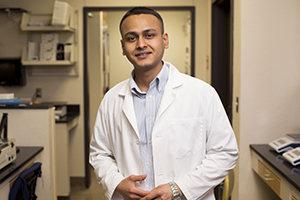 As a young boy, Somnath Pandey loved seeing small things under a magnifying glass. His inquisitiveness at an early age would lead him to love science and on a path to becoming a researcher. Born to Indian parents, Pandey grew up in England. His father, now a retired flight lieutenant, J. P. N. Pandey, was commissioned in London, UK.
"Being from a military family, I owe so much to my parents," Pandey said. "There is that push to work hard for what you want and a discipline you inherit."
In 2002, Pandey and his family went back to India where he began working on a master's degree after finishing his bachelor's. He later returned to Leeds, England as a visiting scientist to pursue research in dyslipidemia andmyocardial infarctions. Pandey would reach out to other scientists. One researcher, Steve Alexander, Ph.D., liked the work Pandey had completed in University of Leeds and invited him to come to the U.S. as a Ph.D. student at Louisiana State University. It was there that he met Kevin Pruitt, Ph.D. Pandey later became a part of Pruitt's research team now at Texas Tech University Health Sciences Center (TTUHSC).
"I discovered I had a desire to investigate more about cancer," Pandey said. "It was like falling in love all over again with science, except this time I was looking at human cancer cells under the microscope instead of curiously gazing at small bugs and beetles with a magnifying glass. I really was struck by how a protein behaves. The way I see it, proteins have their own peculiar behavior like we do and 'context' is key. When I am calm and composed, I would respond to a problem much differently than when I am anxious or angry. Similarly, if you can prevent aberrant protein behavior, you can prevent cancer."
Pandey and the team demonstrated how regulating protein-protein interaction could lead to a possible strategy towards treating colon cancer. "Proteins such as sirtuin1 (SIRT1), histone deacetylase 1 (HDAC1), alpha-thalassemia and mental retardation syndrome X-linked protein (ATRX), heterochromatin protein 1 (HP1) and methyl-CpG-binding domain protein 2 (MECP2), involved in repression of genes are also implicated in cancer. There are moments when these proteins interact with each other to regulate tumor suppressor genes. Selective targeting (for example of SIRT1 with pharmaceuticals) and preventing these proteins from interacting can help decrease cancer growth." Pandey et al. discovered a novel site in MECP2 that regulates its interactions with ATRX and HDAC1.
The implications for his research are personal for Pandey. With his entire family back in India, he has been a part of an American family here in Lubbock. Pandey speaks of his American sister Shauna Thomas Nunez who was diagnosed with breast cancer in 2010.
"The disease took a big toll on Shauna and our family," Pandey said. "After battling very hard, she passed away this past year in October. My sister's illness is a motivating factor and keeps me in line. Thanks to my supervisor, I ask myself, "Why am I doing what I am doing? What is the one thing I want to accomplish?" Research is a passion for me, like all graduate students. My hope is that this research may potentially have answers for not only colon cancer but for breast cancer too."
Pandey's research along with the next generation of biomedical researchers was showcased at this year's Graduate School of Biomedical Sciences 28th Annual Student Research Week. Every year the students organize Student Research Week to showcase research from all of the TTUHSC schools.
The theme for this year's Student Research Week was "Molecular Basis of Life + Disease."
"The essence of our theme was featured with our keynote speakers and student speakers whose research explores the scientific basis of how life works at a molecular level and how this understanding can help treat disease," said Bala Meenakshi-Purna, Graduate School of Biomedical Sciences student and event chair.
The Student Research Week committee included Meenakshi-Purna, Dylan Meyer, Narong Sok and Jessica Smith. Along with distinguished seminar presentations, students from different disciplines participated in a poster competition. Students presented research projects to faculty and peers.
Brandt Schneider, Ph.D., dean of the TTUHSC Graduate School of Biomedical Sciences, said students like Pandey made Student Research Week a great success.
"This year, we had a tremendous turn out from all TTUHSC schools," Schneider said. "Student Research Week provides our colleagues at TTUHSC and the community a glimpse into the quality of TTUHSC student researchers."
2016 Student Research Week Awardees
Third and Fourth Year Doctoral Students
First: Som Pandey
Second: Balakrishna Koneru
Third: Srinivasan Krishnan
First and Second Year Doctoral Students
First: Dylan Meyer
Second: Hannah Zhao-Fleming
Third: Tammy Nguyen
Master's Students
First: Sara Powell
Second: David Curtis
Third: Katie Higgins
Undergraduates
First: Cody Fell
Second: Dalia Martinez-Marin
Third: Helen Scott
Third and Fourth Year School of Medicine Students
First: Jessica Turner
Second: Zoya Moghal
Third: Kenneth Verlage
First and Second Year School of Medicine Students
First: Victoria Burton
Second: Morgan Quezada
Third-place: Cheyenne Mangold and Suzanne Alkul (tie)
School of Medicine Residents and Fellows
First: David Pate (presented by Katherine Snodgrass)
Second: Brandon Trojan
Third: Byungkwan Hwang
School of Nursing Students
Graduate
First: Amy Hopkins and Krista Singleton
Second: David Deabreu and Monica Sherman
Undergraduate
First: Karyss McCullar and Jennifer Collins
Second: Katie May, Olivia Mazade and Morgan Nance
School of Health Professions Students
First: Marcy Lau
Second: Deanna Wann
Third: John Pape
Related Stories
By QEP Committee
March 21, 2023
As spring approaches, some people's thoughts turn to gardening. Whether it's a flower garden they desire or a vegetable garden want to have, they begin planning what they'll plant and what they need to do to ensure a successful garden.
By QEP Committee
March 21, 2023
A "growth mindset" accepts that our intelligence and talents can develop over time, and a person with that mindset understands that intelligence and talents can improve through effort and learning.
By Melissa Whitfield
February 13, 2023
Abstaining from drug abuse and an early diagnosis of familial hypercholesterolemia (high cholesterol) can help prevent heart disease.
Recent Stories
Campus Life
By Meaghan Collier
March 31, 2023
TTUHSC School of Nursing honored its first class of Bachelor of Science in Nursing (BSN) graduates with a lamp lighting ceremony on Thursday, March 30.
Health
By Melissa Whitfield
March 30, 2023
Texas Tech Physicians primary and specialty clinics across West Texas have completed more than 160,000 telehealth visits since the start of the pandemic.
Education
By Suzanna Cisneros
March 24, 2023
Recognizing academic excellence, the honors are the most prestigious awards granted to faculty throughout the TTU System. The awards are funded by gifts to the Chancellor's Council, a giving society that supports the chancellor's priorities across the TTU System.