TTUHSC Announces New Joint Venture with Covenant Health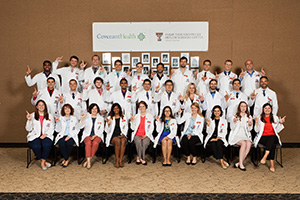 School of Medicine Covenant Branch Inaugural Class
The Texas Tech University Health Sciences Center (TTUHSC) School of Medicine announced a joint venture with Covenant Health to create the TTUHSC School of Medicine Covenant Branch, an alternate training site for students staying in Lubbock who wish to experience community–based medicine.
Located a short distance from TTUHSC campus, The TTUHSC School of Medicine Covenant Branch officially will open July 2016 with third-year clerkships. The branch will offer a wide variety of subspecialty experiences for medical students.
Founded in 1969, the TTUHSC School of Medicine has continually worked to address the shortage of physicians in West Texas by providing innovative educational opportunities to medical students and residents. Currently there are campuses in Lubbock, Amarillo and the Permian Basin.
"This branch was a great opportunity to expand our educational program into Covenant Health," said Steven L. Berk, M.D., TTUHSC executive vice president, provost and School of Medicine dean. "Teaching hospitals help train the next generation of doctors with skills that they will use throughout their careers. With the help of our alumni and community physicians, we now provide our students these opportunities at two hospitals."
Steven L. Berk, M.D.
The first class of 30 students will begin their orientation on July 1. Robert Salem, M.D., founding regional vice dean for Covenant Branch Medical Education Programs, said Covenant Health has been involved with the education of medical students and residents since the school enrolled its first class in 1972.
"Covenant's now-expanded role provides the students with a unique learning opportunity under the direct supervision of members of our medical staff in treating private practice patients," Salem said. "The diversity of their experience in this setting will greatly enhance their overall educational knowledge base. We look forward with great enthusiasm to this joint venture opportunity with TTTUHSC."
According to the Association of American Medical Colleges (AAMC), every year more than 16,000 students earn a medical degree from an AAMC-member medical school. The work of teaching hospitals is more important than ever, as the U.S. faces a growing shortage of physicians. The AAMC states that by 2025, the U.S. will face a shortage of between 61,700 and 94,700 physicians in all specialties.
"We are partnering with Covenant Health to address the shortage of physicians in West Texas," said Robert Casanova, M.D., TTUHSC School of Medicine assistant vice dean of medical education. "By working together, our hope is that many of these students will stay and continue to work in the West Texas area."
Related Stories
By QEP Committee
March 21, 2023
As spring approaches, some people's thoughts turn to gardening. Whether it's a flower garden they desire or a vegetable garden want to have, they begin planning what they'll plant and what they need to do to ensure a successful garden.
By QEP Committee
March 21, 2023
A "growth mindset" accepts that our intelligence and talents can develop over time, and a person with that mindset understands that intelligence and talents can improve through effort and learning.
By Melissa Whitfield
February 13, 2023
Abstaining from drug abuse and an early diagnosis of familial hypercholesterolemia (high cholesterol) can help prevent heart disease.
Recent Stories
Education
By Suzanna Cisneros
March 24, 2023
Recognizing academic excellence, the honors are the most prestigious awards granted to faculty throughout the TTU System. The awards are funded by gifts to the Chancellor's Council, a giving society that supports the chancellor's priorities across the TTU System.
Campus Life
By Suzanna Cisneros
March 23, 2023
TTUHSC School of Medicine students will host a Women's Health Day free clinic from 10 a.m. to 1 p.m. April 15 at The Free Clinic
Research
By Mark Hendricks
March 21, 2023
TTUHSC Cytogenetic Technologist Jasbir Bisht and a team from P. Hemachandra Reddy's internal medicine laboratory analyzed the impact of cancer in Hispanics in comparison to other ethnic groups.