Self-Confidence Helps Adibe Earn Dallas Student Leadership Award
Pharmacy student receives 2016 Dean's Student Leadership Award for the Dallas/Fort Worth campus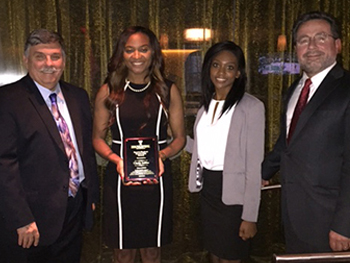 Faith is a small word, but it has played a large role in Cindy Adibe's life.

"Since I was young, I've always taken leaps of faiths and trusted that I will be able to handle whatever responsibility I undertake," Adibe said. "I'm not afraid of failure because that is how I grow."

By trusting her own judgment and abilities—and embracing the lessons that failing can teach—Adibe has been able to achieve many things during her four years at the Texas Tech University Health Science Center (TTUHSC) School of Pharmacy. She can add to that list of accomplishments the 2016 Dean's Student Leadership Award for the Dallas/Fort Worth (DFW) campus.

"I've worked with some great leaders at Texas Tech and TTUHSC and I am blessed, humbled and honored to receive this distinction," Adibe said. "This award is a testament to all of my hard work, not only during pharmacy school, but also during my journey to pharmacy school. Hard work pays off."

In addition to her classwork and experiential rotations, Adibe's hard work has included serving TTUHSC as a President's Select-Ambassador. She's also held several student organization posts, including regent (president) for Kappa Psi; historian and Dallas campus executive director for the American Pharmacists Association-Academy of Student Pharmacists (APhA-ASP); and a committee chair for Phi Lambda Sigma. She was also an active member of the Texas Tech Student Society of Health-System Pharmacists and the Texas Pharmacy Association.

In nominating her classmate for the award, Jasmine Carter described Adibe as a selfless individual who dedicated countless volunteer hours to the community while in school.

"Cindy is truly an inspiration to other students," Cater added. "She leads by example and she doesn't let anything stand in the way of her passion to serve others."

One event through which Adibe serves others began during her second year of pharmacy school in Amarillo. As a volunteer dance instructor at the local Boys & Girls Club, Adibe helped a group of children learn several hip-hop dance routines, including one they eventually performed with several Kappa Psi members in a February 2014 dance video.

Teaching the dance classes gave Adibe an idea for another project she started through APhA-ASP called Let the Music Move You! Once she arrived in Dallas during the summer of 2014, Adibe started seriously planning the project as a way to reach out to underserved children in the Dallas area. She helped bring together three School of Pharmacy student entities—APhA-ASP, Kappa Psi and the Texas Tech Pediatric Pharmacy Group—and in November 2014, the Dallas campus hosted approximately 75 children at the East Dallas Boys & Girls Club for the first Let the Music Move You! health fair. Adibe helped organize a second Let the Music Move You! health fair in April 2016 that hosted more than 100 children.

Adibe said her inspiration and motivation to work hard and serve others comes from her parents, who immigrated to the United States more than 30 years ago.

"My parents are both educators: my father holds a doctorate and my mother holds a master's degree," Adibe said. "So it is imperative for me to pursue higher education and inspire others while doing it. I have continuous support from my family for all of my endeavors."

Adibe believes it's important for pharmacy students to stay up-to-date with current news, updates and changes within the pharmacy profession. She said being involved in students organizations opens the doors to numerous professional experiences and opportunities, like conferences and community service that aren't typically offered by the academic curriculum.

"I've met some awesome leaders and mentors through organizational involvement," Adibe explained. "The pharmacy world is small but the network is huge. It's important to have at least one mentor in the profession before finishing pharmacy school."

Adibe will lean on her student organization experiences as she undertakes a two-year pharmacy administration and leadership residency at Harris Health System and the University of Houston. She said the program is extremely leadership-focused and will be an extension of her involvement as a student.

"I've always sought new opportunities, and being in a leadership-administrative position—it's important to always stay open-minded," Adibe stressed. "Things will not always go as planned so you have to build tenacity. This can be acquired by holding leadership positions and being forced to make big decisions within an organization. All pharmacists, at some point in their career, will have to make at least one big decision that will impact patient care. Exercising this responsibility through leadership will build the confidence to make these decisions."

One can only guess what Adibe will accomplish in her career after she completes her residency, but there are certainties: she will continue to have faith in her abilities, she will always be on the lookout for opportunities to learn and she won't be afraid of failure.

"No dream is too big and no vision is too far," she said wholeheartedly and with faith.
Related Stories
By Lori Rice-Spearman, Ph.D., Steven L. Berk, M.D.
March 22, 2022
TTUHSC Celebration of Life Service was held March 25th in remembrance of Tom McGovern, Ed.D.
By Suzanna Cisneros
March 18, 2022
TTUHSC has been named as a Military Friendly® School for 2022-2023. Among graduate schools, TTUHSC ranked fourth in the nation, achieving Gold award status.
By Meaghan Collier
March 17, 2022
On March 16, fourth-year TTUHSC Jerry H. Hodge School of Pharmacy students interested in completing a residency after they graduate in May, learned where they would spend the next stage of their training during the Pharmacy Residency Match Day.
Recent Stories
Health
By Mark Hendricks
September 29, 2022
CPRIT recently awarded a $1 million prevention grant to Rakhshanda Rahman, M.D., Rebeccah Baucom, M.D., and John Kidwell, M.D., from the TTUHSC School of Medicine.
Research
By Kathryn Dankesreiter (TTU)
September 26, 2022
The Innovation Hub at Research Park today (September 26, 2022) announced the winners of its annual Presidents' Innovative Startup Awards. The award recognizes startups that have a high potential for growth and an economic impact in West Texas.
Education
By Mark Hendricks
September 23, 2022
Fifth graders from Bean Elementary School became doctors for a day. The Texas Tech University Health Sciences Center (TTUHSC) Student National Medical Association (SNMA) hosted the Doctors for a Day Minicamp on Sept. 23.