October keeps Abilene student organizations busy
The month wasn't just about tricks and treats for the School of Pharmacy's Abilene campus.
October presented a goodie bag full of opportunities for students, faculty and staff to volunteer for many worthwhile causes throughout the Key City community.
On Oct. 1, the Operation Heart group comprised of student members of the school's American Pharmacists Association-Academy of Student Pharmacists chapter participated in the American Heart Association (AHA) Abilene Heart Walk at Grover Nelson Park. The TTUHSC team had 29 walkers and sponsored a booth where pharmacy students provided smoking cessation education while nursing students performed blood pressure checks and provided a CPR demo. To date, the school has raised more than $1,650 for the AHA and donations are still being accepted through the end of the year on the team's AHA page.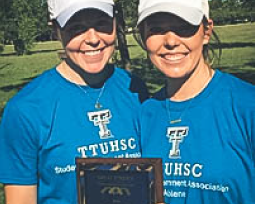 Also on Oct. 1, the TTUHSC Student Government Association (SGA) partnered with the Cystic Fibrosis Foundation to help sponsor the Cystic Fibrosis Walk. This year the annual 5k walk that took place at Redbud Park in south Abilene and raised approximately $26,000 for cystic fibrosis research. P2 Hayden Stewart was instrumental in planning the event for TTUHSC and designing event t-shirts for the TTUHSC team. The SGA also thanks the more than 50 students, faculty and loved ones who came out supported the event and helped TTUHSC earn the Cystic Fibrosis Walk Spirit Award.
On Oct. 15, 19 Abilene pharmacy students representing the Double T, Phi Lambda Sigma and the Christian Pharmacists Fellowship International student organizations —with support from the Abilene Student Council — volunteered at the local Global Samaritan Resources warehouse. The student volunteers were tasked with organizing and tracking donated medical supplies for inventory purposes. A spokesperson for the Global Samaritan Resources warehouse said the help she received from the School of Pharmacy volunteers was equal to an entire 40-hour week's worth of work from their very limited staff. The donated materials are distributed worldwide for disaster relief events and locally to community members in need.
On Halloween, Abilene pharmacy students joined the SGA and student senators Nicole Buzzard (P2) and Sehrish Panjwani (P3) at Abilene campus's annual Fall Festival. This year more than 750 children and families from the community stopped by the festival, which included more than 20 booths and activities ranging from an eyeball relay to a witch's hat ring toss. Several vehicles were also used for the event's Trunk or Treat that handed out candy to children. The SGA is extremely grateful to all of its student senators, Student Services personnel and housekeeping staff for their help in making the 2016 Fall Festival a success.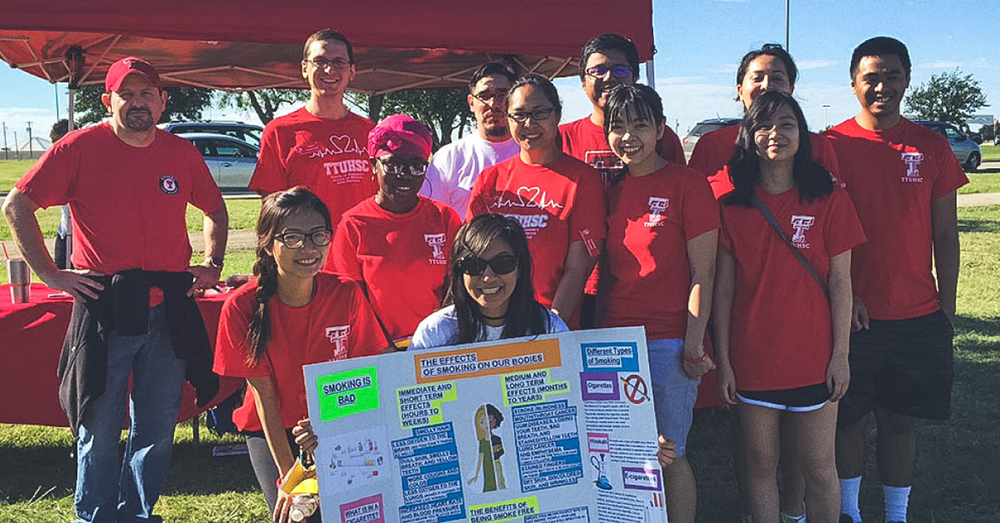 Related Stories
By Lori Rice-Spearman, Ph.D., Steven L. Berk, M.D.
March 22, 2022
TTUHSC Celebration of Life Service was held March 25th in remembrance of Tom McGovern, Ed.D.
By Suzanna Cisneros
March 18, 2022
TTUHSC has been named as a Military Friendly® School for 2022-2023. Among graduate schools, TTUHSC ranked fourth in the nation, achieving Gold award status.
By Meaghan Collier
March 17, 2022
On March 16, fourth-year TTUHSC Jerry H. Hodge School of Pharmacy students interested in completing a residency after they graduate in May, learned where they would spend the next stage of their training during the Pharmacy Residency Match Day.
Recent Stories
Health
By Mark Hendricks
September 29, 2022
CPRIT recently awarded a $1 million prevention grant to Rakhshanda Rahman, M.D., Rebeccah Baucom, M.D., and John Kidwell, M.D., from the TTUHSC School of Medicine.
Research
By Kathryn Dankesreiter (TTU)
September 26, 2022
The Innovation Hub at Research Park today (September 26, 2022) announced the winners of its annual Presidents' Innovative Startup Awards. The award recognizes startups that have a high potential for growth and an economic impact in West Texas.
Education
By Suzanna Cisneros
September 23, 2022
Fifth graders from Bean Elementary School became doctors for a day. The Texas Tech University Health Sciences Center (TTUHSC) Student National Medical Association (SNMA) hosted the Doctors for a Day Minicamp on Sept. 23.