October keeps Abilene student organizations busy
The month wasn't just about tricks and treats for the School of Pharmacy's Abilene campus.
October presented a goodie bag full of opportunities for students, faculty and staff to volunteer for many worthwhile causes throughout the Key City community.
On Oct. 1, the Operation Heart group comprised of student members of the school's American Pharmacists Association-Academy of Student Pharmacists chapter participated in the American Heart Association (AHA) Abilene Heart Walk at Grover Nelson Park. The TTUHSC team had 29 walkers and sponsored a booth where pharmacy students provided smoking cessation education while nursing students performed blood pressure checks and provided a CPR demo. To date, the school has raised more than $1,650 for the AHA and donations are still being accepted through the end of the year on the team's AHA page.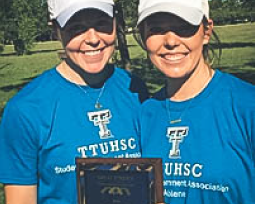 Also on Oct. 1, the TTUHSC Student Government Association (SGA) partnered with the Cystic Fibrosis Foundation to help sponsor the Cystic Fibrosis Walk. This year the annual 5k walk that took place at Redbud Park in south Abilene and raised approximately $26,000 for cystic fibrosis research. P2 Hayden Stewart was instrumental in planning the event for TTUHSC and designing event t-shirts for the TTUHSC team. The SGA also thanks the more than 50 students, faculty and loved ones who came out supported the event and helped TTUHSC earn the Cystic Fibrosis Walk Spirit Award.
On Oct. 15, 19 Abilene pharmacy students representing the Double T, Phi Lambda Sigma and the Christian Pharmacists Fellowship International student organizations —with support from the Abilene Student Council — volunteered at the local Global Samaritan Resources warehouse. The student volunteers were tasked with organizing and tracking donated medical supplies for inventory purposes. A spokesperson for the Global Samaritan Resources warehouse said the help she received from the School of Pharmacy volunteers was equal to an entire 40-hour week's worth of work from their very limited staff. The donated materials are distributed worldwide for disaster relief events and locally to community members in need.
On Halloween, Abilene pharmacy students joined the SGA and student senators Nicole Buzzard (P2) and Sehrish Panjwani (P3) at Abilene campus's annual Fall Festival. This year more than 750 children and families from the community stopped by the festival, which included more than 20 booths and activities ranging from an eyeball relay to a witch's hat ring toss. Several vehicles were also used for the event's Trunk or Treat that handed out candy to children. The SGA is extremely grateful to all of its student senators, Student Services personnel and housekeeping staff for their help in making the 2016 Fall Festival a success.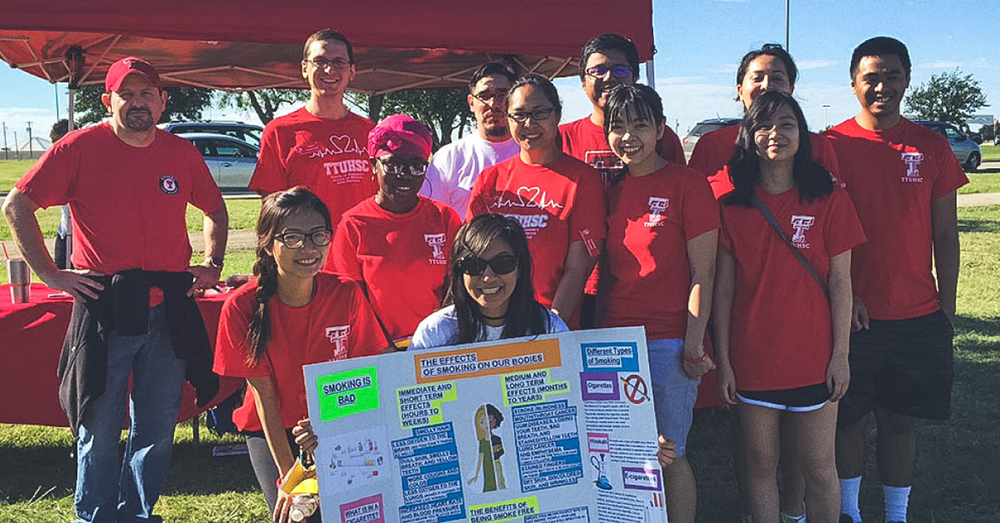 Related Stories
By QEP Committee
March 21, 2023
As spring approaches, some people's thoughts turn to gardening. Whether it's a flower garden they desire or a vegetable garden want to have, they begin planning what they'll plant and what they need to do to ensure a successful garden.
By QEP Committee
March 21, 2023
A "growth mindset" accepts that our intelligence and talents can develop over time, and a person with that mindset understands that intelligence and talents can improve through effort and learning.
By Melissa Whitfield
February 13, 2023
Abstaining from drug abuse and an early diagnosis of familial hypercholesterolemia (high cholesterol) can help prevent heart disease.
Recent Stories
Education
By Suzanna Cisneros
December 07, 2023
HACU announced Sonya Castro-Quirino, D.Bioethics, TTUHSC vice president of Office of Institutional Compliance, as one of the 50 fellows of HACU's Leadership Academy/La Academia de Liderazgo.
Campus Life
By Samantha White via TAFP news release
December 05, 2023
Ronald L. Cook, DO, MBA, of Lubbock, Texas, was named the 2023 Texas Family Physician of the Year during TAFP's Annual Session and Primary Care Summit in Grapevine on Nov. 11.
Research
By Mark Hendricks
November 16, 2023
Ninh (Irene) La-Beck, Pharm.D., with the TTUHSC Jerry H. Hodge School of Pharmacy, received a five-year, $2.49 million grant to investigate how nanoparticles interact with the immune system and cancer.