A Mutual Respect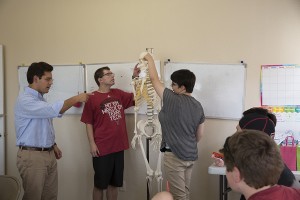 Alex Briesh listened closely, staring straight ahead and became ecstatic when she heard her own heart beat through a stethoscope.
"This is so much fun," Briesh said. "Wow, this is so great!"
Briesh and her classmates learned about how the human heart works. They are students at High Point Village, a non-profit organization developed for the purpose of providing an enrichment facility and residential living community for individuals with special needs.
What makes this class unique is students from the Texas Tech University Health Sciences Center (TTUHSC) come to High Point Village to teach science to students with special needs. The program is one of the initiatives of Advocates for Special Needs Athletes (ASNA), a TTUHSC interprofessional organization dedicated to funding and providing people of all ages with special needs the opportunity to participate in and develop through athletics, competition and a commitment to health.
Bill Sessions, a first-year medical student and ASNA president, said the group was organized after a New York Times article was published about health care professionals in general did not feel comfortable working with people with special needs.
"In direct result to that, we created the group to increase interactions between future health care professionals and individuals with special needs," Sessions said. "Hopefully, once they get to their clinical years, they will feel comfortable working with people with special needs."
Sessions has a personal connection with people of special needs. His younger brother, Alex, is a 21-year-old man with Down syndrome. Alex recently graduated from high school and is now working at Fuzzy's Taco Shop.
"When I am interacting with my brother, it seems like he is speaking perfect English to me," Sessions said. "I don't notice he is difficult to understand. But someone who just meets him may say, "What did he say?" And I am thinking how could you not know what he is saying. He obviously said this. I think interacting with special needs people is just something that is continuing to evolve in our society. Hopefully, we will continue to see inclusion of people of special needs."
Alexis Ricci, a second-year medical student and ASNA member, attended a Catholic all-girl school that was receptive to making opportunities available for all kinds of students. Through her brother's friend, she met a student who has Down syndrome.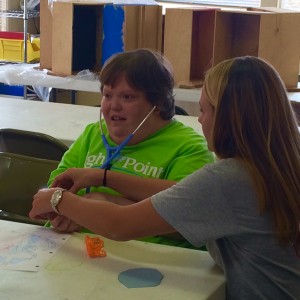 "I think for many people, it is the fear of the unknown," Ricci said. "My biggest thing is that there isn't an unknown and people see the human side of this. Creating more opportunities to have people interact with special needs people will help. It's why I got involved."
Ricci said although the High Point Village program deals with science, there is a good reason to have athletics in their organization's name.
"Being involved in sports and being on a team is a great way to maintain mental health for all people, especially people with special needs," Ricci said. "This is a way we can promote better health care to those we are interacting with through this organization."
Sessions said athletics is such an important part of his brother's self esteem. Recently, Alex Sessions injured his elbow and was not able to participate in athletics for four months.
"It was probably the most difficult four months of his life," Bill Sessions said. "He gained weight. He didn't have athletics to help his self-esteem. It helped me get insight into his self identity and what sports mean to him."
Whether it is with athletics or science, Becky Critz, executive director at High Point Village, said the student's lives are enhanced when the TTUHSC students give of their time.
"Our main goal is to provide an enriched environment for our students," Critz said. "Where they can live and learn, work and worship and achieve their full potential.
These individuals have never had someone come teach science. These science classes and the students enrich their lives. Our students feel they accept them for them and thrive on it."
Sessions said the High Point Village students really enjoy the class, as do the TTUHSC students.
"It's a mutual respect," Sessions said. "So many of the ASNA students want to volunteer. We care about why we are doing this. With all the people who have helped out my brother, I want to be able to that for someone else."
ASNA will host Queue for a Cause at 7 p.m. Nov. 6 at CapRock Winery with proceeds going to High Point Village. For more information, to purchase a ticket or to make a donation, visit http://www.ttuhsc.edu/student-affairs/organizations/default.aspx or email Ricci at alexis.ricci@ttuhsc.edu.
Related Stories
By QEP Committee
March 21, 2023
As spring approaches, some people's thoughts turn to gardening. Whether it's a flower garden they desire or a vegetable garden want to have, they begin planning what they'll plant and what they need to do to ensure a successful garden.
By QEP Committee
March 21, 2023
A "growth mindset" accepts that our intelligence and talents can develop over time, and a person with that mindset understands that intelligence and talents can improve through effort and learning.
By Melissa Whitfield
February 13, 2023
Abstaining from drug abuse and an early diagnosis of familial hypercholesterolemia (high cholesterol) can help prevent heart disease.
Recent Stories
Campus Life
By Suzanna Cisneros
March 31, 2023
The TPPC, managed by the TTUHSC Jerry H. Hodge School of Pharmacy, will host Lubbock's Spring Medication Cleanout™ event from 10 a.m. to 2 p.m. April 22 (Saturday) at the Texas Tech Physicians Medical Pavilion.
Campus Life
By Meaghan Collier
March 31, 2023
TTUHSC School of Nursing honored its first class of Bachelor of Science in Nursing (BSN) graduates with a lamp lighting ceremony on Thursday, March 30.
Health
By Melissa Whitfield
March 30, 2023
Texas Tech Physicians primary and specialty clinics across West Texas have completed more than 160,000 telehealth visits since the start of the pandemic.