March Community Medical School Gives Peak Inside Health Care Technology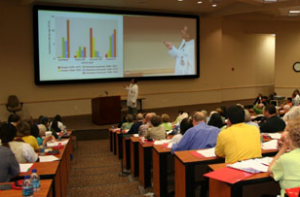 The most recent Texas Tech University Health Sciences Center (TTUHSC) Community Medical School course featured three leading experts in the field of health information technology.
Susan McBride, Ph.D., R.N.
, professor,
Laura Thomas, Ph.D., R.N.
, assistant professor, and Steph Hoelscher, BSN, R.N., CHISP, each presented unique aspects of the new information technology that is reshaping the patient experience.
The course began with "Measles, Immunizations and Your Child," a brief overview of the U.S. measles outbreak, which began several months ago in California, by Fatma Levent, M.D., associate professor of pediatrics and a pediatric infectious disease expert. Levent described the first signs and symptoms of a measles infection, as well explained the factors related to measles being highly contagious and the critical importance of timely immunizations.
McBride examined the changes that have come about since the advent of the HITECH Act was introduced in 2004. The HITECH act was implemented to create an incentive for providers to make health care records more accessible for patients and providers using the Internet. In the years since, patient portals and electronic health records have expedited and streamlined much of the patient's experience.
Thomas described the means by which providers can qualify for financial incentives to adapt the new health information technology. By verifying the practice's meaningful use, or substantial value to the patient, providers receive incentives for the expansion and maintenance of new systems.
Finally, Hoelscher gave a tour of the patient portal offered by TTUHSC and its affiliates for patients. The audience was able to see exactly how to contact a provider directly, view medical history and pertinent information like a medication or known allergy list.
Community Medical School will continue April 21 with, "How Simulation Learning Reduces Errors in Health Care and Promotes Safety for Patients," by Sharon Decker, Ph.D., R.N., professor.
Related Stories
By Lori Rice-Spearman, Ph.D., Steven L. Berk, M.D.
March 22, 2022
TTUHSC Celebration of Life Service was held March 25th in remembrance of Tom McGovern, Ed.D.
By Suzanna Cisneros
March 18, 2022
TTUHSC has been named as a Military Friendly® School for 2022-2023. Among graduate schools, TTUHSC ranked fourth in the nation, achieving Gold award status.
By Meaghan Collier
March 17, 2022
On March 16, fourth-year TTUHSC Jerry H. Hodge School of Pharmacy students interested in completing a residency after they graduate in May, learned where they would spend the next stage of their training during the Pharmacy Residency Match Day.
Recent Stories
Health
By Melissa Whitfield
February 06, 2023
It's not too late to make a resolution to exercise more and spend quality time with your family. Combining both can lead to long-term benefits for you and your children's health and their academics.
Health
By Mohammad Ansari, M.D.
February 06, 2023
Mohammad Ansari, M.D., says keeping a healthy heart is not just a concern for senior adults. It's something that should be at the forefront of all our minds.
Health
By School of Health Professions
February 02, 2023
Moumita Choudhury Au.D., CCC-A, spoke about the present and future of social media's impact on healthcare in general and on hearing healthcare specifically.