Step by Step
Handling stress when life gets too busy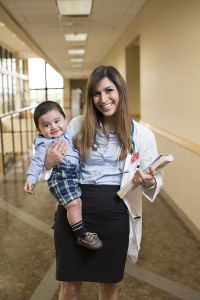 Sareh Cavazos, a third-year medical student, mother of a 10 month-old son, wife and part-time nutritionist, knows all too well, how the pressures from life can be overwhelming and the need to find a balance is the key.
"My typical day I wake up at 5 a.m. and do a mini yoga session, take a shower, get ready, get my son Henry ready and then head to the hospital around 6:30 a.m. to see patients and round with physicians," Cavazos said. "I normally get home at 4 p.m. unless I am on call, then it can be 6 to 9 p.m. at the latest."
Cavazos studies while she is at school and many days after her son goes to sleep. The Cavazos schedule is not the standard 8-to-5 on workdays. Her husband Arturo works as an attorney in Dallas while she and Henry live in Lubbock. On weekends, she also works as a part-time nutritionist helping clients learn healthy eating habits.
Allan Korinek, Ph.D., director of the Employee Assistance Program, said the pressures of a busy schedule can become consuming. The first thing is to have 'balance' as a goal to work toward.
"For many people, a lack of balance is the norm for their lives and they don't realize that's the case," Korinek said. "Once we have a more balanced life as a goal, we can do things to try to create better balance such as prioritizing our needs and responsibilities and setting boundaries. Those assessments require taking time to reflect on the choices we are making with regard to our lives, many of which are made by default, rather than consciously."
Staying busy is not new to Cavazos. After completing her undergraduate major in biology with a double minor in business and neuroscience degrees from Texas A&M in 2009, she headed to Columbia University in New York to complete her master's in nutrition. After working in Dallas, Cavazos began medical school in 2013.
Although Cavazos has found a balance with medical school and family, Korinek said many others struggle with over stressing. If you are a person with too much on your plate, you may want to see if you are experiencing the signs of excessive stress, which will vary from person to person.
"The indicators are usually placed in categories such as physical, mental, emotional and behavioral," Korinek said. "As our stress increases, we experience our usual reactions more frequently (e.g., recurring sleep problems, more forgetfulness, greater irritability and more frequent arguments). Since excessive and prolonged stress also robs us of energy, we may find ourselves doing unwise things to conserve our energy, such as procrastinating and missing deadlines, shirking important responsibilities and withdrawing from others. Increased substance use also can be a sign that we are not managing things well, perhaps because we have too much going on."
As a medical student, Cavazos became involved in the Student Government Association and later became an officer. Cavazos said as an undergraduate she did not participate in many activities. She was later diagnosed with Celiac disease and hypothyroid disease. Her condition left her without much energy. With Cavazos, her health issues were not stress related and it was the experience with her health that inspired her to keep going in order to help others with autoimmune disease and nutrition.
"Once I was diagnosed and treated, I wanted to do more," Cavazos said. "I now had the energy to do more. My experiences inspired me to work harder. I think in this profession we have to know our individual limitations and they are constantly evolving as we ourselves gain more experience and grow mentally stronger and wiser."
For medical students to do well in their residency match in their fourth-year of medical school, they need to pass the USMLE Step exams in their first and second year. Cavazos was pregnant throughout her second-year of medical school while she prepped for the exam.
"Henry was 4 months old when I took the exam," Cavazos said. "I was diagnosed with post partum thyroidism and was admitted to the hospital. I was still studying in the hospital. But, I passed."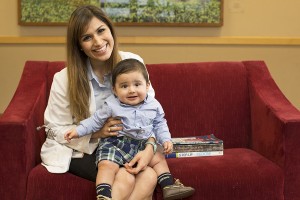 Korinek said there are many things a person can do to de-stress at the end of the day or when they are feeling overwhelmed.
"Although doing positive, relaxing things are good when we're feeling particularly stressed, making these part of a healthy lifestyle and doing them consistently can be good for body and soul," Korinek said.
He suggests deep breathing, walking or another form of exercise also is helpful. Listening to music, reading for pleasure or devoting time to a favorite hobby, journaling, taking a soothing shower or bath, or talking to a caring friend are other things one might consider. Cavazos has found prayer and meditation works the best for her.
"I pray a lot," Cavazos said. "Every morning, every night and during the day before I see patients. I like meditation. I have to believe that I am doing this for a higher power. It's a service."
Cavazos and her husband take time for each other every day. She said it helps with the busy schedules to come together at the end of the day and weekends when he travels to Lubbock.
"While I put the baby to bed, we have family time as we wind down," Cavazos said. "We Google Chat every night. We take time for each other and talk about the day we had. But the best part of my day is when I get home and Henry sees me. His eyes light up, he smiles and holds on to me. I'm momma and it's all worth it."
Related Stories
By Lori Rice-Spearman, Ph.D., Steven L. Berk, M.D.
March 22, 2022
TTUHSC Celebration of Life Service was held March 25th in remembrance of Tom McGovern, Ed.D.
By Suzanna Cisneros
March 18, 2022
TTUHSC has been named as a Military Friendly® School for 2022-2023. Among graduate schools, TTUHSC ranked fourth in the nation, achieving Gold award status.
By Meaghan Collier
March 17, 2022
On March 16, fourth-year TTUHSC Jerry H. Hodge School of Pharmacy students interested in completing a residency after they graduate in May, learned where they would spend the next stage of their training during the Pharmacy Residency Match Day.
Recent Stories
Health
By Mark Hendricks
September 29, 2022
CPRIT recently awarded a $1 million prevention grant to Rakhshanda Rahman, M.D., Rebeccah Baucom, M.D., and John Kidwell, M.D., from the TTUHSC School of Medicine.
Research
By Kathryn Dankesreiter (TTU)
September 26, 2022
The Innovation Hub at Research Park today (September 26, 2022) announced the winners of its annual Presidents' Innovative Startup Awards. The award recognizes startups that have a high potential for growth and an economic impact in West Texas.
Education
By Mark Hendricks
September 23, 2022
Fifth graders from Bean Elementary School became doctors for a day. The Texas Tech University Health Sciences Center (TTUHSC) Student National Medical Association (SNMA) hosted the Doctors for a Day Minicamp on Sept. 23.