Big showing for Medication Cleanout™
The Texas Tech University Health Sciences Center (TTUHSC) School of Pharmacy's Texas Panhandle Poison Center hosted a Medication Cleanout™ this Saturday as cars were directed through a drive-thru station where household medication and sharps were dropped off for appropriate disposal.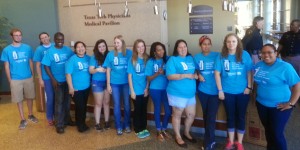 Medication Cleanout™ student volunteers
More than 426 pounds of unused medication and 16.5 pounds of sharps were collected for disposal at the event, which took place at the Texas Tech Physicians Medical Pavilion in Lubbock. 154 cars in all came through and nearly 340 have participated in the last two fall events. The Medication Cleanout™ aims to prevent poisonings, abuse, and misuse of household medications as well as proper disposal to protect the environment. It is a TTUHSC School of Pharmacy initiative and is sponsored by the Lubbock County VOICES Coalition and Starcare Specialty Health System with support from the TTUHSC School of Medicine, the Lubbock County Sheriff's Department, and the DEA. For more information about the Medication Cleanout™ program, visit
www.medicationcleanout.com
.
Related Stories
By QEP Committee
March 21, 2023
As spring approaches, some people's thoughts turn to gardening. Whether it's a flower garden they desire or a vegetable garden want to have, they begin planning what they'll plant and what they need to do to ensure a successful garden.
By QEP Committee
March 21, 2023
A "growth mindset" accepts that our intelligence and talents can develop over time, and a person with that mindset understands that intelligence and talents can improve through effort and learning.
By Melissa Whitfield
February 13, 2023
Abstaining from drug abuse and an early diagnosis of familial hypercholesterolemia (high cholesterol) can help prevent heart disease.
Recent Stories
Research
By Mark Hendricks
November 16, 2023
Ninh (Irene) La-Beck, Pharm.D., with the TTUHSC Jerry H. Hodge School of Pharmacy, received a five-year, $2.49 million grant to investigate how nanoparticles interact with the immune system and cancer.
Research
By Mark Hendricks
November 10, 2023
To help investigate the influence basal sex hormone alterations may have on chronic post-op pain, the NIH recently awarded a grant to Jenny Wilkerson, Ph.D., from the Jerry H. Hodge School of Pharmacy.
Health
By Tyler White
November 09, 2023
Scott Shurmur, M.D., a cardiologist at the Texas Tech Physicians Center for Cardiovascular Health, shared his expertise and his experience as a former collegiate athlete.