The Texas Tech University Health Sciences Center (TTUHSC) School of Pharmacy's Texas Panhandle Poison Center hosted a Medication Cleanout™ this Saturday as cars were directed through a drive-thru station where household medication and sharps were dropped off for appropriate disposal.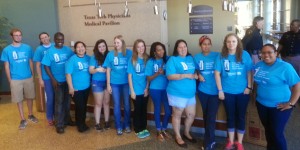 Medication Cleanout™ student volunteers
More than 426 pounds of unused medication and 16.5 pounds of sharps were collected for disposal at the event, which took place at the Texas Tech Physicians Medical Pavilion in Lubbock. 154 cars in all came through and nearly 340 have participated in the last two fall events. The Medication Cleanout™ aims to prevent poisonings, abuse, and misuse of household medications as well as proper disposal to protect the environment. It is a TTUHSC School of Pharmacy initiative and is sponsored by the Lubbock County VOICES Coalition and Starcare Specialty Health System with support from the TTUHSC School of Medicine, the Lubbock County Sheriff's Department, and the DEA. For more information about the Medication Cleanout™ program, visit
www.medicationcleanout.com
.