Nurse Practitioner Luncheon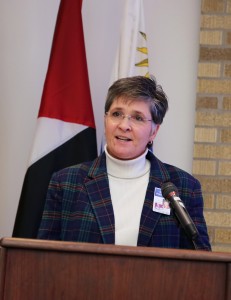 Melanie Richburg, DNP, R.N., FNP-C
Texas Tech University Health Sciences Center (TTUHSC) School of Nursing hosted a luncheon in honor of National Nurse Practitioner Week. The school welcomed local nurse practitioners as guests and featured a presentation over the role of a nurse practitioner (NP) in health care and awards ceremony.
Melanie Richburg, DNP, R.N., FNP-C, family nurse practitioner at Lynn County Hospital District Family Wellness Clinic, was the guest speaker. Richburg's message emphasized the significance of rural health and the work of nurse practitioners in advancing health care. Richburg focused on the critical importance of nurse practitioners in rural health communities.
The event concluded with Mercedes Day, MSN, FNP-C, chair of publicity committee for the South Plains Nurse Practitioner Association (SPNPA) and NP for Texas Tech Physicians – Pediatrics, presenting Kay Hatton, APRN, MSN, RDMS, with the 2014 SPNPA Outstanding Nurse Practitioner Award.
Kay Hatton, APRN, MSN, RDMS (L) & Mercedes Day, MSN, FNP-C (R)
According to the
American Association of Nurse Practitioners
(AANP), National Nurse Practitioner Week is held each November to "celebrate the important role of nurse practitioners and highlight the meaningful difference NP's make in the lives of their patients." AANP also encourages health care providers to observe National Nurse Practitioner Week in an effort to "remind lawmakers of the importance of removing outdated barriers to practice so that NPs will be allowed to practice to the full extent of their experience and education."
Related Stories
By QEP Committee
March 21, 2023
As spring approaches, some people's thoughts turn to gardening. Whether it's a flower garden they desire or a vegetable garden want to have, they begin planning what they'll plant and what they need to do to ensure a successful garden.
By QEP Committee
March 21, 2023
A "growth mindset" accepts that our intelligence and talents can develop over time, and a person with that mindset understands that intelligence and talents can improve through effort and learning.
By Melissa Whitfield
February 13, 2023
Abstaining from drug abuse and an early diagnosis of familial hypercholesterolemia (high cholesterol) can help prevent heart disease.
Recent Stories
Education
By Suzanna Cisneros
December 07, 2023
HACU announced Sonya Castro-Quirino, D.Bioethics, TTUHSC vice president of Office of Institutional Compliance, as one of the 50 fellows of HACU's Leadership Academy/La Academia de Liderazgo.
Campus Life
By Samantha White via TAFP news release
December 05, 2023
Ronald L. Cook, DO, MBA, of Lubbock, Texas, was named the 2023 Texas Family Physician of the Year during TAFP's Annual Session and Primary Care Summit in Grapevine on Nov. 11.
Research
By Mark Hendricks
November 16, 2023
Ninh (Irene) La-Beck, Pharm.D., with the TTUHSC Jerry H. Hodge School of Pharmacy, received a five-year, $2.49 million grant to investigate how nanoparticles interact with the immune system and cancer.