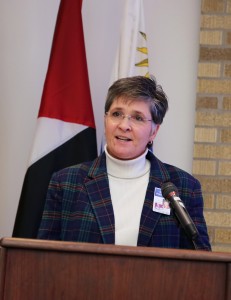 Melanie Richburg, DNP, R.N., FNP-C
Texas Tech University Health Sciences Center (TTUHSC) School of Nursing hosted a luncheon in honor of National Nurse Practitioner Week. The school welcomed local nurse practitioners as guests and featured a presentation over the role of a nurse practitioner (NP) in health care and awards ceremony.
Melanie Richburg, DNP, R.N., FNP-C, family nurse practitioner at Lynn County Hospital District Family Wellness Clinic, was the guest speaker. Richburg's message emphasized the significance of rural health and the work of nurse practitioners in advancing health care. Richburg focused on the critical importance of nurse practitioners in rural health communities.
The event concluded with Mercedes Day, MSN, FNP-C, chair of publicity committee for the South Plains Nurse Practitioner Association (SPNPA) and NP for Texas Tech Physicians – Pediatrics, presenting Kay Hatton, APRN, MSN, RDMS, with the 2014 SPNPA Outstanding Nurse Practitioner Award.
Kay Hatton, APRN, MSN, RDMS (L) & Mercedes Day, MSN, FNP-C (R)
According to the
American Association of Nurse Practitioners
(AANP), National Nurse Practitioner Week is held each November to "celebrate the important role of nurse practitioners and highlight the meaningful difference NP's make in the lives of their patients." AANP also encourages health care providers to observe National Nurse Practitioner Week in an effort to "remind lawmakers of the importance of removing outdated barriers to practice so that NPs will be allowed to practice to the full extent of their experience and education."