Honoring Those Who Serve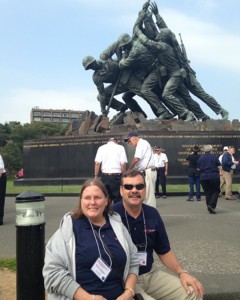 Vaughn, joined by her husband, at the Marine Corps War Memorial during the Honor Flight.
E.D. Loyd, served in the Army from the day he was old enough to sign up. He served as an instructor on all different types of artillery. Loyd retired as a Major in the U.S. Army and now lives in Oklahoma. His daughter Alice Vaughn, R.N., Texas Tech Physicians — Obstetrics, said because of his strong belief in the military, she too has a strong affection for the military. Vaughn was recently selected to participate in the KCBD Honor Flight. The program takes South Plains Veterans, who have seen combat duty, to Washington, D.C. to see all of the War Memorials, monuments and take special tours. The group consists primarily of War World II veterans. Due to their advanced age (late 80s and early 90s), one guardian is required for each wheelchair veteran or one guardian for every three ambulatory veterans.
"I was so honored to have been chosen to participate in this trip," Vaughn said. "I was assigned to a female veteran primarily and learned a lot about the life of women in the military. We visited all the memorials dedicated to the veterans we were accompanying including World War II, Viet Nam, Korea, Iwo Jima and several museums dedicated to different branches of service as well as the Arlington Cemetery and Tomb of the Unknown Soldier."
Veterans and their caretakers also met with U.S. Representative Randy Neugebauer and had the opportunity to hear a presentation.
"We were met by enthusiastic crowds everywhere we went and many people approached to greet the veterans during our travels," Vaughn said. "It was truly an honor to meet these men and women and see their spirit and independence as well as deep respect and affection for our country. Several times we were almost brought to tears by them collectively saluting the flag at different venues. It was an experience I will never forget and I plan to continue to try to participate with their committee to facilitate future successful trips to Washington D.C. for our veterans. I am thankful to all the people who contributed to help me make the trip."
Serving Other Veterans
Moody, center, serving in Baghdad, Iraq in 2005.
Will Moody, a native of Weatherford, Texas, was in the Army for five years and a military police officer in the 10th Mountain Division. He received his purple heart in Baghdad, Iraq when rocket propelled grenade struck his machine gun turret. Moody now serves as the Veteran's Coordinator for the Military Affairs Office at the Texas Tech University Health Sciences Center.
In his current role, Moody helps students and military dependents at TTUHSC to get certified and work with the Veterans Administration for benefits. He said it's important to give back and make sure veterans are well taken care of.
"What I loved most about my military experience was meeting people from all over our country with different beliefs and backgrounds and all of us working together for one common goal," Moody said. "On this day and everyday it is important to honor the sacrifices our veterans and their families have made to serve our country. We should support them for their service."
Support TTUHSC Military Affairs Office
T-shirts honoring TTUHSC veterans are for sale. All proceeds will go back to the Office of Military Affairs' events. For more information, contact (806) 743-3508.
Related Stories
By Lori Rice-Spearman, Ph.D., Steven L. Berk, M.D.
March 22, 2022
TTUHSC Celebration of Life Service was held March 25th in remembrance of Tom McGovern, Ed.D.
By Suzanna Cisneros
March 18, 2022
TTUHSC has been named as a Military Friendly® School for 2022-2023. Among graduate schools, TTUHSC ranked fourth in the nation, achieving Gold award status.
By Meaghan Collier
March 17, 2022
On March 16, fourth-year TTUHSC Jerry H. Hodge School of Pharmacy students interested in completing a residency after they graduate in May, learned where they would spend the next stage of their training during the Pharmacy Residency Match Day.
Recent Stories
Health
By Mark Hendricks
September 29, 2022
CPRIT recently awarded a $1 million prevention grant to Rakhshanda Rahman, M.D., Rebeccah Baucom, M.D., and John Kidwell, M.D., from the TTUHSC School of Medicine.
Research
By Kathryn Dankesreiter (TTU)
September 26, 2022
The Innovation Hub at Research Park today (September 26, 2022) announced the winners of its annual Presidents' Innovative Startup Awards. The award recognizes startups that have a high potential for growth and an economic impact in West Texas.
Education
By Mark Hendricks
September 23, 2022
Fifth graders from Bean Elementary School became doctors for a day. The Texas Tech University Health Sciences Center (TTUHSC) Student National Medical Association (SNMA) hosted the Doctors for a Day Minicamp on Sept. 23.