Breast Cancer: Finding Answers for Hispanic Women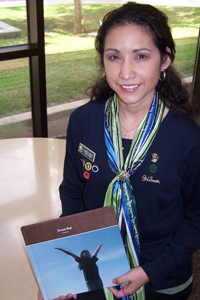 A breast cancer survivor, Olivarez is dedicated to teaching Hispanic and Latina women to be proactive about their health.
Margie Olivarez clearly remembers driving home one day in 2007 when she received a call from her doctor.
"You have cancer," Olivarez said. "It's news I never thought I would get. It doesn't run in my family. I was healthy. But I was diagnosed with stage III breast cancer. It was a long drive home."
Olivarez, a Girl Scout leader for her daughter's troop, was rushed to get her and the other Girl Scouts to an interview for a Silver Award project that day. The girls were on their way to go in front of a panel to present and defend their project.
"There was a lot of stress that day," she said. "I didn't say anything to the girls or their moms right before and had so many things going through my mind."
The prior year during a physical exam, Olivarez's doctor felt a small cyst. Since Olivarez was under age 40 and had no red flags like a family history of breast cancer, the decision was made to keep an eye on it. Throughout the year she did self-checks and did not find any abnormalities. But as she was showering in February 2007, Olivarez felt a lump.
A Targeted Population
Going through her own experience, Olivarez remembers doesn't remember seeing many Hispanics in the waiting room at her doctor's office.
"I said to myself, I know I am not the only 39-year-old Hispanic woman with cancer," she said. "I was curious and wanted to know if there was any outreach to target Hispanic women with breast cancer. I became very involved in Reach to Recovery, which is an organization of cancer survivors reaching out to other newly diagnosed cancer patients to guide them through the process. I also had so many questions about this disease and why I got it."
Olivarez said at the time she was diagnosed with stage III breast cancer, her particular form of breast cancer did not express the genes for estrogen receptor, progesterone receptor or Her2/neu. But two years later while at a conference, this type of cancer was being called triple-negative breast cancer a type of cancer being diagnosed in more and more women, especially in the Hispanic population. Olivarez said this shows the need for more research to better understand types of cancers and what treatments work.
Researchers at the School of Medicine and the UMC Breast Care Center are participating in a research study funded by the National Institutes of Health focusing on breast cancer in Hispanic and Latina women.
Candy Arentz, M.D., assistant professor in the Department of Surgery, said they hope to find answers as to the genetics of Hispanic or Latina women like Olivarez.
"There has not been a study that focused solely on the genetics of Hispanic or Latina women with breast cancer," Arentz said. "Treatment for breast cancer is changing. We now focus on the specific patient in conjunction with the breast cancer. A mutation in a gene is a permanent change in the DNA. Most past models that calculated the risk of breast cancer have been based on studies with 80 percent Caucasian women."
The study's primary objective is to collect saliva samples from up to 2,000 Hispanic or Latina women currently or previously diagnosed with breast cancer. The samples will serve as a source of DNA, and information on the stage and pathology of their tumors.
Participation in the study is simple and non-invasive. Once consent has been obtained, a collection of saliva will be taken from the patients' mouth and a questionnaire will be completed. Any and all Hispanic/Latina women with breast cancer are potentially eligible for this research trial.
Arentz, principal investigator of the study, said there is a unique opportunity to identify Hispanic and Latina women that may be eligible for new-targeted therapies.
"If we can find answers as to how cancers grow in Hispanics and Latinas, we can better find drug treatments, therapies and care for them," Arentz said.
A Step Toward Answers
After 24 weeks of chemotherapy treatments, 26 days of radiation and a double mastectomy, Olivarez is now a cancer survivor on a mission to educate other Hispanic women to be aware of breast cancer.
"Our culture, especially many of our elders, will not talk about breast cancer," Olivarez said. "We need to educate our girls and their moms about self checks, taking advantage of screenings and research. Studies like this one are promising in finding some answers for women of our culture."
Olivarez's mission is to teach her Girl Scout troop leadership but also teach them to be proactive about their health.
"My troop at the time witnessed my cancer fight and it was scary at times and we talked about my experience," she said. "A few years later one of the moms called me. Her daughter found a lump. They called a doctor right away and I was proud of them for taking action. It's okay to talk about your body and check yourself."
Physicians recommend women 40 and older have a mammogram every year. Women under 40 should do regular self-checks and see a physician if they feel a lump.
Olivarez said it is ironic that Juliet Low, the woman who founded Girl Scouts, died from breast cancer.
"That too was an era when women did not talk about it, and now look how far we have come," she said. "Hispanic and Latina women need to take a step forward and empower the girls to be better leaders but also take care of themselves. Moms, tias and abuelitas who have breast cancer should consider this research study for our next generation."
For more information about the study, call (806) 775-8600.
Related Stories
By QEP Committee
March 21, 2023
As spring approaches, some people's thoughts turn to gardening. Whether it's a flower garden they desire or a vegetable garden want to have, they begin planning what they'll plant and what they need to do to ensure a successful garden.
By QEP Committee
March 21, 2023
A "growth mindset" accepts that our intelligence and talents can develop over time, and a person with that mindset understands that intelligence and talents can improve through effort and learning.
By Melissa Whitfield
February 13, 2023
Abstaining from drug abuse and an early diagnosis of familial hypercholesterolemia (high cholesterol) can help prevent heart disease.
Recent Stories
Education
By Suzanna Cisneros
December 07, 2023
HACU announced Sonya Castro-Quirino, D.Bioethics, TTUHSC vice president of Office of Institutional Compliance, as one of the 50 fellows of HACU's Leadership Academy/La Academia de Liderazgo.
Campus Life
By Samantha White via TAFP news release
December 05, 2023
Ronald L. Cook, DO, MBA, of Lubbock, Texas, was named the 2023 Texas Family Physician of the Year during TAFP's Annual Session and Primary Care Summit in Grapevine on Nov. 11.
Research
By Mark Hendricks
November 16, 2023
Ninh (Irene) La-Beck, Pharm.D., with the TTUHSC Jerry H. Hodge School of Pharmacy, received a five-year, $2.49 million grant to investigate how nanoparticles interact with the immune system and cancer.