America's Favorite Pastime Can Go Up in a Flash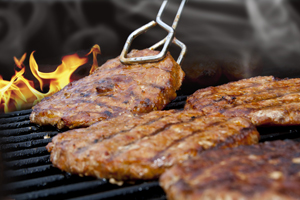 Grilling results in approximately 18,000 hospital visits a year.
Normally ESPN SportsCenter anchor Hannah Storm reports the news, but recently she received national attention after burning herself while cooking on her grill. Her story brings to light the dangers of grilling and how quickly a day of barbecue fun can become tragic.
This favorite American pastime results in more than 7,000 gas grill fires and more than 1,200 charcoal grill fires each year, and around 18,000 hospital visits.
In Storm's case, she was in a hurry and turned her propane grill on again when it did not light the first time which produced a flash flame or a fire ball causing first-and second-degree burns on her hand, neck and chest.
Sharmila Dissanaike, M.D., Texas Tech Physicians Surgery, said burn injuries from grilling are quite common but can be avoided.
"If you are in a rush, many accidents happen. If the Lubbock wind blows out your flame and you attempt to restart a grill the second time without turning off the gas first, the propane or fuel starts to pool and when a person reignites it, an explosion can occur," Dissanaike said. "One-third of injuries occur when a person is igniting the grill. If you can't get it lit or re-lit immediately, turn off the fuel and wait 5 minutes before starting it again."
Dissanaike said to always keep your grill clean, not only because of food safety issues but because grease build-up can cause flare-ups and result in fires. Make sure to clean the grill properly and check all of the connections, hose and tubes. Running soapy water over the hoses can help you detect gas leaks by the presence of bubbles. Worn or rusted connectors should be replaced.
"Maintain your gas grill by keeping it clean and also checking for leaks coming from the hose," Dssanaike said. "If you smell a leak, turn everything off and have someone check it out. Never use a grill indoors because carbon monoxide poisoning can occur if you are in an enclosed space, especially with charcoal grills."
Dissanaike also gives these safety warnings:
Keep children away from hot grills. A quarter of injuries are children who bump into grills.
Always have a bucket of sand and some baking soda by fire if you do not have a fire extinguisher to put out a fire.
On any grill, never throw lighter fuel gasoline or kerosene to make it light.
Never use any grill indoors; be 10 feet away from building structure
Use long utensils
Make sure clothing cannot get caught on grill
Also check the hose and all connections, bugs can crawl into pipes too. Keep grill covered when not in use.
"If you grill, know the safety issues that can prevent injuries to you and your family," Dissanaike said. "An accident can happen so quickly. By taking precautions, you can enjoy a great summer."
Related Stories
By QEP Committee
March 21, 2023
As spring approaches, some people's thoughts turn to gardening. Whether it's a flower garden they desire or a vegetable garden want to have, they begin planning what they'll plant and what they need to do to ensure a successful garden.
By QEP Committee
March 21, 2023
A "growth mindset" accepts that our intelligence and talents can develop over time, and a person with that mindset understands that intelligence and talents can improve through effort and learning.
By Melissa Whitfield
February 13, 2023
Abstaining from drug abuse and an early diagnosis of familial hypercholesterolemia (high cholesterol) can help prevent heart disease.
Recent Stories
Research
By Mark Hendricks
November 16, 2023
Ninh (Irene) La-Beck, Pharm.D., with the TTUHSC Jerry H. Hodge School of Pharmacy, received a five-year, $2.49 million grant to investigate how nanoparticles interact with the immune system and cancer.
Research
By Mark Hendricks
November 10, 2023
To help investigate the influence basal sex hormone alterations may have on chronic post-op pain, the NIH recently awarded a grant to Jenny Wilkerson, Ph.D., from the Jerry H. Hodge School of Pharmacy.
Health
By Tyler White
November 09, 2023
Scott Shurmur, M.D., a cardiologist at the Texas Tech Physicians Center for Cardiovascular Health, shared his expertise and his experience as a former collegiate athlete.