Don't Break the Bank or Your Diet This Valentine's Day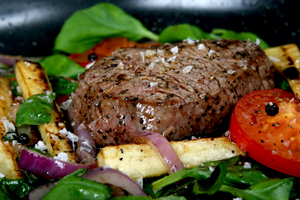 Typically, a cut of meat that ends in '-loin' is a healthier meal option, and a side of vegetables is a great alternative to starches like potatoes.
A meaningful Valentine's Day doesn't have to involve fancy dinner reservations or expensive gifts.
Allison Kerin, M.S., R.D., L.D., director of employee wellness and recognition programs and Christie Hust, M.S., R.D., L.D., CDE, director of the Diabetes Education Center at the Combest Center, say cooking for loved ones at home and spending quality time with family on Feb. 14 are affordable, distinctive and healthy ways to show you care.
"It's just a choice. It's a choice you make," Hust said. "You can either put in some planning and do something healthy, or wait 'till the last minute and do what's easy and not healthy. Plan for it, and it can be a healthy night that doesn't have to derail your entire month of February."
Start With the Meal
A home cooked meal is always going to be a healthier alternative than going out to eat at a restaurant, Kerin said. She suggests staying away from anything fried or covered in gravy or thick sauces both for health reasons and for aesthetics.
"My rule of thumb on Valentine's Day is no garlic, no onions, no soups, and no slurpy foods like fettuccine Alfredo or spaghetti or anything that you're going to have to slurp up and it's going to be all over you," Kerin said. "I usually say steamed broccoli is good, but you've got to be careful not to over cook that because nobody wants to have broccoli in their teeth on Valentine's Day, and no one wants to point out to their date that they have broccoli in their teeth on Valentine's Day."
Better selections include a side salad sprinkled with walnuts, raisins, Mandarin oranges, craisins or apples, and served with a cut of lean meat, like pork loin, or seafood.
"Anything that ends in '–loin' is usually a healthier type of meat," Kerin said. "Just make sure you grill it, bake it; just don't fry it you can broil it. And you only need about 3 to 4 ounces that's an actual serving of meat, and that's about the size of a deck of cards."
Vegetables like steamed carrots, asparagus or green beans make great Valentine's Day sides because they are less starchy than mashed potatoes or corn and can add color to your holiday plate, Kerin said.
"You eat with your eyes first," Kerin said, "so if it looks good, it's going to taste good."
If you choose to cook a richer meal like steak and a baked potato or pasta for dinner on Valentine's Day, Hust said there are ways to lighten up.
"Steak and potatoes are OK … as long as you're not having a loaded baked potato maybe just the butter even Butter Buds, which is powdered butter, works really well to give you all that flavor without all that fat," Hust said. "Fat free sour cream is a good option as well."
When choosing pasta, Hust recommends whole wheat or whole grain varieties.
"You want to do more of a red sauce not a white sauce less fat, even though nobody wants to hear that because the white sauce is so good," Hust said. "If I had an ideal meal, it would probably be baked fish, wild rice, steamed veggies and a low-calorie drink."
Show your romantic side and save calories by choosing a glass of red wine over a mixed drink.
Pour Your Loved One a Drink
A 4-ounce glass of dry red wine is not only low in calories, but also contains antioxidants that have been shown to increase heart health, Kerin and Hust said.
"A glass of wine is about 25 calories per ounce," Kerin said. "If you go out to eat and you have margaritas or bellinis or any of those type of drinks, they are loaded with empty calories. Wine is always viewed as more romantic anyway."
For those who would like to celebrate Valentine's Day with a mixed drink, Hust suggests combining a small amount of liquor with low-calorie cocktail mixes, low-carb juice, diet tonic or soda water.
Don't Skip Dessert
Giving or receiving a box of chocolates on Valentine's Day may be a tradition, but Kerin and Hust said surprising your significant other with an unexpected treat like strawberries, bananas, dried apricots and graham crackers dipped in a dark chocolate fondue offers health benefits not found in truffles or bonbons.
A 1.5-ounce serving of dark chocolate contains antioxidants and provides 15 percent of the recommended daily allowance (RDA) of magnesium, and 34 percent of the RDA of copper. In addition, fruit contains fiber, which can counteract some of the sweetness in milk or dark chocolate, Hust said.
Antioxidants protect cells and tissues from damage by free radicals, which are unstable molecules that can alter and weaken cells. They can also help combat stress, poor diet and aging.
"The more [antioxidants] that you can get if you are subjected to lots of things that create free radicals, you're just benefitting your body that much more," Kerin said.
Magnesium is important for energy production, strong bones, relaxed muscles, and effective nerve transmission, while copper helps the body create the chemical messengers known as neurotransmitters and is associated with a lowered risk of developing cardiovascular disease.
Other healthy dessert options for Valentine's Day include crustless cheesecake, a one-crust pie, fruit salad or fruit skewers sprinkled with Splenda or mixed with marshmallows, Hust said.
"Sometimes it's just fun to get into the kitchen together and cook as a couple as a family," Hust said. "Cooking can be one of the most fun things you do. You can do all kinds of different kinds of things with your food than you can't at a restaurant. You can make it a lot healthier."
Paint the Town Red
For those looking for something different than sitting down with a large tub of popcorn, an extra large soda and a movie on Valentine's Day, Hust and Kerin suggest getting active.
Bowling, going to the theatre, dancing, miniature golf, go carts, roller skating, batting cages or laser tag offer entertainment, as well as movement to help burn off any extra Valentine's Day calories.
"Just looking around town, there's going to be a lot of great things going on around town that weekend," Hust said. "Find something really great and instead of going out and giving chocolates, go out and do something."
Related Stories
By Lori Rice-Spearman, Ph.D., Steven L. Berk, M.D.
March 22, 2022
TTUHSC Celebration of Life Service was held March 25th in remembrance of Tom McGovern, Ed.D.
By Suzanna Cisneros
March 18, 2022
TTUHSC has been named as a Military Friendly® School for 2022-2023. Among graduate schools, TTUHSC ranked fourth in the nation, achieving Gold award status.
By Meaghan Collier
March 17, 2022
On March 16, fourth-year TTUHSC Jerry H. Hodge School of Pharmacy students interested in completing a residency after they graduate in May, learned where they would spend the next stage of their training during the Pharmacy Residency Match Day.
Recent Stories
Health
By Mark Hendricks
September 29, 2022
CPRIT recently awarded a $1 million prevention grant to Rakhshanda Rahman, M.D., Rebeccah Baucom, M.D., and John Kidwell, M.D., from the TTUHSC School of Medicine.
Research
By Kathryn Dankesreiter (TTU)
September 26, 2022
The Innovation Hub at Research Park today (September 26, 2022) announced the winners of its annual Presidents' Innovative Startup Awards. The award recognizes startups that have a high potential for growth and an economic impact in West Texas.
Education
By Mark Hendricks
September 23, 2022
Fifth graders from Bean Elementary School became doctors for a day. The Texas Tech University Health Sciences Center (TTUHSC) Student National Medical Association (SNMA) hosted the Doctors for a Day Minicamp on Sept. 23.