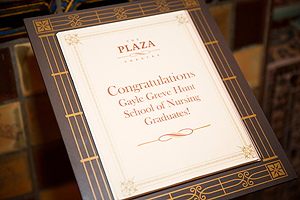 The ceremony marked TTUHSC El Paso's first official graduation as a separate university.
After more than two years of hard work, 65 students from the Gayle Greve Hunt School of Nursing made history as they participated in the school's inaugural commencement ceremony.
The inaugural Traditional Bachelor of Science in Nursing (BSN) and Second-Degree BSN classes, gathered with their family and friends at The Plaza Theatre in El Paso for the occasion. Nancy Neal, Texas Tech University System Board of Regents member, served as keynote speaker.
"It is truly remarkable that we are here today celebrating the first official graduation ceremony from TTUHSC El Paso," said Jeanne Novotny, Ph.D., R.N., Gayle Greve Hunt School of Nursing founding dean. "We want to thank our colleagues in the medical school and Graduate School of Biomedical Sciences for their support of our efforts, as well the El Paso community for making our success possible."
Members of the graduating classes came from diverse backgrounds and to the Gayle Greve Hunt School of Nursing from around the world, including Nigeria, Eritrea, Northern Africa, Philippines, Latvia, Mexico, Ukraine and Puerto Rico. They range in age from 22 to 51 and have a combined total of 23 years of service in the U.S. Navy, Army and Coast Guard. Seventy-one percent are first-generation college graduates.
Image Gallery