Gayle Greve Hunt School of Nursing Hosts Inaugural Commencement Ceremony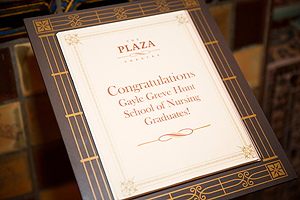 The ceremony marked TTUHSC El Paso's first official graduation as a separate university.
After more than two years of hard work, 65 students from the Gayle Greve Hunt School of Nursing made history as they participated in the school's inaugural commencement ceremony.
The inaugural Traditional Bachelor of Science in Nursing (BSN) and Second-Degree BSN classes, gathered with their family and friends at The Plaza Theatre in El Paso for the occasion. Nancy Neal, Texas Tech University System Board of Regents member, served as keynote speaker.
"It is truly remarkable that we are here today celebrating the first official graduation ceremony from TTUHSC El Paso," said Jeanne Novotny, Ph.D., R.N., Gayle Greve Hunt School of Nursing founding dean. "We want to thank our colleagues in the medical school and Graduate School of Biomedical Sciences for their support of our efforts, as well the El Paso community for making our success possible."
Members of the graduating classes came from diverse backgrounds and to the Gayle Greve Hunt School of Nursing from around the world, including Nigeria, Eritrea, Northern Africa, Philippines, Latvia, Mexico, Ukraine and Puerto Rico. They range in age from 22 to 51 and have a combined total of 23 years of service in the U.S. Navy, Army and Coast Guard. Seventy-one percent are first-generation college graduates.
Image Gallery
Related Stories
By Lori Rice-Spearman, Ph.D., Steven L. Berk, M.D.
March 22, 2022
TTUHSC Celebration of Life Service was held March 25th in remembrance of Tom McGovern, Ed.D.
By Suzanna Cisneros
March 18, 2022
TTUHSC has been named as a Military Friendly® School for 2022-2023. Among graduate schools, TTUHSC ranked fourth in the nation, achieving Gold award status.
By Meaghan Collier
March 17, 2022
On March 16, fourth-year TTUHSC Jerry H. Hodge School of Pharmacy students interested in completing a residency after they graduate in May, learned where they would spend the next stage of their training during the Pharmacy Residency Match Day.
Recent Stories
Health
By Mark Hendricks
September 29, 2022
CPRIT recently awarded a $1 million prevention grant to Rakhshanda Rahman, M.D., Rebeccah Baucom, M.D., and John Kidwell, M.D., from the TTUHSC School of Medicine.
Research
By Kathryn Dankesreiter (TTU)
September 26, 2022
The Innovation Hub at Research Park today (September 26, 2022) announced the winners of its annual Presidents' Innovative Startup Awards. The award recognizes startups that have a high potential for growth and an economic impact in West Texas.
Education
By Suzanna Cisneros
September 23, 2022
Fifth graders from Bean Elementary School became doctors for a day. The Texas Tech University Health Sciences Center (TTUHSC) Student National Medical Association (SNMA) hosted the Doctors for a Day Minicamp on Sept. 23.