Ground Breaks on Gayle Greve Hunt School of Nursing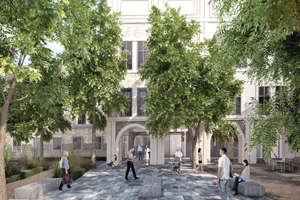 Conceptual rendering of the Gayle Greve Hunt School of Nursing building
The Gayle Greve Hunt School of Nursing (GGHSON) broke ground today on a new building at the corner of N. Concepcion Street and Alberta Avenue in El Paso.
"With the generous support of the El Paso community, TTUHSC El Paso has been instrumental in transforming health care along the border through its roles in education, research and patient care," said Texas Tech University System Chancellor Kent Hance.
The new 34,000-square-foot facility, which will be located directly across from the Paul L. Foster School of Medicine Medical Education Building, will include a high-tech environment for faculty and students; 12,000 square feet of simulation labs; four classrooms; and collaborative learning spaces.
The GGHSON currently operates out of a leased building at 415 E. Yandell Drive, offering students a Traditional Bachelor of Science in Nursing (BSN) Program or an alternate-entry, 12-month Second Degree Bachelor of Science in Nursing Program.
The GGHSON responded to a severe nursing shortage in the greater El Paso region by admitting its first class of Traditional BSN students in 2011. The school now has a total of 116 students and 13 faculty members, and GGHSON Founding Dean Jeanne Novotny, Ph.D., R.N., FAAN, said that number is expected to grow.
"We are dedicated to expanding the quality and size of the faculty, launching new degree programs and positioning the school as a leader in academic nursing," Novotny said. "We will expand student enrollment by opening access to a world-class nursing education for a diverse, highly competitive student body that will focus on the health care needs of the borderland."
The GGHSON was established through a generous donation from the Hunt Family Foundation in 2010. The school was named the Gayle Greve Hunt School of Nursing in honor of Gayle, the wife of El Paso businessman and philanthropist Woody Hunt.
The construction of the GGHSON building was made possible through funding from the Medical Center of the Americas (MCA) Foundation. The area where the building is located is intended to enable the redevelopment of a noncontiguous subset of the approximate 440 acres of land included in the MCA master plan.
The GGHSON is accredited by the Commission on Collegiate Nursing Education, an autonomous accrediting agency that contributes to the public's health by assessing and identifying programs that engage in effective educational practices.
Related Stories
By Lori Rice-Spearman, Ph.D., Steven L. Berk, M.D.
March 22, 2022
TTUHSC Celebration of Life Service was held March 25th in remembrance of Tom McGovern, Ed.D.
By Suzanna Cisneros
March 18, 2022
TTUHSC has been named as a Military Friendly® School for 2022-2023. Among graduate schools, TTUHSC ranked fourth in the nation, achieving Gold award status.
By Meaghan Collier
March 17, 2022
On March 16, fourth-year TTUHSC Jerry H. Hodge School of Pharmacy students interested in completing a residency after they graduate in May, learned where they would spend the next stage of their training during the Pharmacy Residency Match Day.
Recent Stories
Education
By Mark Hendricks
September 23, 2022
Fifth graders from Bean Elementary School became doctors for a day. The Texas Tech University Health Sciences Center (TTUHSC) Student National Medical Association (SNMA) hosted the Doctors for a Day Minicamp on Sept. 23.
Research
By Mark Hendricks
September 22, 2022
Pablo Artigas, Ph.D., from TTHSC's School of Medicine's Department of Cell Physiology and Molecular Biophysics, published a study with his team of collaborators in Nature Communications.
Campus Life
By Mark Hendricks
September 20, 2022
The Texas Panhandle Poison Center (TPPC), managed by the Jerry H. Hodge School of Pharmacy, will host Lubbock's Fall Medication Cleanout™ event October 1.