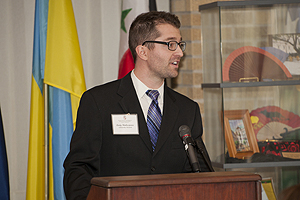 Shakespeare, a fourth-year medical student, will continue his residency at Scott & White and specialize in hematology/oncology.
During his first year of medical school Andy Shakespeare experienced one of the most difficult times of his life. His 26-year-old sister Casey was diagnosed with cervical cancer.
"I watched my vibrant, healthy young sister suffer the terrors of her disease," Shakespeare said. "After a few months, cancer took her life. Needless to say, it was nearly impossible to focus on my studies, and I tried to get by, but I felt as if I didn't have my best to give, and I even questioned if I could get through medical school at all."
Unfinished Business
After some time off from school, Shakespeare, now a fourth-year medical student, said something happened that is difficult to explain.
"I began to have an insatiable drive to finish what I had started with medical school," Shakespeare said. "I knew beyond a shadow of a doubt that I was called to be a physician. I knew what kind of doctor I wanted to be. I knew how I wanted to treat patients and families with respect and compassion, with empathy and a personal connection to their journey, helping patients and families heal even when there is no cure."
Shakespeare, who recently learned he will complete his residency at Scott White, will specialize in hematology/oncology. He said his journey is one that could not have been possible without the support from the School of Medicine and donors. Shakespeare was awarded the Frank M. Ryburn Jr., M.D., Scholarship, established by Dr. Grover and Mrs. Sally E. Murray. This scholarship is awarded to a fourth-year student who shows outstanding promise as a practitioner of internal medicine.
"To me, the Ryburn/Murray Scholarship is so much more than mere money in the bank," Shakespeare said. "It is a tangible representation of the encouragement and the reassurance I needed to reach my goal. I cannot fully express how much of an impact this has had. Because of the support, I will be able to help people in their battle with cancer. I know many patients will reach a cure, and many may not. But I find great fulfillment and consider it a privilege to be the one to walk with these patients and their families through their journey."
Seeing the care his father received at M.D. Anderson inspired Murchison to pursue a career in medicine.
Making an Impact
James Murchison, a first-year medical student, was awarded the Don-Kay-Clay Cash Foundation School of Medicine Chancellor's Scholarship Endowment. This scholarship is based on academic achievement and leadership in school and community activities. It was established by the Don-Kay-Clay Cash Foundation to provide a full year of tuition for the recipient.
Murchison, who is working on an M.D./MBA degree, said his personal experience led him to choose medicine. When Murchison was 16 years old, his father, Pat, was diagnosed with Stage IV tonsillar carcinoma.
"To witness the amazing care and treatment he received while at M.D. Anderson had a huge impact on me," Murchison said. "I wanted to do something with my life that would have such an effect on others."
His father is doing well and is in remission. Murchison wants to make a difference with his medical degree and scholarship opportunities, like his from the Don-Kay-Clay Cash Foundation School of Medicine Chancellor's Scholarship Endowment, will make his dream of becoming a physician attainable.
Continuing Tradition
According to a survey of student tuition and fees by the Association of American Medical Colleges, the median cost in 2012-2013 for first-year students at public medical schools is $54,625 per year for out-of-state students and $32,197 for in-state students.
With these tuition costs, students many times begin their professional careers with high debt. Scholarships are essential in lowering debt. Last year because of donor support, the School of Medicine awarded more than $1,330,000 in scholarship money to approximately 340 medical students.
Murchison said with tuition rates always rising, this scholarship helped him choose what he wanted versus what he had to because of financial obligations. He has one sister who is an undergraduate and another about to complete high school. With three in his family attending college and medical school, he said donors made it possible for him to continue his education at home.
"When you grow up in Lubbock, you are a Red Raider through and through and I am so thankful to the Cash family for their scholarship," Murchison said. "This is really a blessing to receive this gift and carry on the tradition."
Gallery