Books: Just What the Doctor Ordered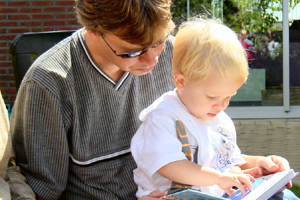 Children visiting Texas Tech Physicians of Amarillo will receive free books and their parents will be advised on the importance of reading aloud.
It's a well known fact reading is important to child development and is also good for adults.
However, 88 percent of children enter the first grade below grade reading level. More than 30 percent of children start kindergarten without the basic skills needed to read. These are all statistics Texas Tech Physicians of Amarillo aims to help change.
"It's an issue the Texas Panhandle needs to focus on," said Muhammad Uddin, M.D., assistant professor of pediatrics.
To confront these issues, Texas Tech Physicians formed a partnership with Reach Out and Read. Reach Out and Read is a national, nonprofit organization that promotes early literacy and school readiness by making books and reading aloud a standard part of pediatric primary care.
Free books will be given to children, ages six months to 5 years, during well visits. Physicians will also work with parents and advise them on the importance of reading aloud with their children.
Parents exposed to the program are four times more likely to read aloud to children, which is proven to have a direct impact on a child's educational attainment.
"Several studies show kids are better prepared for school when we start reading to them at a young age," Uddin said. "We hope to this program will introduce them to literacy early in life."
Studies also show children exposed to this program have significant developmental gains in language and a six-month developmental edge over their peers in the preschool years. Scores on vocabulary test and school readiness assessment are also shown to be higher in children who participate in the program.
Related Stories
By QEP Committee
March 21, 2023
As spring approaches, some people's thoughts turn to gardening. Whether it's a flower garden they desire or a vegetable garden want to have, they begin planning what they'll plant and what they need to do to ensure a successful garden.
By QEP Committee
March 21, 2023
A "growth mindset" accepts that our intelligence and talents can develop over time, and a person with that mindset understands that intelligence and talents can improve through effort and learning.
By Melissa Whitfield
February 13, 2023
Abstaining from drug abuse and an early diagnosis of familial hypercholesterolemia (high cholesterol) can help prevent heart disease.
Recent Stories
Education
By Suzanna Cisneros
March 24, 2023
Recognizing academic excellence, the honors are the most prestigious awards granted to faculty throughout the TTU System. The awards are funded by gifts to the Chancellor's Council, a giving society that supports the chancellor's priorities across the TTU System.
Campus Life
By Suzanna Cisneros
March 23, 2023
TTUHSC School of Medicine students will host a Women's Health Day free clinic from 10 a.m. to 1 p.m. April 15 at The Free Clinic
Research
By Mark Hendricks
March 21, 2023
TTUHSC Cytogenetic Technologist Jasbir Bisht and a team from P. Hemachandra Reddy's internal medicine laboratory analyzed the impact of cancer in Hispanics in comparison to other ethnic groups.