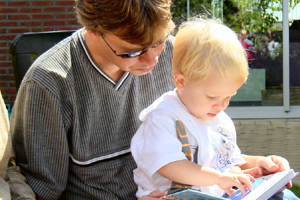 Children visiting Texas Tech Physicians of Amarillo will receive free books and their parents will be advised on the importance of reading aloud.
It's a well known fact reading is important to child development and is also good for adults.
However, 88 percent of children enter the first grade below grade reading level. More than 30 percent of children start kindergarten without the basic skills needed to read. These are all statistics Texas Tech Physicians of Amarillo aims to help change.
"It's an issue the Texas Panhandle needs to focus on," said Muhammad Uddin, M.D., assistant professor of pediatrics.
To confront these issues, Texas Tech Physicians formed a partnership with Reach Out and Read. Reach Out and Read is a national, nonprofit organization that promotes early literacy and school readiness by making books and reading aloud a standard part of pediatric primary care.
Free books will be given to children, ages six months to 5 years, during well visits. Physicians will also work with parents and advise them on the importance of reading aloud with their children.
Parents exposed to the program are four times more likely to read aloud to children, which is proven to have a direct impact on a child's educational attainment.
"Several studies show kids are better prepared for school when we start reading to them at a young age," Uddin said. "We hope to this program will introduce them to literacy early in life."
Studies also show children exposed to this program have significant developmental gains in language and a six-month developmental edge over their peers in the preschool years. Scores on vocabulary test and school readiness assessment are also shown to be higher in children who participate in the program.