Community Bikes for Burns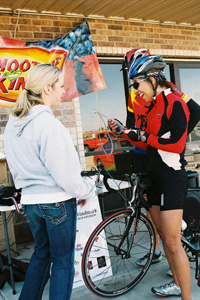 Winners of the PT Classic received custom goniometers.
Physical therapy students at the School of Allied Health Sciences recently hosted the annual charity PT Classic 25-mile and 50-mile bike and 5K run through Ransom Canyon.
What started six years ago, as an effort to help an ill classmate who couldn't pay her medical bills, has turned into a milestone for successive physical therapy classes, said Mike Grajeda, a physical therapy student in the School of Allied Health Sciences.
"It gives us an opportunity to give back to the community while working closely with local businesses and with our local professional organization," Grajeda said.
The PT Classic is always during October to celebrate National Physical Therapy Month. Grajeda said the event raises community awareness about physical therapy while also educating Lubbock-area residents about health, fitness and regular exercise for overall health and well-being.
This year, proceeds will be donated to the University Medical Center Foundation to assist the Harnar Burn Care Center in funding compression garments for their patients. A burn patient needs a minimum of two garments for continuous wear 23 hours a day. Costs range from $150 to $200 for a shirt. The Student Physical Therapy Association raised more than $2,000 for the center.
About 50 people participated in last year's PT Classic. This year, more than 100 people participated, including weekend warriors, students, faculty, the Texas Tech Cycling Team, the Texas Tech Triathlon Team, local cycling associations and local Kona Ironman David Preston.
Grajeda said increased sponsorship, communication and advertising helped peak more interest in the event.
"The amount we have been able to donate has been steadily increasing every year, and this year we expect to continue that trend," Grajeda said.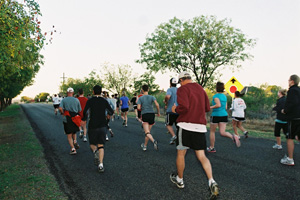 The PT Classic is divided into a 5K run, a 25-mile bike ride and a 50-mile bike ride.
Winners received custom goniometers, devices that measure range of motion. Awards were given to the top female and male finishers in each event:
Women
5K run: Rebecca Cooper
25-mile bike ride: Sandra Torres
50-mile bike ride: Katy White
Men
5K run: Lucas Morris
25-mile bike ride: Jeremy Brozo
50-mile bike ride: Cam Mencio
The 2011 PT Classic was sponsored by the South Plains District of the Texas Physical Therapy Association, Broadway Bikes, Complete Nutrition, South Plains Cycles, Bless Your Heart, Lalande Financial, Sprouts, College Flowers, Road ID, The Wall Fitness Club, DFC Cycles and Fitness and UMC Northstar/Team Rehab.
Related Stories
By Lori Rice-Spearman, Ph.D., Steven L. Berk, M.D.
March 22, 2022
TTUHSC Celebration of Life Service was held March 25th in remembrance of Tom McGovern, Ed.D.
By Suzanna Cisneros
March 18, 2022
TTUHSC has been named as a Military Friendly® School for 2022-2023. Among graduate schools, TTUHSC ranked fourth in the nation, achieving Gold award status.
By Meaghan Collier
March 17, 2022
On March 16, fourth-year TTUHSC Jerry H. Hodge School of Pharmacy students interested in completing a residency after they graduate in May, learned where they would spend the next stage of their training during the Pharmacy Residency Match Day.
Recent Stories
Education
By Clarissa Sanchez
October 04, 2022
TTUHSC hosted "Building the Basin: a Permian Basin Health Care Workforce Summit" Oct. 4.
Health
By Mark Hendricks
September 29, 2022
CPRIT recently awarded a $1 million prevention grant to Rakhshanda Rahman, M.D., Rebeccah Baucom, M.D., and John Kidwell, M.D., from the TTUHSC School of Medicine.
Research
By Kathryn Dankesreiter (TTU)
September 26, 2022
The Innovation Hub at Research Park today (September 26, 2022) announced the winners of its annual Presidents' Innovative Startup Awards. The award recognizes startups that have a high potential for growth and an economic impact in West Texas.