Community Bikes for Burns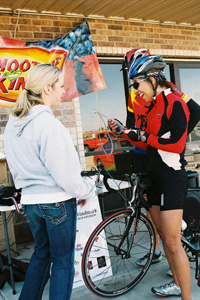 Winners of the PT Classic received custom goniometers.
Physical therapy students at the School of Allied Health Sciences recently hosted the annual charity PT Classic 25-mile and 50-mile bike and 5K run through Ransom Canyon.
What started six years ago, as an effort to help an ill classmate who couldn't pay her medical bills, has turned into a milestone for successive physical therapy classes, said Mike Grajeda, a physical therapy student in the School of Allied Health Sciences.
"It gives us an opportunity to give back to the community while working closely with local businesses and with our local professional organization," Grajeda said.
The PT Classic is always during October to celebrate National Physical Therapy Month. Grajeda said the event raises community awareness about physical therapy while also educating Lubbock-area residents about health, fitness and regular exercise for overall health and well-being.
This year, proceeds will be donated to the University Medical Center Foundation to assist the Harnar Burn Care Center in funding compression garments for their patients. A burn patient needs a minimum of two garments for continuous wear 23 hours a day. Costs range from $150 to $200 for a shirt. The Student Physical Therapy Association raised more than $2,000 for the center.
About 50 people participated in last year's PT Classic. This year, more than 100 people participated, including weekend warriors, students, faculty, the Texas Tech Cycling Team, the Texas Tech Triathlon Team, local cycling associations and local Kona Ironman David Preston.
Grajeda said increased sponsorship, communication and advertising helped peak more interest in the event.
"The amount we have been able to donate has been steadily increasing every year, and this year we expect to continue that trend," Grajeda said.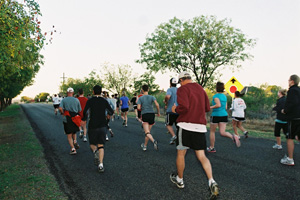 The PT Classic is divided into a 5K run, a 25-mile bike ride and a 50-mile bike ride.
Winners received custom goniometers, devices that measure range of motion. Awards were given to the top female and male finishers in each event:
Women
5K run: Rebecca Cooper
25-mile bike ride: Sandra Torres
50-mile bike ride: Katy White
Men
5K run: Lucas Morris
25-mile bike ride: Jeremy Brozo
50-mile bike ride: Cam Mencio
The 2011 PT Classic was sponsored by the South Plains District of the Texas Physical Therapy Association, Broadway Bikes, Complete Nutrition, South Plains Cycles, Bless Your Heart, Lalande Financial, Sprouts, College Flowers, Road ID, The Wall Fitness Club, DFC Cycles and Fitness and UMC Northstar/Team Rehab.
Related Stories
By QEP Committee
March 21, 2023
As spring approaches, some people's thoughts turn to gardening. Whether it's a flower garden they desire or a vegetable garden want to have, they begin planning what they'll plant and what they need to do to ensure a successful garden.
By QEP Committee
March 21, 2023
A "growth mindset" accepts that our intelligence and talents can develop over time, and a person with that mindset understands that intelligence and talents can improve through effort and learning.
By Melissa Whitfield
February 13, 2023
Abstaining from drug abuse and an early diagnosis of familial hypercholesterolemia (high cholesterol) can help prevent heart disease.
Recent Stories
Research
By Mark Hendricks
November 16, 2023
Ninh (Irene) La-Beck, Pharm.D., with the TTUHSC Jerry H. Hodge School of Pharmacy, received a five-year, $2.49 million grant to investigate how nanoparticles interact with the immune system and cancer.
Research
By Mark Hendricks
November 10, 2023
To help investigate the influence basal sex hormone alterations may have on chronic post-op pain, the NIH recently awarded a grant to Jenny Wilkerson, Ph.D., from the Jerry H. Hodge School of Pharmacy.
Health
By Tyler White
November 09, 2023
Scott Shurmur, M.D., a cardiologist at the Texas Tech Physicians Center for Cardiovascular Health, shared his expertise and his experience as a former collegiate athlete.