A forklift was used to move the five brushed aluminum sculptures into place.
Students have the opportunity to study or eat dinner by candlelight between long exams and grueling clinic rotations, thanks to San Antonio artist Cakky Brawley.
"I think that it's a really wonderful blending of a really cool aesthetic solution with some technology in this lovely little courtyard," Erin Vaden, public art manager for the Texas Tech University System said of the newest addition to the university's impressive public art collection. "It also fits into our public art collection really beautifully because it's something that we don't have."
An Active Space
Brawley, a Texas Tech alumna who graduated from the School of Art in 1990, designed and installed five brushed aluminum luminarias in the Academic Classroom Building courtyard. The pieces depict the body's cardiovascular, reproductive, skeletal, digestive and central nervous systems.
"I felt that this space needed to be activated somehow, in a way that would be soothing for education, or relaxing in a way," Brawley said. "I hope it provides energy to the area for the students, because this is such an important part of their lives."
Attention to Detail
She added that she chose to focus on the body's systems because they are universal images that speak to all health care professions.
"I have such a respect for the medical profession," she said. "My dad is a doctor and my sister is a doctor."
In fact, much attention was put into making sure the pieces are anatomically correct. Brawley drew each image and sent it to her father and sister for feedback before sending them to be fabricated.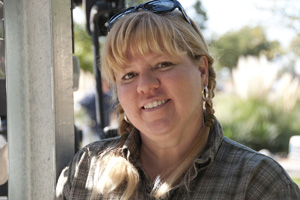 Brawley is a sculpture and ceramics professor at Palo Alto College in San Antonio.
"A minute ago, a girl came up and was counting the vertebra, and it meant a lot because she was looking to see if it was right," she said.
What students might not notice unless they look closely is that one of the big toes of the skeletal system luminaria is crooked.
"I just sort of slipped with the pencil, but [my sisters and I] all have crooked pinky toes, so I left it," Brawley said.
Dedicated to Tech
There aren't any more secret meanings hidden in the sculptures, but Brawley said she does regret not having enough time to include something dedicated to Regis Shephard, a friend and colleague who passed away two years ago at age 36. Sheppard was a proud Texas Tech graduate who worked with Brawley as an art professor at Palo Alto College in San Antonio.
"In my heart, these are dedicated to Regis," she said.
Other public art pieces Brawley has created can be seen at the Henry B. Gonzalez Convention Center, Stinson Airfield, Brackenridge Park Whitte Museum Parking Garage, all in San Antonio.
"It was really a thrill to do one outside of San Antonio," Brawley said, "and especially at my alma mater because I'm very, very dedicated to Texas Tech."