Bear Hug: Donate Stuffed Animals to Help Children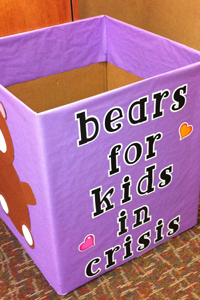 The Pediatrics Club will be accepting stuffed animal donations until May 2 in the Academic Classroom Building.
Bears For Kids in Crisis, a drive locally mediated by the Lubbock Police Department, collects stuffed animals for local police officers to store in the trunks of their squad cars and give to children who have been victims of domestic violence, abuse, neglect, etc. The stuffed animals are meant to bring comfort to suffering children.
Any organization or school is welcome to start a Bears for Kids in Crisis drive.
Ashley Cowan, a first-year student in the School of Medicine, brought the Bears for Kids in Crisis drive to the Pediatrics Club and to the TTUHSC Lubbock campus.
"I contacted the local police force and offered the Pediatrics Club's help to collect donations of stuffed animals for children," Cowan said. "This is our first year starting this collection, but I plan to continue it next year when I take over as Pediatric Club president, and hopefully it will continue annually from them on and be a legacy of the Pediatric Club of TTUHSC."
Although the drive is called Bears for Kids in Crisis, all new and like-new stuffed animals are accepted, Cowan said. The items can be any animal, shape and size. The Pediatrics Club's goal is to collect 100 to 150 stuffed animals.
The Bears for Kids in Crisis collection box will be in the Academic Classroom Building first floor lobby until May 2. The club only has one box, but members will empty the box regularly to make sure there is always space for more stuffed animals.
"The Pediatrics Club is always looking for new ways to get involved with the local community, and this is just a small part we can play to help," Cowan said. "A small gesture, like donating a teddy bear, can mean a world of relief and comfort to a child in need."
For more information or to donate, email Cowan.
Related Stories
By Mark Hendricks
March 25, 2022
The Texas Tech University Health Sciences Center (TTUHSC) Graduate School of Biomedical Sciences hosted its 34th Annual Student Research Week March 8-11.
By Mark Hendricks
March 25, 2022
The National Cancer Institute awarded a five-year, $1.9 million grant to C. Patrick Reynolds, M.D., Ph.D., director for the School of Medicine Cancer Center at TTUHSC.
By School of Health Professions
March 24, 2022
Richard Greenhill, DHA, FISQua, FACHE, discusses the hype and reality surrounding AI in healthcare.
Recent Stories
Health
By School of Health Professions
May 19, 2022
Dysphagia is a swallowing disorder that affects a person's ability to eat or drink, affecting between 300,000 and 700,000 people in the United States each year.
Health
By Suzanna Cisneros
May 18, 2022
Brittany Bankhead, M.D., an assistant professor of surgery for the Division of Trauma, Burns and Critical Care at the Texas Tech University Health Sciences Center, said life-threatening bleeding can happen in everyday scenarios.
Education
By Clarissa Sanchez
May 16, 2022
TTUHSC celebrated the completion of the School of Health Professions Physician Assistant Program expansion May 16 with a ceremonial ribbon cutting.