Community Baby Shower Boasts Biggest Success to Date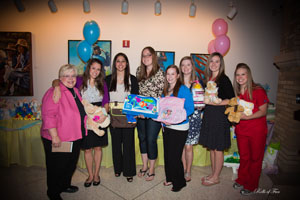 The event aims to reduce the number preterm births, low birth weight babies and neonatal complications in the Lubbock community.
High chairs, wipes and diapers, oh my! For the ninth year, the Stork's Nest Baby Shower has rewarded Lubbock women and teens for staying healthy during their pregnancy.
By encouraging low-income pregnant women to educate themselves on pregnancy and receive early and regular prenatal care, expectant mothers are able to earn points, which they can exchange for baby products at the annual event.
"The Stork's Nest is a very important incentive program to help pregnant women and teens with education about nutrition during pregnancy, parenting, labor, breastfeeding, staying healthy during pregnancy and care for their babies," said event organizer Linda Brice, R.N., Ph.D., associate professor in the Perry School of Nursing.
Prior to the event, donations of new baby items, auction items and money were collected. This year's event raised more than $100,000 for pregnant women and teens in the community. Throughout its nine years, the Stork's Nest Baby Shower has received $354,000 in new baby items and monetary donations.
"I want to thank the Lubbock community for supporting the School of Nursing in its annual quest to help decrease the high rate of preterm births, low birth weight babies and neonatal complications by helping pregnant women and teens receive prenatal care and education with the March of Dimes sponsored Stork's Nest," Brice said. "I want to thank my nursing students and our business co-sponsor FirstCapital Bank for helping us go over our goal with their sponsorship and hard work."
The Stork's Nest is a national cooperative project of the March of Dimes and Zeta Phi Beta Sorority Inc. The project is now part of the Larry Combest Community Health and Wellness Center, a nonprofit nurse managed primary health care center operated by the Perry School of Nursing.
Gallery
Related Stories
By QEP Committee
March 21, 2023
As spring approaches, some people's thoughts turn to gardening. Whether it's a flower garden they desire or a vegetable garden want to have, they begin planning what they'll plant and what they need to do to ensure a successful garden.
By QEP Committee
March 21, 2023
A "growth mindset" accepts that our intelligence and talents can develop over time, and a person with that mindset understands that intelligence and talents can improve through effort and learning.
By Melissa Whitfield
February 13, 2023
Abstaining from drug abuse and an early diagnosis of familial hypercholesterolemia (high cholesterol) can help prevent heart disease.
Recent Stories
Campus Life
By Suzanna Cisneros
March 31, 2023
The TPPC, managed by the TTUHSC Jerry H. Hodge School of Pharmacy, will host Lubbock's Spring Medication Cleanout™ event from 10 a.m. to 2 p.m. April 22 (Saturday) at the Texas Tech Physicians Medical Pavilion.
Campus Life
By Meaghan Collier
March 31, 2023
TTUHSC School of Nursing honored its first class of Bachelor of Science in Nursing (BSN) graduates with a lamp lighting ceremony on Thursday, March 30.
Health
By Melissa Whitfield
March 30, 2023
Texas Tech Physicians primary and specialty clinics across West Texas have completed more than 160,000 telehealth visits since the start of the pandemic.