Public Art Collection Enriches Amarillo Campus
Twelve artworks from the TTUS public art program currently sit on TTUHSC's regional campus in Amarillo.
More than 100 pieces in the Texas Tech University System (TTUS) public art program grace the campuses of its four universities across the West Texas region. Many of them reside on the Texas Tech University Health Sciences Center (TTUHSC) regional campus in Amarillo.
Public artworks selected for display in the collection are funded by one percent of the estimated total cost of major construction projects. The program was established by the Texas Tech Board of Regents in 1998 to enrich TTUS campus environments with artwork created by leading artists.
"Public art transforms a campus into a beautiful and unique space," TTUS Public Art Manager Emily Wilkinson said. "It invigorates gathering spaces around the campus and creates a strong sense of place and identity. It's uniquely accessible and enables students to experience art in the course of daily life."
Construction of the new Panhandle Clinical Simulation Center on the Amarillo campus was approved earlier this summer. The 20,485-square-foot facility will provide space to train medical professionals in controlled clinical scenarios before they encounter them in their jobs. As part of the new construction, the TTUS public art program will soon evaluate proposals for a new public art piece to accompany the simulation center.
"For this project, the University Public Art Committee seeks to commission a professional artist to create a site-specific interior floor mural to be placed down a corridor of the new Panhandle Clinical Simulation Center," Wilkinson said. "Ideal submissions should be visible as people enter the building and help to serve as an icon for the center."
Interested artists are welcome to apply online at publicartist.org through September 14.
There are currently twelve artworks from the collection on the TTUHSC Amarillo campus. Below are photos of and information about several of the most recognizable pieces.
Signature Piece
This bronze sculpture by Barry Dean Harvey of Amarillo sits at the main entrance of the campus in front of the School of Medicine/School of Allied Health building. The piece was specially commissioned by the TTUS, and represents the artist's philosophy of allowing his work to flow.
Crossing the Prairie
This bronze sculpture by Glenna Goodacre of Santa Fe, New Mexico sits in the outdoor meditation garden between the School of Medicine and School of Pharmacy buildings. Her sculpture depicts a pioneer mother seeking a doctor's help for the child cradled in her arms.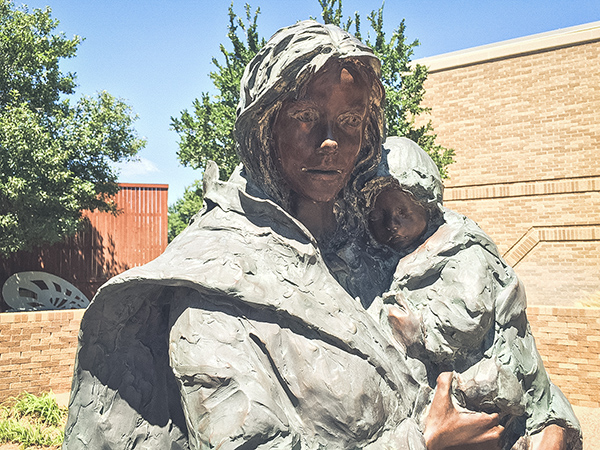 High Plains Correlative
This sculptural masonry by Ken Williams of Pueblo, Colorado is divided into three sets of columns throughout the campus. The pieces connect the natural beauty of the Palo Duro Canyon with the urban architecture of their surrounding building.
Man Giving Birds to the Sky
This bronze sculpture by Edward Povey of Wales, United Kingdom sits at the front door of the School of Medicine/School of Allied Health building. The large figure is walking with his head pointed to the sky, while his hands are held up, releasing birds.
Commitment
This steel and colored glass construction by Dutch Schulze of Bandon, Oregon is suspended in the lobby window of the School of Medicine/School of Allied Health building, and can be viewed from the first, second and third floors. Schulze chose to echo the Spanish Renaissance motif of the arches used in the façade of the building.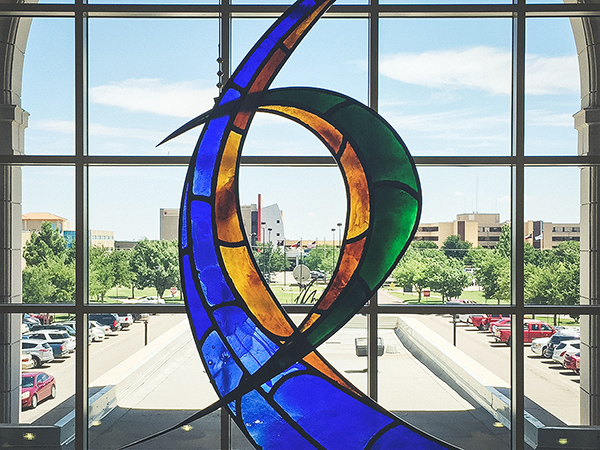 To learn more about the public art pieces at TTUHSC at Amarillo and other universities in the TTUS, view the public art program's walking tour book online.
Related Stories
By QEP Committee
March 21, 2023
As spring approaches, some people's thoughts turn to gardening. Whether it's a flower garden they desire or a vegetable garden want to have, they begin planning what they'll plant and what they need to do to ensure a successful garden.
By QEP Committee
March 21, 2023
A "growth mindset" accepts that our intelligence and talents can develop over time, and a person with that mindset understands that intelligence and talents can improve through effort and learning.
By Melissa Whitfield
February 13, 2023
Abstaining from drug abuse and an early diagnosis of familial hypercholesterolemia (high cholesterol) can help prevent heart disease.
Recent Stories
Campus Life
By Suzanna Cisneros
March 31, 2023
The TPPC, managed by the TTUHSC Jerry H. Hodge School of Pharmacy, will host Lubbock's Spring Medication Cleanout™ event from 10 a.m. to 2 p.m. April 22 (Saturday) at the Texas Tech Physicians Medical Pavilion.
Campus Life
By Meaghan Collier
March 31, 2023
TTUHSC School of Nursing honored its first class of Bachelor of Science in Nursing (BSN) graduates with a lamp lighting ceremony on Thursday, March 30.
Health
By Melissa Whitfield
March 30, 2023
Texas Tech Physicians primary and specialty clinics across West Texas have completed more than 160,000 telehealth visits since the start of the pandemic.